Comment on our service from
Daniel George Wasylyk, Canada
I enjoyed working with you on planning this trip and appreciated your quick response to my emails etc. I will certainly recommend your company and you personally to anyone who may be interested in going to China.
Hi Sissi,

Now that we are back home and caught up with bill paying, house work etc. etc. I have had time to summarize our trip as promised. I will not comment on the drivers as they were all much the same with the exception of one whom I will say a few things about below.

First, let me say that we didn't feel comfortable having to rate each driver, guide and hotel on the way to the airport when leaving each city. We would much rather have rated them all at the end of the trip when we would have had more time to compare them and therefore be able to give them a more accurate appraisal.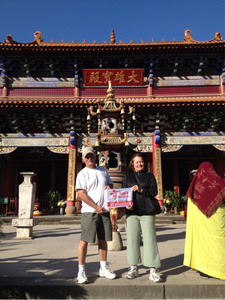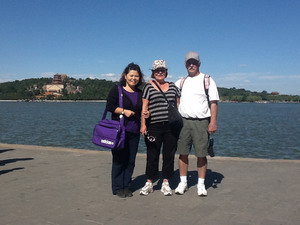 Beijing:
The Howard Johnson Paragon hotel was pretty much as expected--fair to good 4*, although not many of the staff spoke any English at all. We did not eat any meals at the hotel except for breakfast and it was good.

Our guide Jennifer was excellent--very obliging, kind, helpful and informative. Her choice of luncheons during tour days was good and the food was good. She has a very good understanding of the English language, however, we often had difficulty in completely understanding her. She needs to work on her English pronunciation by speaking slower and clearer. If this were done, then a poorly pronounced word could be corrected by the client and she could learn further.

Overall, the Beijing portion of the tour was very good.

Xian:
The Grand New World Hotel was a good 4*. The staff were very good and many of them spoke good English. We did not eat any meals there other than breakfast which was good.

Our guide Amy has a good understanding and good pronunciation of English but she also could slow down when speaking ( it must be a Chinese trait to speed talk--ha ha). She was helpful and generally informative.

Overall, we really enjoyed the Terracotta Warriors and Horses, the Famen Temple and the inner walled city of Xian.
Juizhaiguo:
The tour guide-Karen needs much improvement with both her knowledge of and pronunciation of the English language and is not too useful as an English speaking guide.
Overall, we really liked the park.

Chengdu/Emeishan:
The Green Land Hotel was a very nice 4* hotel with very friendly, good staff many of whom spoke some English. The rooms were good but the beds very hard.
The Emeishan Century Sunshine Hotel was also a good 4* hotel with nice staff but very few spoke any English at all. We never ate any meals at either of the hotels other than breakfasts which were good.

Our guide Sophie was extremely good, very obliging and with good information at the sites. She has a good understanding of English and speaks it well.

We really enjoyed the Panda Research Center, Giant Stone Buddha and the Golden Summit Temple however, if I did the trip again I would allow more time at Emeishan to see some of the other sites there. Perhaps you could improve upon the weather at the mountain top the next time we go!!

Kunming:
The Golden Dragon Hotel was a very good 4* hotel with much of the staff helpful and with some English knowledge. The food here was satisfactory to good and even the beds were good!

Michael was an excellent guide with excellent English, very good information and many interesting historical stories.

Overall, we especially enjoyed the Shilin Stone Forest.

Guilin/Yangshuo:
The very nicely located Guilin Bravo Hotel was an excellent 4* hotel with very helpful, friendly staff many of whom could speak much English. We didn't eat any meals here other than breakfast which was good. Once again, thank you so much for your company and the excellent evening dinner you provided us with. Marlene apologizes for not speaking with you but could not hear you due to her ear problem.
The New Century Hotel in Yangshao was a fair to good 4* with breakfast meal rated as average. We ate no other meals here. The room was fair to good.

Our guide Yang was very good with abundant information--almost too much to assimilate. Her understanding of English is good but she needs to improve her pronunciation because it is sometimes difficult to understand some of her words. Again, I know it is difficult for the Chinese to slow down when they are speaking English but it would be easier for the tourist to understand. Secondly, if corrected on how to pronounce a word, then she could learn properly at the same time.
Our overall impression of Guilin/Yangshuo was simply awesome scenery but you could have given us better weather!!

Shanghai:
The Rafont Shanghai Xuhui Hotel is a fair 4*. The rooms were fair to good and the beds were good. A definite lack of English speaking staff but they were friendly and as helpful as they could be.

The male guide that took us to the airport (sorry, can not remember his name either but know he once lived in Australia) was excellent. He offered many interesting comments and stories on the features etc. that we passed on the way to the airport.
I do not like to bash people that I have met for only a few days so I am writing this appraisal with the hope that it will be of some use to you in order to improve your business or to make recommendations to other clients in the future regarding specific things that I mentioned above. I enjoyed working with you on planning this trip and appreciated your quick response to my emails etc. I will certainly recommend your company and you personally to anyone who may be interested in going to China.

Best Regards,
Dan