Chengde Cuisine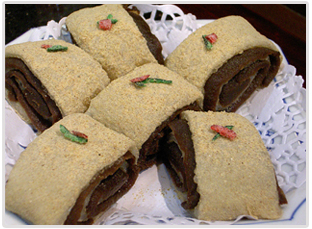 Chengde cuisine is the representative of combination of royal court dishes and dishes beyond the Great Wall. Different from royal court dishes of the capital, chengde cuisine is mainly made up of valuable food. Some are distinctive food are Pingquan rabbit meat, venison, soft-shelled turtle, roe deer meat, pheasant meat and so forth.

Buckwheat noodles (荞面河漏)

Buckwheat noodle, as one of the three matchless noodles of North China, is on par with beijing hand-pulled noodles, and shanxi sliced noodle. The buckwheat is divided into two kinds, the black and the white, which are the traditional crop of chengde city. After the noodle is boiling, you can add some garlic, sesame oil, vinegar before trying it.
Silver-like noodles (清宫御膳银丝杂面)

As a traditional food of chengde, the silver-like noodle is made from various bean flours and has a history of more than three hundred years. It is said that in the period of Emperor Qianlong of Qing Dynasty (1616-1912), when the emperor, together with his concubines, spent his time in Chengde Imperial Summer Villa, he would send the eunuchs to the stall to buy the silver-like noodles. Generally, the ingredients are peas, mung bean, winter wheat, cowpea and the like. When trying it, you can add some diced meat, vegetables, and peppers according to your own preference. The noodles are not only refreshing, but also nutritious. In the meanwhile, it can stimulate your appetite, lower your blood pressure and relieve body heat.
Nansha pie (南沙饼)

Nansha pie has a history of more than two hundred years in chengde. And it can be stuffed with whatever fillings you like. For instance, it can be stuffed with sweetened bean paste. First, boil the red beans until they are mushy. Then, fry the red beans, sugar and oil in the pot, when they are not sticky, you can add some seasonings such as osmanthus.
Chengde bean jelly (承德凉粉)

Bean jelly has a more than three hundred years' history in chengde. People prefer this kind of snack, not only because it is tasty, but also because it is rich in nutrition. Bean jelly made of mung bean can alleviate your pain relieve internal heat or fever.
Rose dessert (鲜花玫瑰饼)

Rose, the city flower of chengde city, is always used to make desserts, which has a history of almost three hundred years. It is recorded that whenever emperor Kangxi of Qing Dynasty (1616-1921) spent his time in the Imperial Summer Villa or went hunting in the paddock, he would have this dessert exclusively. Rose desserts looks elegant in shape, and tastes crisp and soft, thus being one of the best choices to send to relatives and friends.