Chengde

Chengde in brief
Chengde, charming little town lying in the Hebei Province, is an important historical town just a few kilometers away from Beijing. Being part of a mountainous region typical of northern China, Chengde enjoys a lush landscape made of beautiful natural sceneries and rivers. Primarily called "Jehol" or "Rehe", the city is renowned for its historical importance as a summer resort capital of the Qing Dynasty (1644-1911): a role that can still be seen through the historical masterpieces present here. Divided in 3 districts, 5 counties and 3 autonomous counties of Manchu and Mongol natures, Chengde offers to travelers the opportunity to enter in another China, the life there being definitely smoother. Owing to its surrounding mountains, Chengde constitutes today the largest city in the Hebei Province, but has the lowest level of population. For years now, this delightful city has been a peaceful retreat away from the turmoil of its neighbor metropolis.
History of Chengde – The Emperor Summer Resort place
Chengde is without any contests the city where life goes smoothly. Tracing back to the Neolithic Age, Chengde was in ancient times the place of many nomadic ethnic groups such as the Xianbei, Xiongnu, Qidan, Nvzhen and Mongolian. However, the city is better known as the summer residence of the Manchu Kangxi Emperor (1654-1722), fourth emperor of the Qing Dynasty, where he used to spend his summer away from the heat consuming Beijing. Also, the place was a strategic point to northerner steppes and border groups (Uyghurs, Mongols, Tibetans and even Europeans) for the Imperial power. Since then, the Summer Palace and its surrounding temples, plains, lakes and mountains have been preserved, providing to Chengde uniqueness in all mainland China and farthest. To this point, this human masterpiece was listed to UNESCO's World Heritage Sites in 1994. Travelers of all over the world can just understand why the place was so cherished by the Emperor, its natural beauty exceeding even the famous West Lake in Hangzhou (Zhejiang Province).
Chengde nowadays – A ranked tourist city of worldwide fame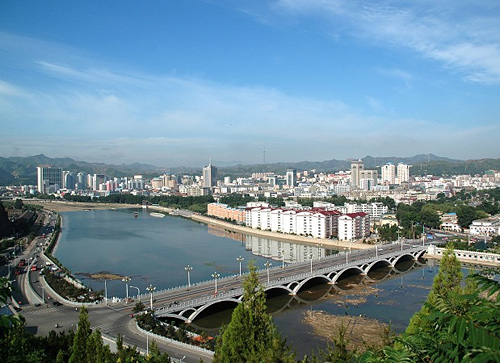 Chengde is a China highly touristy city (4A class) where you can enjoy the best of China's scenic attractions and resources. Being one of the most famous cities in the world, Chengde offers many opportunities of visits and experiences to travelers. In Chengde, we can enjoy the Mulan Paddock National Forest Park, famous as an ancient royal hunting grassland, but also take a hike to Wulingshan Mountain Natural Reserve in the north of the city, and of course marvel at the amazing Imperial Summer Resort. Formerly called "Rehe" (literally meaning "Hot River" in Chinese), a visit to Chengde has to pass by the real Hot River bordering the place and which made its fame. Visiting the Eight Temples north of the Great Wall, the big thousand hands and eyes wooden Buddha statue "Kwan-yin Bodhisattva", or just relaxing in the Liaohe River Holiday Zone and the Yuquanxing Palace, Chengde is just a place where getting bored is impossible. So many attractive scenic spot may need to refresh and take a good dinner! Once again, Chengde will know how to fill travelers up with its delicious beverages and dishes such as almond milk, venison and pheasant meat and many much more. A journey to Chengde is truly worth-visiting!