Putuo Zongcheng Temple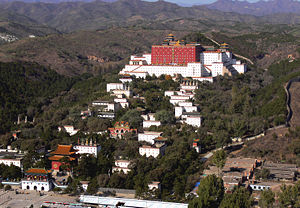 More Photos

Chinese name: 普陀宗乘之庙 (Putuo Zongcheng Zhi Miao)
Location: On the north Huancheng Road, Shuangqiao District, Chengde City, Hebei Province.
Admission fee: 40yuan.
Opening time: 08:00-17:00.
How to get there:
-By bus No.6, 12.
-By coach. Coaches are available from Chengde long-distance bus station to Beijing, Tianjin, Shijiazhuang, and Zhangjiakou. Besides, coaches are also available from Chengde Xi bus station and Chengde Bei bus station to its counties.
Best time to visit: autumn, generally from September to November.
Introduction to Putuo Zongcheng Temple
Covering an area of 220,000 square metres, Putuo Zongcheng Temple is the most majestic one among Outlying Temples of the Mountain Resort, Chengde. It was built in 1771 in celebration of the 60th birthday of Emperor Qianlong and 80th birthday of his mother. The temple was constructed against the mountains, which follows Tibetan Buddhism architecture. The main architecture is on the mountaintop while other forty more flattop buildings and Buddhist pagoda buildings have free layouts in accordance with the mountain range. Seen from afar, the temple is like the Polata Palace both in layouts and appearance. No wonder it is also known as the little Potala Palace. In addition, Putuo Zongcheng in Chinese just means the Potala Palace in Zang language. Admittedly, it is a gem of religious building. More important, as a witness of history, the temple once saw Emperor Qianlong receive the leader of Tuerhute tribe Wo Baxi, who returned to homeland with his people from tsarist Russia out of great trials and tribulations.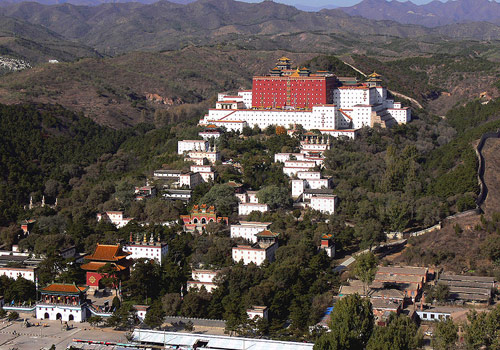 Main architecture in Putuo Zongcheng Temple
Palden Lhamo (吉祥天母)
Commonly known as Luozi Tianwang, it is Dharmapala in Buddhism. It took 6400 work days to complete this about two-metre-tall Buddha. Legend has it that it can expel evils for the mass at every New Year's Eve. Looking ferocious, Palden Lhamo is a rare figure of Buddha around China.
Wanfagui (万法归)
Lying in the centre of the Dahongtai, it is the main hall of Putuo Zongcheng Temple. Its eaves are covered with scale gold-plating copper tiles, while its ridges are ornamented with cyma gold-plating tiles. Surrounded by three-storey buildings whose outer walls are under construction, the hall is for worshiping.
Mountain Gate (山门)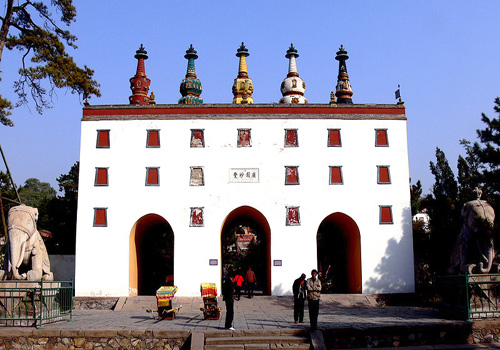 Facing south, it is made up of fortification of Tibetan style and five-ridge halls of the Han style. The fortification is of masonry structure, on which the five-ridge hall was built. In front of the mountain gate, a pair of stone lions are guarding here. On the north side, a tablet pavilion is in sight, where three tablets which recorded how Tuerhute tribe returned to homeland were written in four languages, namely, Manchu, Mongolian, Zang language and Chinese. On the north of the tablet pavilion are five pagodas based on parapets. From east to west are black, white, yellow, green, and red, each representing a religious sect.
Baitai Complex (白台群)
On the south of Dahongtai, thirty more Baitai are arranged in X form and divided into different sorts for different function. Generally, they are flattop buildings of two or three storeies, with red false windows, coloured glaze roof. Some are used as rooms for monks, some as halls for worshiping the Buddha, some as bell tower, some placed with dagoba, some just for decoration. On the north side of coloured glaze memorial archway is Gangzi Hall (罡子殿). Its east hall is called Dong Gangzi Hall which used to be rooms for monks, but now is enshrined with five figures of Buddha. Its west hall is called Xi Gangzi Hall where Palden Lhamo is worshipped.
Dahongtai (大红台)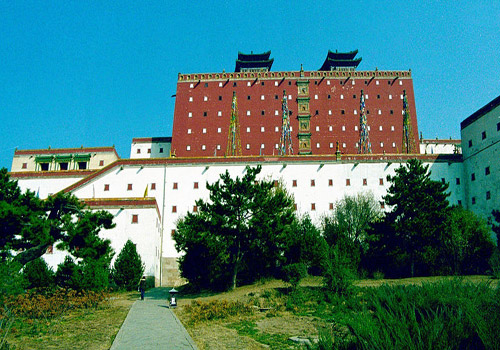 Located in the back of Putuo Zongcheng Temple, Dahongtai possesses the highest place among all. Covering an area of 10,300 square metres, it looks even huger by taking advantage of its location above several sets of architecture. Its front base is seventeen metres tall. In the southeast Baitai is Ma?ju?rī Shengjing Hall (文殊圣境殿), while in the west is Thousand Buddha Pavilion (千佛殿). In the east is Yaba Courtyard (哑叭院), which held monks when the emperor went to pray. Six coloured glaze niches for statues of Buddha are in sight in the south of Dahongtai, whose top were parapet. Inside Hongtai, its five to seven storeies are three-tier pavilions, each possessing 44 rooms in a circle. So in this way it is also known as building complex.
Dong Building Complex (东群楼)
Facing east, the complex with double-eaves covered with scale copper tiles, enjoys three stories. The buildings in northwest corner are for ornamentation. When you enter the complex what catches your eyes first is the enamel bodhi pagoda, enshrined with the figure of Maitreya in the middle and furnished with altar and screen around. Other statues like Sakyamuni, Tsong-kha-pa and Dalai are in sight, both lively and exquisite.
Wanfaguiyi Palace (万法归一殿)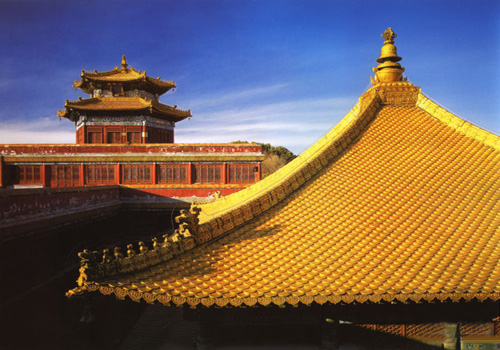 Wanfaguiyi palace is the venue for either ceremony or rally of the temple. Every July 1st, Buddhism degree examination is held in the palace, while on December 27th and January 14th of the lunar year all lama chant scriptures for the sake of the country as a whole. In Qing dynasty, pilgrims from Inner Mongolia and Mongolia went here to pray in an endless stream. As the main palace of the Putuo Zongcheng Temple, Wanfaguiyi Palace conceals itself among Dahongtai complex, with its top standing out and glittering all the time. The lower part of the palace being surrounded by building complex, the sun can hardly shed lights into it, thus, making the palace solemn and stern. It is a gem of religious architecture within China.
Quick Questions
Our team is waiting for your questions. Please feel free to ask us any questions you might have about our China package tours, Chinese culture, or the sites available. We will gladly help you with any special needs you might have and all questions, like our trip designing is completely free of charge.