Drag me to hell: My fifty-four hour train journey from Guangzhou to Gansu
2010-07-28China travel Guide
After seeing the doctor in Hong Kong I needed to find my way to North-west China to begin my summer holiday adventures which consist of trekking up and down the province of Gansu to visit Dunhuang, Jiayuguan, Lanzhou, Wuwei and Zhangye. However, due severe budgetary constraints flying was out of the question, the only other practical means of reaching my destination was subjecting myself to the joys of rail travel.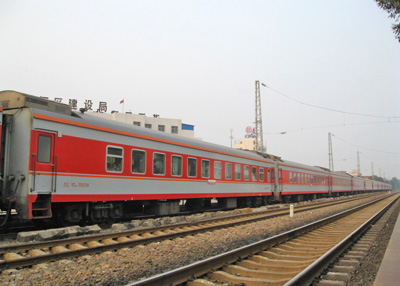 I got myself from Kowloon in Hong Kong to Guangzhou, and then headed to Guangzhou railway station, upon arriving at the train station I was shocked and dismayed to learn that not only had the train had already sold out of sleepers but had also sold out of seats and the only type of ticket they had remaining was 'non-seat' ticket, which is akin to standing/sitting wherever there is space. Faced with no other choice I bought the ticket, at least it was cheap! I decided not to buy too much food to take on the train, limiting myself to a small packet of biscuits, I always feel that bad food consumed in a bad environment is never beneficial for the body.
Waiting in the train station I just realised what I had got myself into, into China there are four types of trains: bullet trains, express-trains, fast trains and 'normal' trains; normal being code for 'don't count on getting anywhere fast'. The train from Guangzhou to north-west China fell into the 'normal' group, meaning not only that it was slated to stop at an endless list of stations but also it would be behind any other type of train in terms of gaining access to key rail corridors. It was to be in carriage three, upon getting aboard there was already barely any room to move, I found myself half-a-metre of space nestled comfortably between a rubbish bin and a lavatory, hoping that later in the journey space would free up.
Well, what of the journey itself? It was something like being jammed into a coffin filled with rotting garbage and cigarette smoke, I'd considered myself relatively tolerant to such situations having found myself in them several times before, but even by my standards this was tough; sitting in the linking section between two carriages meant that this was the thoroughfare in which fellows came to enjoy the odd cigarette or two, by the time I got off the train I felt I had developed lung cancer. In china, the hierarchy of transportation is will defined and basically airtight; the more uncouth and uncultured you are, the further towards the front of the train you are. Sleep was impossible as I kept being trod/spat of by passing travellers, my last grip on sanity was a book I had bought (my ipod battery died without notice), by hour 28 I felt like asking one of my rural comrades for a cigarette despite not being a smoker myself, the sight of the toilet after 34 hours was enough to make even the most iron-stomached person chock back in disgust.
The most delightful part of the trip came forty-two hours in, when hope of salvation was near, the train suddenly ground to a complete stop; heavy rains in Shaanxi province had damaged the tracks, the train was delayed indefinitely, it was also at this point at which the toilet flooded, spewing an malevolent ooze which quickly snacked its way towards my luggage, the five-hour delay was the nadir of my journey, if not my life, hungry, tired, dazed with thirst and thoroughly sick of every cigarette puffing wood-chiselled Chinese man asking me where I had come from and what was I doing here. At last, the train creaked into gear and began petering along at a tortuous pace, a swift six-hours later after countless stop and several cubic meters of second-hand smoke inhaled we finally reached the station.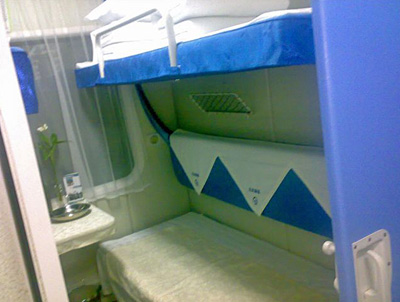 I can only hope that this experience never happens to me or anyone else, if you choose to travel by train, you'd better buy the sleeper ticket in advance, or join the China Train Tours provided by VisitOurChina to enjoy the soft sleeper. If you can't a bed or cannot stand the long journey then just spend the extra thousand yuan and fly!
Comments
Comment