Hong Kong: an attack on the senses
2010-07-28China travel Guide
After seriously injuring my knee while playing soccer in a university competition in early May and said knee not showing any sign of healing I had to go to Hong Kong to seek expert medical attention, after finding the standard of medical treatment in Guilin somewhere short of satisfactory. It's been a long time since I've visited Hong Kong and this time it left me with a striking impression.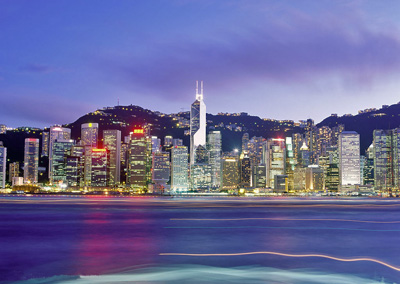 Getting There


Travelling to Hong Kong by air is undoubtedly the most convenient way to get to Hong Kong but it is also the least economical, typically speaking. The most affordable way to travel to Hong Kong is to flight to one of the surrounding major cities located within the Pearl River Delta, namely Shenzhen or Guangzhou, from here you will be able to connect to Hong Kong through fast efficient ground-transport; for example there is a direct bus connection from Shenzhen airport to Hong Kong Island for the cost of only Y90 (US$19), the best delivers you directly to Kowloon, Jordon or Hong Kong Island, stopping only at the border to allow passengers to complete customs. These buses leave at hour-an hour intervals making them most convenient, the journey takes around seventy-five minutes.
Alternatively Hong Kong is also directly connected to Guangzhou via high-speed rail link, travellers arriving at Guangzhou airport need to take one of the regular buses to the city (Y25) and then use the subway/taxi to Guangzhou East Station, which is conveniently located close to the airport bus terminus. Trains depart frequently from Guangzhou to Kowloon taking around two-hours and tickets cost Y190 (US$38), this is only a much more economical way to reach Hong Kong but also a chance to get a glimpse at the most developed and prosperous region in China as you zip through the Pearl-River Delta Region, trains terminate at Hung Hom subway station in Hong Kong.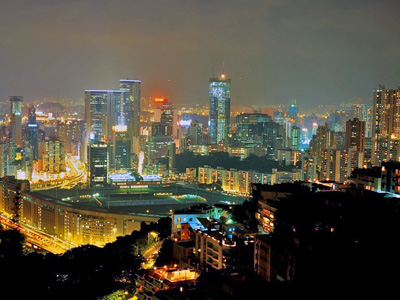 Enjoying Hong Kong


The purpose of my visit to Hong Kong was strictly to receive an expert diagnosis on my knee so there wasn't a lot of time to put my feet up (the doctor's examination aside) but the impression of Hong Kong that I did gain was stark and confronting. The whole island looks like a movie set; the ramshackle alley ways with Neon signs crowding out the skyline and small noodle restaurants packed with people slurping-up their dumpling noodles seems like the set of blade-runner of Jackie Chan's latest movie, while the forest of colossal buildings that sprout up over the metropolis seem to lend themselves to a thriller about greed, betray and secrets. The whole city seems to teem with life in a way that few cities do, as if you have fallen into an ant hive.
I stayed in the slightly exorbitant Langham Hotel in Mong Kok which was amazingly furnished and superbly positioned right in the centre of the Kowloon side of the city, although it costs over a thousand Hong Kong dollars a night it may just about be worth it as it gives you a chance to understand what Hong Kong is about: exuberance, luxury and grandeur. Hong Kong has managed to fuse east and west in a way Shanghai could all dream about, anything one could wish to find or do can be found and done, it's a city of unlimited potential and opportunity, that throws open its doors open to people from every corner of the globe. Hong Kong also has to been the dining capital of China; whether it's a gourmet sandwich or gourmet Cantonese food you'll find it all, Hong Kongese people seem to have an obsession with eating and there is an over-supply of restaurants crammed together on every-street, it's not hard to find something to suit your palate.
Medical Treatment


A word on
Hong Kong
's medical treatment, which is China's best by quite a stretch. A large majority of Hong Kongese physicians have received their training from abroad, typically in the United Kingdom or Australia; Hong Kong also possesses a highly-developed hospital system that runs on world's best practice, my consultation with a leading physician cost HK$500, which is reasonably comparable to a western consultation, if you are in need to medical treatment or a consultation, Hong Kong should defiantly be your first port of call!
Comment