Kowloon Walled City Park

More Photos

Chinese name: 九龍寨城公園
Location: Tung Tau Tsuen Road, Kowloon Walled City, Hong Kong.
Ticket: free.
Opening time of the park: 06:00-23:00.
Opening time of the exhibition hall: 10:00-18:00 (closing on Wednesdays).
How to get there:
- take metro and get off at the Lok Fu Station (乐富站), exit from Exit B, and then transfer special line bus No.39M or take a taxi to get to the park;
- take buses No. 1 1A, 2A, 3B, 5, 5C, 5D, 6D, 9, 10, 11, 11B, 11D, 11K, 13D, 14, 15, 16, 17, 21, 24, 26, 27, 28, 40, 42, 61X, 75X, 83P, 85, 85A, 85B, 85C, 93K, 95, 98C, 101, 106, 107, 111, 113, 116, 203E, 296C, 297, 796X, 891, A22, E23, N216, N293;
- take special line buses No. 25M or 39M.
About Kowloon Walled City
Kowloon Walled City was an encircled city during the colonial period of Hong Kong which was built from 1843 to 1847. Due to the historical reasons, the area of Kowloon Walled City was not included in colonial range and maintained unsupervised for a long time since the late of 19th century. Covering about 6.5 acres and originally a military fort, the unmanned Kowloon Walled City was densely populated since 1950s; it was world known as a slum controlled by underworld gangs with high rates of crimes, prostitution, gambling and drug use. In 1984, the governments of both China and Britain came to an agreement, afterwards the rectification work and re-management of Kowloon Walled City recovered. After several years' efforts, in 1993, the city was finally razed to the ground but reserved key historical sites and relics, and was constructed to the present park in 1994, which was later opened to the public in 1995.
Introduction to Kowloon Walled City Park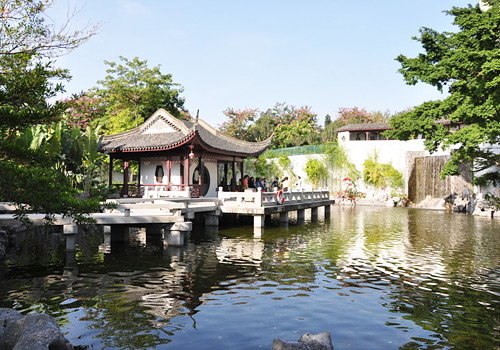 Completed in August 1995, Kowloon Walled City Park was officially opened on Dec 22 at the same year. Cost about HKD 76 million, the Kowloon Walled City Park of Hong Kong was designed into a south Yangtze River garden in the features of early Qing Dynasty (1644-1911) plus with well maintained distinctive flavor and architectures of the old Walled City. During the dismantling of old buildings and the reconstruction, some ancient objects and relics are found which are now well protected and exhibited to the masses.
What to see in HK Kowloon Walled City Park?
The whole city is circled with a firm stone wall, six observatories and four city gates. With a full restored Yamen (government office of Qing Dynasty) as the centerpiece, the park of Kowloon Walled City not only represents the flavors of the old Walled City but also displays diverse beauties of Chinese garden in four seasons with its eight divided landscape areas. Most of the paths and pavilions in the park are named after the streets and buildings of the old Kowloon Walled City. And today in the HK Walled City Park, some past artifacts can be admired, for example, inscribed stones, ancient wells, cannons, abandoned ancient south gate, etc. From April 19, 2009, Kowloon Walled City Park newly opened an outdoor exhibition area and six indoor ones in Yamen to explain the former Walled City and the life of its citizens.
1. Yamen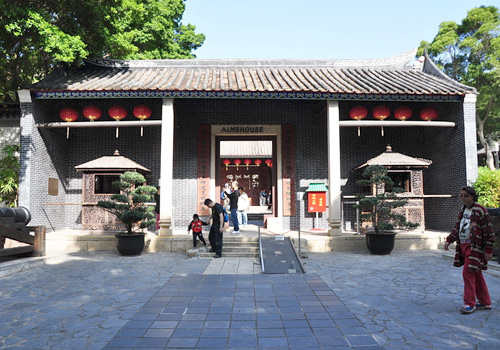 The Yamen was the government office set by Qing government which was built in 1847. As the only existing ancient building in Kowloon Walled City Park, it is a typical southern style courtyard with four-row houses connected by three gates. In the two sides of the main gate are two cannons made in 1802. After 1899 when the garrison withdrew, the Yamen was served for kinds of charities especially for seniors, widows and orphans, known as Almshouse among people. Today, it exhibits stone tablets and pictures that recount the history of Walled City as well as the construction of the park.
2. The remains of the ancient South Gate
At the former address of ancient south gate, granite stones inscribed with the Chinese of SOUTH GATE and KOWLOON WALLED CITY was found on the site together with relict footing of the city wall, a ancient drainage channel and a stone-paved road.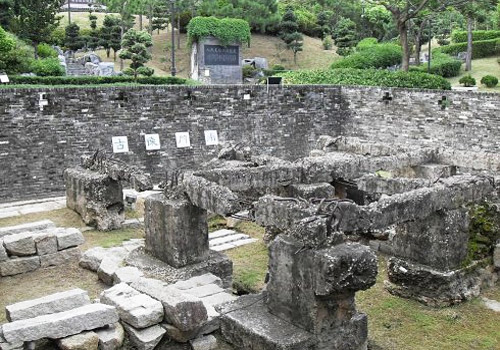 3. Chess Garden
There are four cobble stone-covered large Chinese chessboards on the ground; each is 3 by 5m. People can have their own body as a chessman to play with each other, which adds more fun when visiting in Kowloon Walled City Park.
4. The Garden of Chinese Zodiac
It was built according to Chinese Zodiac with 12 statuses of animals. All of them are made of white marbles, while the layout is designed according to the Chinese culture of Heavenly Stems and Earthly Branches.
5. Eight Floral Walks
Paths and walks in Kowloon Walled City Park are built for the convenience of sightseeing for diverse scenic beauties in the park. On the basis of the scenic layout of the park, eight walks are built and each named after a plant or flower correspond with its respectively plant or flower planted along, such as bamboos, mangnolia, crape myrtle, bananaleaves and the like.
6. Mountain View Pavilion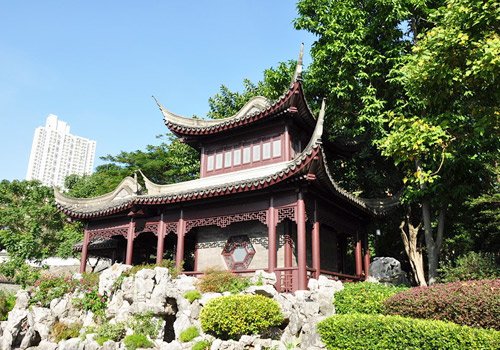 It is a two-storey building resembling a docked boat which offers a perfect view of the Lion Mountain afar as well as the entire park.
7. Kuixing Pavilion and Guibi Stone
The Kuixing or Kui Star is the first four stars in the Big Dipper, which is said to be the lucky star to pass the imperial exams among Chinese. In the Pavilion, there is a moongate-framed stone tablets made of exquisite lake rock and called as Guibi Stone in Chinese, resembling the return of Hong Kong to China.
8. The Garden of Four Seasons
The garden is located in the west of Yamen and designed as another garden in the garden. It displays a great variety of characteristic miniascapes in the style of south of the Five Ridges. Vivid and gorgeous, the selective plants and flowers symbolize the beauty of each of four seasons.
Quick Questions
Our team is waiting for your questions. Please feel free to ask us any questions you might have about our China package tours, Chinese culture, or the sites available. We will gladly help you with any special needs you might have and all questions, like our trip designing is completely free of charge.