Disneyland Park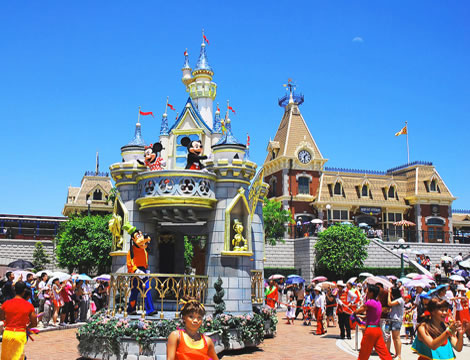 More Photos

Chinese name: 香港迪士尼樂園
Location: Lantau Island, Hong Kong.
Ticket:
- 1-Day Ticket: HK $399 (Aged 12-64), HK $285 for child (Aged 3-11), HK $100 for senior (Aged 65 or above);
- 2-Day Ticket: HK $499 (Aged 12-64), HK $355 for child (Aged 3-11), HK $170 for senior (Aged 65 or above).
Opening time: 10:00-20:00
Best time for visit: The park can be visited throughout the year in each of Hong Kong's four separate seasons although the summer (May – September) is typhoon season in southeast China. It's also best to visit on weekdays to avoid the crowds.
How to get there:
-Bus: Local bus routes R8, R11, R22, R33, and R42 operate daily from Hong Kong City and Hong Kong Disneyland;
-MTR: Change at the Sunny Bay station (欣澳站) on the Tung Chung (東湧) MTR line for the Disneyland Resort Line. The park is 23 minutes from the Hong Kong International Aiport, MTR Airport station; 30 minutes from the MTR Kowloon station; and 33 minutes from MTR Hong Kong station.
-Private Car and Coach: Limited parking facilities are available.
-Taxi: Several different types of taxi cabs can be taken although each with various rates, charges, and operation areas. (Generally, about HKD300 to get to HK Disneyland from Hong Kong Island.)
Travel tips:
1. It is suggested to take a travel guide and a program schedule at the entrance.
2. It is wise to play hot projects firstly in the morning to avoid a long wait in a queue, and to play less hot projects in the afternoon, while shopping in the evening before leaving.
3. To find a site as closely as possible to the Sleeping Beauty Castle to appreciate the Disney in the Stars (fireworks performance).
4. A recommended travel route should be: Fantasyland – Adventureland – Tomorrowland – Main Street, USA.
Introduction to Hong Kong Disneyland - Timeless Disney Experience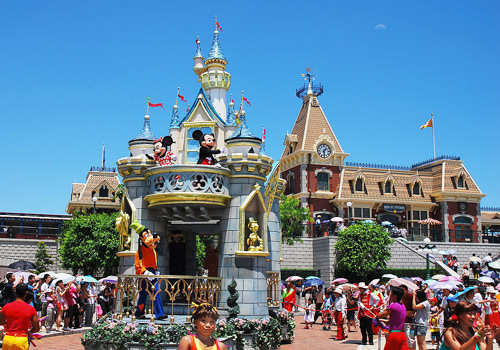 Opened in the fall of 2005, Disneyland is Lantau Island's latest high profile attraction bringing classic Disney charm with an all new Asian twist. Covering an area about 127 hectares, the Disneyland in Hong Kong is the seventh Disney Park in the world. The recent addition to the Disney international family features four whimsically-themed areas each with their own distinct variety of live entertainment, rides, restaurants, and souvenir shops. Hong Kong Disneyland Resort also offers accommodations at its two hotels, Hong Kong Disneyland and Hollywood Hotel, and scenic Inspiration Lake Recreation Centre for the convenience and further enhancement of their guests' timeless Disney experience. Apart from world known Disney stories and amusements, the performances and parade in HK Disneyland characteristically involved in additional Hong Kong culture. Furthermore, it stands a good chance in the park to meet typical cartoons in fairy world.
Four themed areas in HK Disney
Each of the four featured whimsically-themed areas in HK Disney possesses their own distinct entertainment, rides, restaurants, and souvenir shops. Children of all ages may presently visit Main Street, U.S.A, Fantasyland, Tomorrowland, and Adventureland with several more magical lands on the way.
Main Street, U.S.A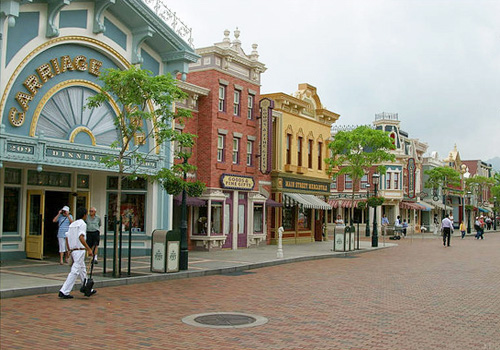 The one served in the entrance of the Disney Park, which is an imitated small town of America from the years 1890-1910. Different from other Disney parks, the buildings here are mainly made of wood rather than stone, and almost identical to the ones in Anaheim.
Fantasyland
With a Sleeping Beauty Castle inside, it is occasions to meet costumed Disney characters, Winnie the Pooh, Snow White, Mickey Mouse, Cinderella, Hua Mulan…The center mark of this area is the unique Fantasy Gardens- a recency part only find in HK Disney. It is also the site for fireworks performance- Disney in the Stars in the evening.
Tomorrowland
Dominated by blue and purple hues, Tomorrowland of HK Disneyland is a place for Science and outer place fantasies. Each facility, shops and restaurants in this area are decorated with robots, spaceships and floating stars. Unique attractions include Autopia and Stitch Encounter.
Adventureland
The Adventureland of HK Disney is the largest among all Disney parks. It is an adventure in virgin forest of Asian and African style collecting a great variety of rare plants. It has a large island- King of the Jungle, which home to Tarzan's Treehouse; and also, it has a capacious indoor theatre for Disney shows.
Highlight of the park-Disney in the Stars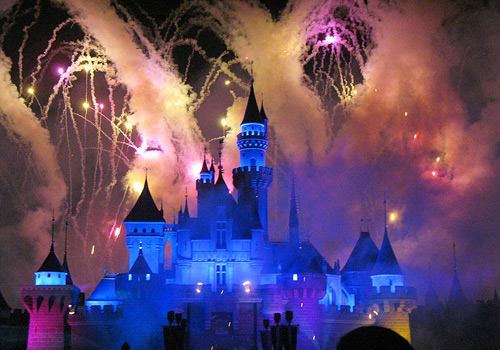 Whether it's your very first visit, or just one of many, every trip to Hong Kong Disneyland is a treasured occasion and so the park concludes each night with a dazzling firework show entitled, "Disney in the Stars." After a fun-filled day of thrilling rides, entertaining performances, and delicious food, there's no better way to say farewell to the characters and fantastical world than by enjoying the final presentation with your family and friends. The stunning firework display over Sleepy Beauty's Castle is coordinated with favorite Disney songs like "A Whole New World" and can viewed throughout the entire park.
More to Come –future plans of HK Disney
As Hong Kong Disneyland celebrates its 5th anniversary, it plans for the future expansion of its amusement park and resort. Some of the much anticipated projects include the construction of an exclusive shopping district, adding new rides and shows to its already existing lands, and introducing completely new realms to its magical kingdom. Specifically, Disney's team of Imagineers are pleased to announce that they have conceptualized three new and unique additions to the park: Toy Story Land, based on the Disney- Pixar series, where visitors feel like they're shrunk to the size of toys; Grizzly Gulch, set as an abandoned American western mining town; and Mystic Point, a mysterious, unexplored tropic rainforest. With Hong Kong Disneyland constantly in motion, there is always something new and exciting to expect and look forward to when planning your next trip.
Quick Questions
Our team is waiting for your questions. Please feel free to ask us any questions you might have about our China package tours, Chinese culture, or the sites available. We will gladly help you with any special needs you might have and all questions, like our trip designing is completely free of charge.