"Fantastic Guilin" Ethnic Show in Guilin Lijiang Theater, China
2010-04-28China travel Guide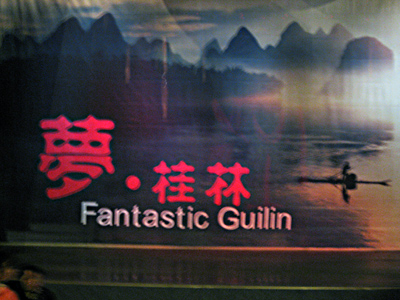 In the remote Guangxi Zhuang Autonomous Region, lies a fairyland with picturesque sceneries. From generation to generation, four nationalities (Yao, Zhuang, Miao and Han) lived and worked here happily. There locate large-scale and gorgeous Longji Terraces; there are also pure and rich ethnic customs between the mountains and rivers. For thousands of years, people have been working hard and thriving here, continuously explaining the true meaning of life. Old and mysterious legends, beautiful love stories, splendid history... Get closed to Guangxi Zhuang Autonomous Region and Guilin, listen to the folk singing and dance with the ethnic groups. In the "Fantastic Guilin" Ethnic Show in Guilin Lijiang Theater, the fiery passion and poetic romance of the local people, has being depicted.
Last night, the staff of
VisitOurChina
watched the "Fantastic Guilin" Ethnic Show in Guilin Lijiang Theater, which lasted for about one hour. The whole performances were mainly made by Yao, Zhuang and Miao ethnic groups. We enjoyed a huge audio-visual feast during the dances, acrobatics and antiphonal songs of them. Hard working and contented life of the local people, romantic love stories of boys and girls, beautiful sceneries in Guilin (the
Lijiang River
,
Elephant Trunk Mountain
,
Longji Terraced Fields
,
Reed Flute Cave (Ludi Yan)
and historical Lingqu Canal) ... a fantastic Guilin was briefly presented to the audiences.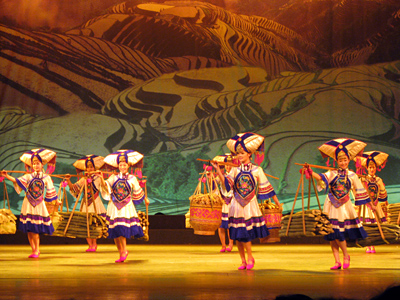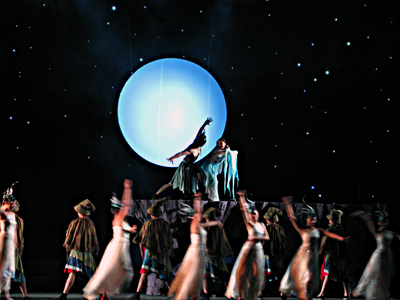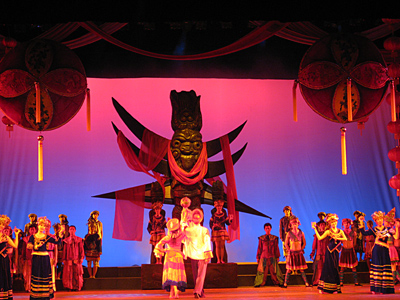 One of my colleagues Robert wrote his personal views about the show as below:
"I was living very close to the Li River Theater when I was very young, so the street outside the theather (Binjiang Avenue, 滨江路) was the place that I am very familar with, I spent my childhood here and also I was born in the Guilin People's Hospital near the theather. So I can still remeber some interesting things when I was a child in and out side the Lijiang theater.
The show was great, honestly speaking. Personally I do not like a show devided into so much sections but there is one thing for sure: they performed very well and the acrobatics actors and actress are very professional and hard working. How easy for them to finish so difficult shows and how graceful they are, especially the music, I like them very much because it sounds like the famous western classic musics in the Movies but it is absolutely better.
And also I was very lucky to have a seat in the middle of the theater so the Fantastic Guilin showed me a lot, not only the common acrobatics but also the cultures and lifes of local minority people in Guilin. For example, you will listen to the well-known folk song of Liu San Jie (Sister Liu), she and her story was known by everybody and has come down from one generation to another. The show is suggested to visit in the first day of your Guilin Tour, because you will simply understand our culture and know what to see in Guilin after the show, that might interests you and bring your a better tour in Guilin, Yangshuo, Longsheng, to see the famous sightseeing in Guilin.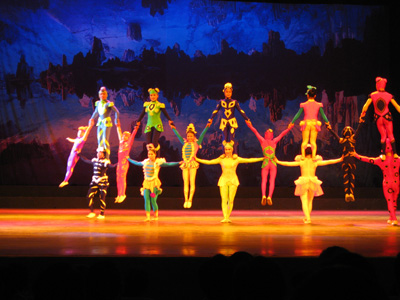 So if you have time, just try it, and if you have any questions about show or anything about Guilin tour, or just want to know our city before come. VisitOurChina will be your best choice:)"
Time of the the show: 8:00 pm – 9:10 pm.
Address of Guilin Lijiang Theater: No.9, Binjiang Road (across from the Elephant Trunk Mountain), Guilin.
Telephone of the theater: 0773-2851280.
Comments
Comment