VOC's Travel BLOG
Our Travel Blog is the place to share our real life, travel experiences in China with you. Besides, we will provide information related to Chinese culture and China travel guide. "A bosom friend afar brings a distant land near." Traveling makes us to be closer, let's discover China together!
My Yangtze Cruise tour from Chongqing to Yichang, a relaxation with beauties and surprises
2014-08-08 | China travel Guide | Comments(0) Views(1288)
One of our customer group would take a Yangtze cruise tour downstream (Chongqing to Yichang) on August 1st – 4th, so I took this opportunity for a business trip to meet our customers, to coordinate the matters on the cruise ship and update latest information about the cruise on our website.
After a short fly from Guilin to Chongqing for some 1 hour and 10 minutes, I transferred to Haikehui restaurant to have a dinner with our group, then departed together for President No.8. President No.8, our Yangtze Cruise ship this time is a 5-star ship and relatively new started its voyage only in April last year. It is also one of the largest on Yangtze River and has about 190 crews to serve about 500 guests. This new ship is equipped with kinds of entertainment facilities, reading room, internet bar, KTV, Mahjong room, gym room, cinema, indoor swimming room, beauty salon, Oscar multi-function hall, massage… and clinic, to make your trip no boring and anxious. Each room has an independent balcony, offering great view of Yangtze River, and more important, the ship also made great improvements on safety and traveling comfort. More info about President No.8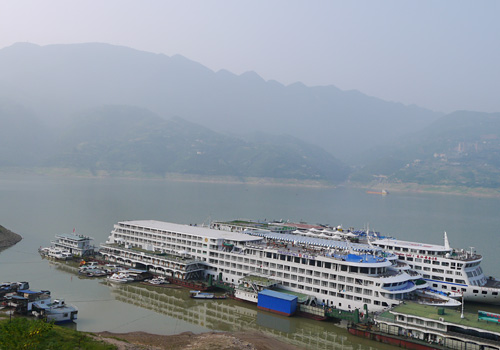 The President No.8
We checked in the ship at 18:30 in the help of Chongqing local guide before its departing time 21:00. A river guide received us, named Balle, she would in charge of our group's relevant matters and sightseeing on land for the whole cruise. After a short rest in the cabin, she called on us to Oscar multi-function hall and gave us a short presentation about the whole journey and ship facilities. Then our three-night-four-day Yangtze cruise officially started.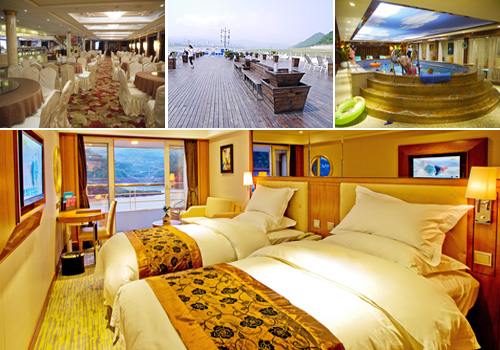 Facilities on the ship
The second's morning, we got up early to have a Chinese & western buffet breakfast. In general on the ship, breakfasts and lunches are both buffet, and dinners are table service, all are delicious. This day was a relax day, you can relax in sauna room, do some massage, see a movie or just stay in your cabin. Actually, the ship arranged many free demonstrations on Chinese culture, like Chinese embroidery, massage, fresh water pearl, mahjong culture, acupuncture, and the like, which will make your whole cruise with no reason to feel boring.
This day's on land sightseeing is in the afternoon for Shibaozhai Pagoda. But if you want to see more attractions, you can also pay RMB280 for sightseeing to Fengdu Ghost City in the morning. Shibaozhai, literally Stone Treasure Fortress, is renowned for its unique shape and many fancy legends. It is an architecture wonder existing as the largest column and tie wooden construction with most storeys in China, and listed in the Eight Strange Structures of the World. To visit Shibaozhai Pagoda, we needed to go through a long suspension bridge first, and in the attraction, you can also see inscriptions and cultural relics except the beautiful architecture of the pagoda.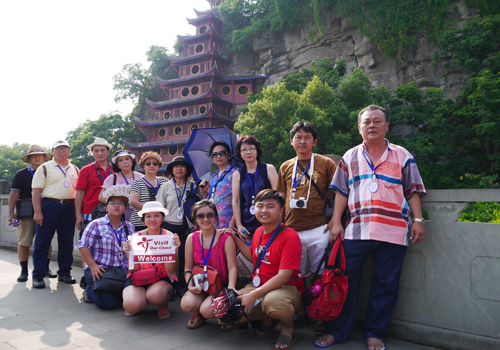 Our group photo in front of Shibaozhai Pagoda
After a tired sightseeing and the delicious captain's welcome banquet dinner, I, with my cabin-mates went to the deck in the evening to have chats, enjoy the fresh river winds and beautiful night scene along the banks. The ship that night passed through Wanzhou, which offers an amazing night view.
The third day is a highlight day for a downstream Yangtze cruise. In the morning, the ship docked at the port of White Emperor City in Fengjie. White Emperor City is the other optional attraction of the trip also charged RMB280. It is quite famous among Chinese thanks to the famous poet of Tang Dynasty (618-907) Li Bai' who wrote the famous poem LEAVING WHITE EMPEROR CITY AT DAWN,
Leaving at dawn the White Emperor crowned with cloud,
I've sailed a thousand li through canyons in a day.
With monkeys' sad adieus the riverbanks are loud;
My skiff has left ten thousand mountains far away.
What is more, the attraction offers the best view of Kui Men, the start point of the three gorges and the image printed on the back of banknote RMB 10. Hence, I went to the site without hesitation.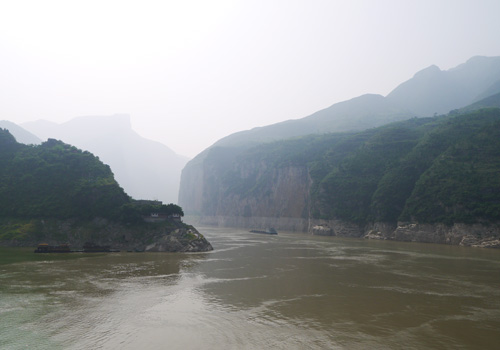 Kui Men
The scenic White Emperor City is a pocket city on Baidi Hill, surrounded by waters on three sides. It offers beautiful natural sceneries, and is cool even under the scorching sun due to the verdant trees on both sides of the paths. On the top of the hill, a souvenir photo with a background of Kui Men is a must for every tourist. However, the attraction offers more, a splendid ancient show on the entrance square, the elegant architecture of ancient styles, historical figure statues, and so on.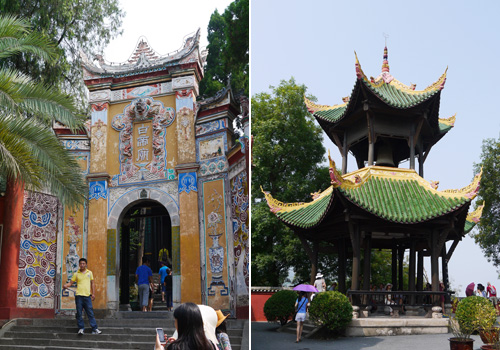 Architecture in White Emperor City
After departing Fengjie, the cruise ship continued its voyage to pass the first gorge and shortest gorge Qutang Gorge (8 km long), then the visual feast started. The remaining times on the ship, we could enjoy beautiful sceneries on both banks at nay time. About 1.5 hours later, the ship passed the second gorge Wu Gorge (46 km long).
Natural beauty of three gorges
This day's including sightseeing is a boat tour for Shennong Stream, a stream flows into Yangtze River at the east of Wu Gorge. Shennong Stream is a national 5A scenic spot about 60 km long. To visit it, we first transferred to a ferry ship with a 50 minutes trip. Along the way, we saw another three gorges, Longchang Gorge, Yingwu Gorge and Shenning Gorge, hills of different postures, caves, some residences & temples on high mountains, suspending coffins insides rocks (an ancient funeral in local) and monkeys playing on the cliff. It is said that many other wild animals are also seen sometimes. Then we transferred to small peasecod-shape boat to sightsee the narrow section of the stream. Such boats are ancient transportation tools and in the past, local Tujia boatmen needed to track the boat on the bank when the Three Gorges Dam haven't been finished and the water level was very low. Now they only track for tourists though the peasecod boat still their main transportation as they all lived on high mountains along the gorge. Our guide is also a Tujia minority girl wearing their ethnic clothes. She introduced the local Tujia life before the construction of Three Gorges Dam, sang their folk songs for us and taught us some simple Tujia language. It was such a happy and enjoyable journey. After the boat tour, we took the same way back on the ferry ship to our cruise ship.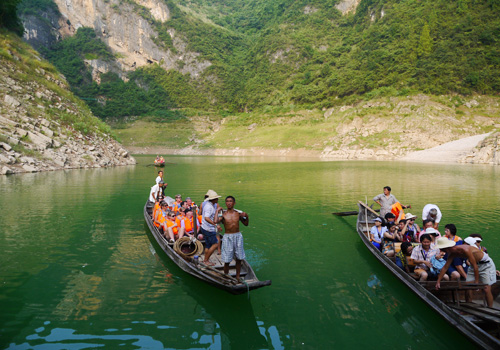 Boat tour for Shennong Stream
The ship would go through the five step ship locks at midnight. I was too tired that day and it was really a long procedure, so I gave up seeing that. The next day, also the last half day of the cruise ship, we took our last on land tour for Three Gorges Dam, the highlight of the day. The guide told us our President No. 8 just went through four-step ship locks the night before according to the water level which also cost 3.5 hours. In other seasons when waterhead is higher, the ship must pass through 5 steps to finish the whole procedure.
We got to the grand Three Gorges Dam by bus. The dam is the largest hydroelectric project in the world which has spent 12 years to be constructed. It was built firstly to control flood, then generate electricity, store water, for shipping and lastly tourism. The construction of the dam was estimated to submerged 287.5 square km arable land and about 1,131,800 residents living along the area were relocated finally. Now, being a concrete gravity dam, it has a 3035-meter-long top and a storage capacity of 39.3 billion cubic meters. The 26 generator equipped on the dam can produce 84.9 billion Kw of electricity per year and the shipping capacity has also been improved from ten million tons to fifty million tons, which brings a cost reduction of 35% of the original. Apart from the function as a huge reservoir, the dam also creates a breathtaking artificial landscape in the world.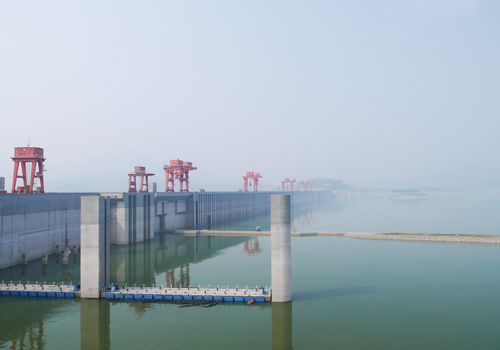 The grand Three Gorges Dam
After went back to the cruise ship, we passed the last gorge, Xiling Gorge. When enjoyed the beauties along the banks, we also had to pack luggage and prepare for the checking out when the ship in shore at the port of Yichang at 12:00. The three days trip went by so fast. The beautiful sceneries of three gorges, interesting Tujia culture, exciting on land tours, delicious food, passionate crews, considerate local guides, complete facilities on ship… all made the cruise trip a memorable that lingering in my mind even now when I sit in my office in Guilin. Yangtze River, the longest river in China with lots of beauties and surprises, must be an indispensable part in an in-depth China essence tour you can not miss.
--- By April (VisitOurChina)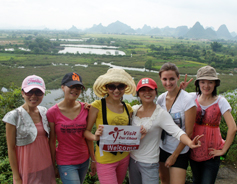 Calendar
Categories