Earth Buildings of Yongding/Fujian Tulou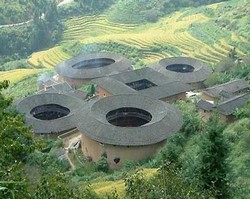 More Photos

Chinese name: 永定土楼 (Yongding Tulou)
Location: Longyan City, Fujian Province.
How to get there:
- By air. Guanzhi Airport (冠豸机场) is located in Jiangfang Village, Lianfeng Town, Liancheng County, Longyan City. Nonstop flights are available between the airport and Shenzhen, Xiamen, Fuzhou and Shanghai.
- By bus.
From Xiamen to Yongding to Hukeng (厦门-永定-湖坑): get on the bus at Hubin Nan Road Long-distance Bus Station (湖滨南路长途客运站) and after four hours, you can get off at Yongding station where you can buy tickets for Hukeng Tulou Cultural Village. It takes you about 40 minutes.
From Xiamen to Fuzhou to Longyan (厦门-福州-龙岩): get on the bus at Hubin Nan Road Long-distance Bus Station (湖滨南路长途客运站) which runs every 60 minutes.
From Xiamen to Xiayang (厦门-下洋): get on the bus at Hubin Nan Road Long-distance Bus Station (湖滨南路长途客运站) and you can get off at Hukeng Town to watch Cultural Village, Zhenfu Tulou, or at Xiayang Town to watch Chuxi Tulou as you like.
- By tourist bus. Tourist buses are shuttling to and fro these Tulou.
Best time to visit: All year round.
Introduction to Yongding Tulou
Yongding Tulou, located in Longyan city, Fujian province, is unique rural dwellings of the Hakka and Minnan people in mountainous areas around the world. It is a gem in architecture of ancient China because of its long history, distinct styles, magnificent scale and exquisite structure. In terms of history, aesthetics, and science, Yongding Tulou is highly commended as the ancient castle of the orient. Generally speaking, Tulou is divided into two sorts, the rectangular and the circular. Nowadays, there are about 360 well-reputed circular Tulou and more than 4000 circular ones.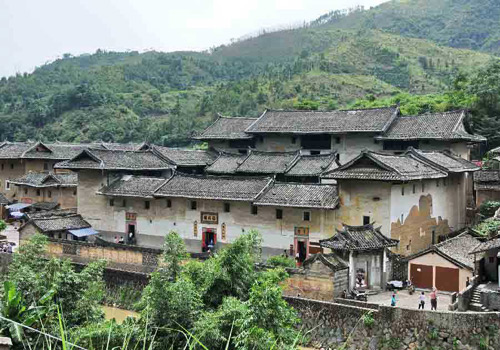 Features of Yongding Tulou
Tulou, where the Hakka and Minnan people live, has its walls made of sticky rice, lime, egg white, and clay while the inside is of yellowwood and China fir, which prevents searing hot and mind-numb cold from hitting the residence. Besides, temperature is automatically regulated. Yongding Tulou had always been the fortification of the Hakka before the liberation in 1949 in that it is no less impregnable than those armored concrete buildings. The door is made of nailed ten-centimetre-thick woods. Some doors are even equipped with trough in case of fire. Commonly, those circular Tulou have windows shut at the first and second storeies so as to ventilate the rooms and snipe intruders. On the top, the observation tower makes it convenient for the residents to grasp the enemies' situation.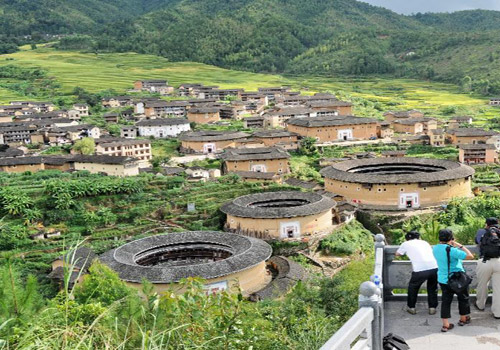 When it comes to the paradigm of the dwellings of the Hakka, the circular Tulou can never be omitted. They are usually composed of two or three circles, one close to another. The outer circle is ten metres or so, with three to four storeies, one hundred to two hundred living quarters on the peripheral. The lowest storey serves as kitchens and dining rooms; the second storey is used as warehouses; the other storeies are for living rooms. The second circle is two-storey high with thirty to fifty rooms. At the centre is a courtyard where weddings and funerals are held. Such amenities as well, bathroom and mill are available.
History of Yongding Tulou
Fujian Tulou is the unique and creative rammed earth dwellings in mountainous areas, the masterpiece of immature soil architecture. Tulou came into being in the Song Dynasty (960-1127) and Yuan Dynasty (1271-1368), and late Ming Dynasty, Qing Dynasty and the Republic of China were its heyday. Chuxi Earthen Building Cluster enjoys both the oldest and the youngest Tulou – Jiqing Tulou is as old as six hundred years while the Shanqing Tulou only has a history of thirty years.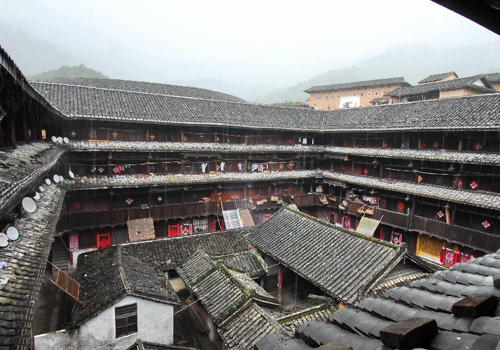 As a matter of fact, the formation of Tulou has something to do with the migration of the Han of Central Plain. In 400 A.D, wars and disasters engulfed the northern country, leaving the locals immigrating to the south. With the integrating of the immigrants and the dwellers in south Fujian, a group of people began to speak Minnan language. Those who settled down in mountainous area of west Fujian by way of Ganzhou, Jiangxi province, however, started speaking Hakka. And Tulou is just standing on the junction of the Minnan-speaking area and Hakka-speaking area, where conditions were tough, bandits were rampant. More important, it is deep-rooted concept of living a social life that urged people to find a way of warding off intruders, thus an ingenious layout of Tulou coming into being.
Significance of Yongding Tulou
Not only is Tulou multifunctional, but also is symbolic of harmonious life. As a colorful society in miniature, Tulou witnesses people helping one another every day and getting along with each other. Whenever you are paying a visit here, the rich history and profound tradition strike you all the time; moreover, the ideal of cultivating one's moral character and putting one's family affairs in order and the pursuit of arriving at supreme goodness will arouse your emotion. On 6th July, 2008, Fujian Tulou was inscribed as World Heritage Site by UNESCO.
Quick Questions
Our team is waiting for your questions. Please feel free to ask us any questions you might have about our China package tours, Chinese culture, or the sites available. We will gladly help you with any special needs you might have and all questions, like our trip designing is completely free of charge.