Great Places to Enjoy Red Leaves in China
2013-12-06China travel Guide
Yesterday morning when I passed by the Sanlidian Roundabout (Guilin) on my way to office, I found that the maple leaves had turned red - that's really beautiful the leaves shaking slightly in many carriages. I did not spend much time enjoying it, but it did remind me of some other great places for red leaves watching in Guilin or other cities in China. As many tourists want to experience unusual China tours, red leaves watching may be a great choice.

Because of the latitude difference, leaves in different places turn red in different time. Generally, places like Beijing, Xinjiang, in the north of China, the best time to enjoy red leaves is October to November. And in the middle-latitude places of China, Sichuan Province, Three Gorges Area or Suzhou in Jiangsu Province, leaves turn red around November. December is the best time for you to enjoy red leaves in Guilin or other southern China cities.

Hike Guilin in December - five places to enjoy red leaves.
The first one I want to recommend is Wu Jiu Tan (乌桕滩, Tallow Tree Beach)in the suburb Zhujiang Village of Guilin City, beside the Li River. As more and more tourists love Li River hiking these years, it has become a hot place for Guilin hiking.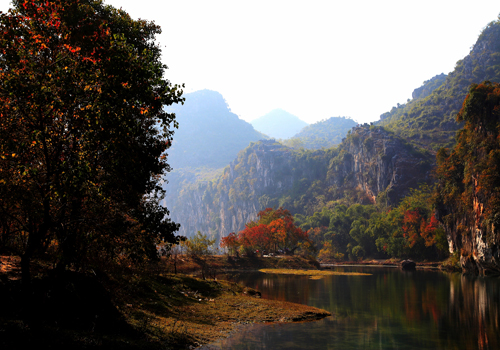 Yangdi Village in
Yangshuo
is the starting place for Li River hiking. And about five hundred meters to the north lies the second place I want to mention - Moonlight Island Park. It is a great place in all seasons, but especially beautiful in December with the leaves turning red.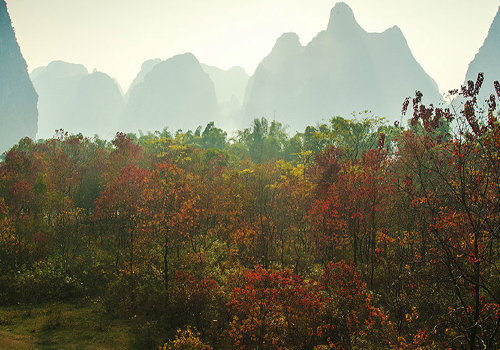 Guanyan Cave, or Crown Cave, is a famous attraction beside Li River. When you are going to cross the entrance, please take it slow and look out at the tallow trees in distance. Clear water and majestic mountains make the red leaves rather special and beautiful.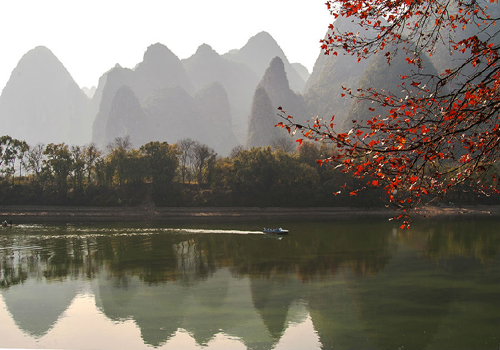 Gongcheng County has the famous Peach Flower Festival and Yueshi Festival (for persimmons). But after the festivals, in the later autumn, the persimmon leaves turn red and make the woods a golden world.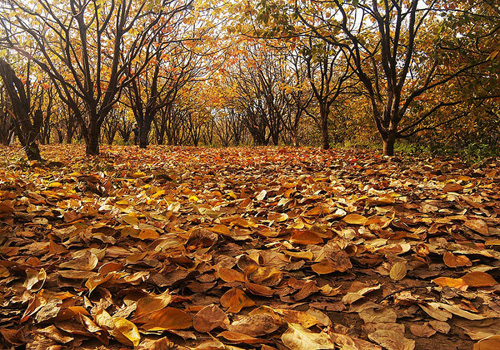 Gudong Waterfall Scenic Spot of Guilin is a must-see place with beautiful landscape and wonderful activities. Summer is the best season to enjoy the waterfalls, but in winter, the widely scattered red leaves will bring you incredibly fantastic visual experience.
Beijing - Hike the Great Wall in autumn
. Also in this season, the Great Wall is decorated with colorful autumn red leaves. The Badaling section has the most species including cotinus coggygria, maple, persimmon and etc. Mutianyu Great Wall has a huge area of special large-leaf oak trees. Huangyaguan Great Wall is famous for maple and hawthorn.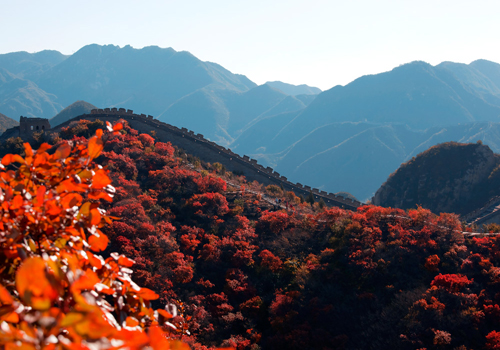 Kanas in Xinjiang Uygur Autonomous Region - It is like fairy tale world with small population and large area of beautiful birches. The plants there are very well preserved and in the deep autumn it presents a show of colors: the maple leaves turn red and birches turn yellow, and all the other plants changes color in the same season - the beauty is totally beyond description.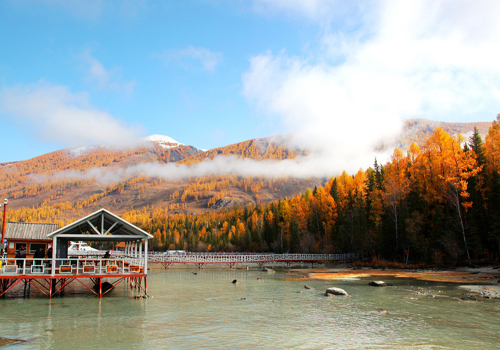 Jiuzhaigou National Park and Daocheng County in Sichuan Province
- Autumn (around October) is the best time for visiting Jiuzhaigou National Park because it is like a sea of colors in the season. With over 3000 meters' altitude difference, it has five vertical distribution types. Even the slightest breeze will cause the whole 700 square kilometers leaves swinging. Daocheng County is located in a mysterious, pure and beautiful highland, which makes its red leaves particularly attractive in all seasons. And the most beautiful part of it lies in a mountain named Echu (means sparkling mountain in Tibetan) - the tier upon tier shrub woods, red, yellow and green, it will be your most unique experience in China.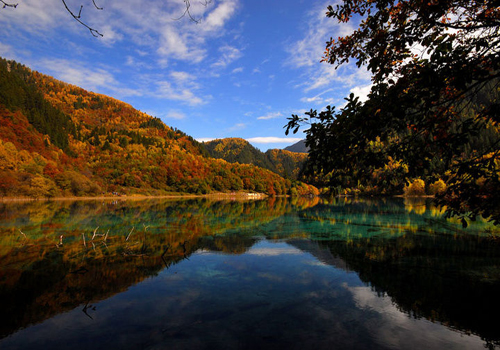 Jiuzhaigou National Park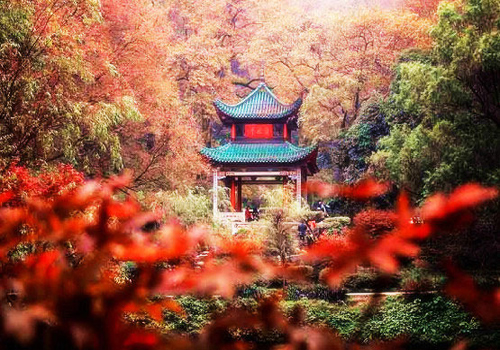 Daocheng County
Tianping Mountain in Suzhou, Jiangsu Province
- it is about 30 kilometers away from Suzhou City and well known for red maple, clear spring, and strange stone. There are over 400 maple trees which has been living for several hundreds years. The maple leaves are quite different because it turns red in four steps: from green to yellow, then orange, purple, and finally red. So it is also called "five colors maple".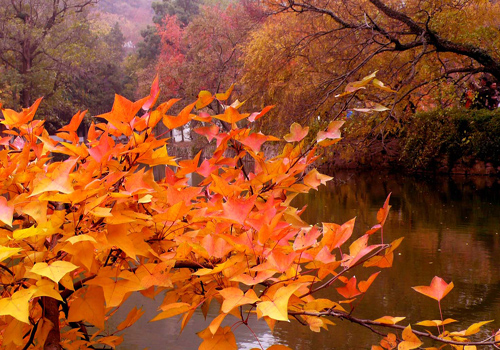 Three Gorges Area
- when it is snowy in China's northeastern area, Three Gorges Area of Yangtze River is in its golden autumn. It is really special to experience Yangtze River cruise while enjoying the red leaves of both banks. There are four uniquenesses for red leaves in Three Gorges Area: Large Scale; Numerous Species; Long Term; Beautiful and Comfortable; Leisure and Interesting (you can enjoy the red leaves and fragrant smell lying in the ship).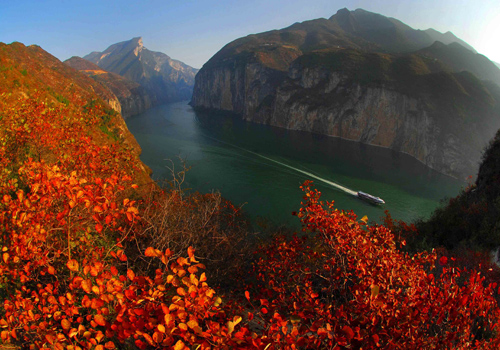 The locations above are what I want to introduce today, but China has so much more wonderful places for you to adventure - real China beauty sometimes hides in the less-visited places!
Comment