A Lifetime Journey to Shangri-La
2012-06-11China travel Guide
My friend Winnie recently joined a tourist group and went to her dream land, Shangri-La. When she shared her feelings and photos with me, my tidy of thoughts and feelings fully flow out. Actually, since I saw a picture of Shangri-La in my second year at university, I have been dreaming of there. The blue sky and white clouds make it an extraordinary pure land. Recently, a mouthwatering food Matsutake which appeared on the hot documentary A Bite of China increased my curiosity for Shangri-La. What she experienced in Shangri-La inspired me to write down this article.
Before she went to there, Winnie was quite confused with the relationship between Zhongdian, Diqing and Shangri-La. Now everything is clear. Zhongdian was renamed as Shangri-La and the full name is Shangri-La County of Diqing Tibet Autonomous Prefecture in Yunnan Province. The tour guide told people a lot about Tibetan customs. Tibetan call men ''Zhaxi'' and women ''Zhuoma'', and going to a Tibet family one have to stride across the threshold without touching it. Bus moved on the Yunnan-Tibet Road, the ancient Tea Horse Road. As Shangri-La was coming near, she got very excited. Flocks of horses and cattle leisurely strolled on the road. Lush grassland was strewn with Yellow Langdu blossoms. Everyone was immersed into the sea of flowers. Shangri-La is located on the southeast of Qinghai-Tibet plateau and strewn with snow-capped mountains and gorges. So they had a lot of things to see.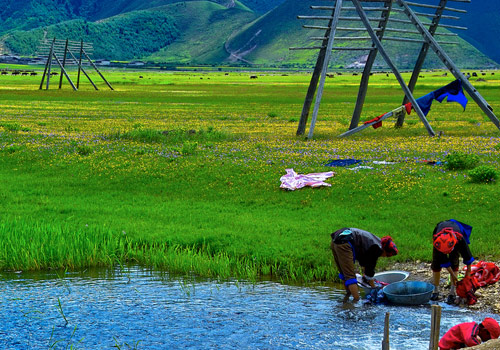 The first night, Winnie and her group paid a visit to a Tibet family. The Zhuomas treated them with
barley wine, barley bread and Tibet buttered tea, yak beef, etc. They were very hospitable. When Winnie asked about Matsutake, Zhuoma told her that Matsutake grows in the virgin forest of Shangri-La and they can only remain fresh for two days, and if she has time he could lead her to pick Matsutake next day. Without any hesitation, she decided to go. Winnie was told that she went to Shangri-La at the right time for the best time to pick Matsutake is from June to October.
The next day at 3:00 am, Zhuoma rode his motorcycle carrying Winnie to pick the Matsutake. Several minutes later, they jumped off the motorcycle and walked into a primal forest. About half an hour later, Zhuoma found one with his sensitive eyes. He pulled it off and covered the pit with pine needles right off. He explained to Winnie that it's for protecting the hyphae. To prolong the gift endowed by nature, every Tibetan follows the rule of nature. Matsutake is regarded as a nonesuch of mushroom, so its price is very high. Zhuoma said that every Tibet family in Shangri-La would stride into forests to pick Matsutake between June and October in order to make a living. At that night, Winnie was very lucky to be invited by Zhuoma. Usually, it's too luxurious for Tibetans to cook Matsutake, but Zhuoma served the group with a precious dish Stewed Chicken and Matsutake in Broth (
松茸炖鸡汤
). Everyone was moved by their simple and kindness. An unforgettable family! Unforgettable Shangri-La!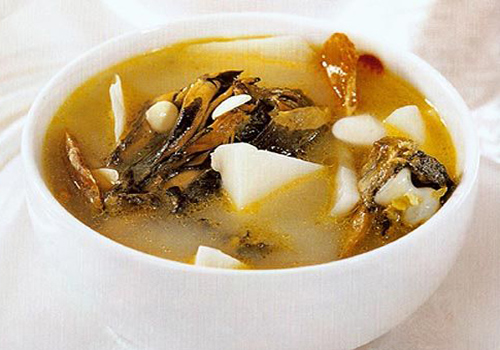 The third day, Winnie came to Pudacuo National Park. Before they went there, the tour guide said that Pudacuo National Park is 4000 meters above sea level and reminded them to bring quilted jacket and get ready for altitude sickness. Winnie did have when the bus was climbing the road. But she found it worthwhile when she saw the holy Bitahai Lake and Shudu Lake. Massive clouds hanged still overhead. Blue sky was reflected in smooth and limped water, presenting a breathtaking scene. No wonder Shangri-La is praised as a paradise on earth.
The following days, Winnie visited the famous Meili Snow Mountain, Zongzanlin Monastery, Napahai Lake. She wished she could stay longer in Shangri-La but it's time to leave. So she reluctantly left there. After hearing what she said, I decided to go Shangri-La if I have enough time.
Comment