Bitahai Nature Reserve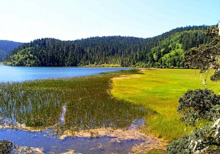 More Photos

Chinese name: 碧塔海(Bi Ta Hai)
Location: 25km east to Zhongdian County, Diqing (Shangri-la), northwest of Yunnan Province.
Opening time: 08:00-17:00
Entrance fee: CNY190 for Pudacuo National Park (non-extra fee for Bitahai which is in Pudacuo Park), CNY 30 for the lake cruise.
Best time to go: in summer and autumn.
How to get there: take private vehicle or charter a car.
Introduction to Bitahai Nature Reserve
Bitahai Nature Reserve, covers an area of 840 square kilometers, is located in the northwest part of Yunnan, in the Hengduan Mountain range. Bitahai Nature Reserve is 3,538 m above sea level, 3km long, and 1km wide; it is the highest lake in Yunnan Province. The lake there is known as the pearl of Yunnan.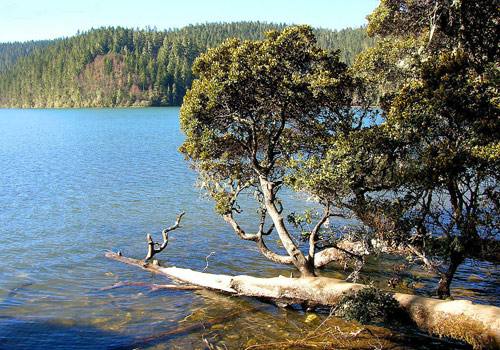 Bitahai Nature Reserve became an established nature reserve in 1984, and was established to protect the rare wildlife, and plant life in the region. The plant life here is rich in variety due to its subtropical climate that the area gets about 620mm of rain a year. A few of the plant types here include coniferous trees, broad leaf trees, shrubs and marshy grassland.
Bitahai also has a wide array of wildlife such as, leopards, black-necked cranes, rhesus monkeys, lynxes, blood pheasant, black bears, brown bears, the Tibetan Pika, parrots, and a lot of different types of fish, like the three-lipped fish native to this area. (This fish is said to have a history of 2,500,000 years, supposedly left over from the Quaternary Glacier- the latest great glaciers.) This area is literally teaming with wildlife.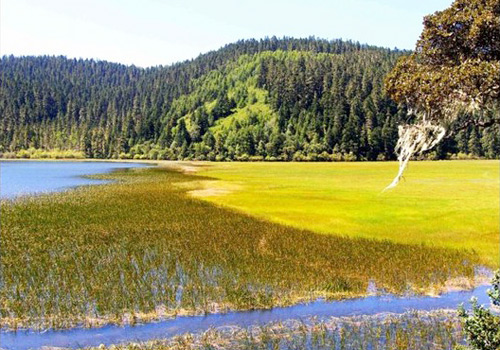 The nature reserve of Bitahai is like a beautiful painting, with water, wildlife, snowcapped mountains, green foliage, and blue skies. The lake is like a mirror, the water is clear, and the sun is always shining. When the flowers bloom, the air is filled with a wonderful fragrance that will refresh you. In May the azaleas bloom, and decorate the forest, and in autumn they fall into the lake and leave a gift for everyone to see, because the flowers have a slight bit of poison in them when the fish eat them they all go belly up for a bit and float on the lake, kind of looks like they're drunk or unconscious, and the birds are the only thing you'll hear besides the running of the water. No one screaming, no car horns, nothing but peace and tranquility. If you get the chance come and experience this slice of heaven.
Quick Questions
Our team is waiting for your questions. Please feel free to ask us any questions you might have about our China package tours, Chinese culture, or the sites available. We will gladly help you with any special needs you might have and all questions, like our trip designing is completely free of charge.