Songzanlin Monastery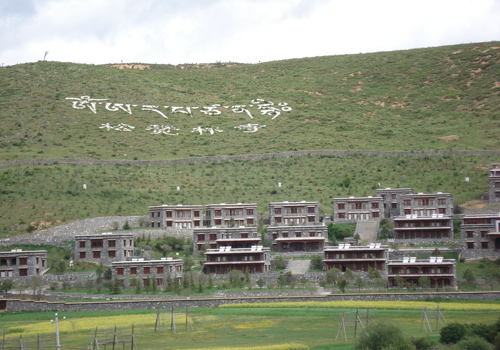 More Photos

Chinese name: 松赞林寺 (Songzanlin Si).
Location: about 5 km north of the county seat of Shangri-la, Diqing Tibetan Autonomous Prefecture, Yunnan Province.
Ticket: CNY85.
Opening time: 08:30-17:30.
How to get there: There are through buses to the temple at the county seat of Shangri-la; travelers can also go there by bus No.3.
Best time for visit: spring and summer.
Travel tips:
1. It is suggested to visit the monastery clockwise in consideration of respecting religious custom; Do not point at figures of Buddhas; Do not enter Living Buddha's room without permit.
2. The viewing deck at Gulong Village near Songzanloin Monastery is the best place to take the monastery's panorama. If you want to take a photo of the folk costume and goats for rent there, it is suggested to bargain beforehand.
3. At the altitude of over 3300 meters, the area the monastery is likely to be quite cold in summer, so it is suggested to take along coat, down jacket, glove and anti-skidding shoes if necessary. Besides, sun cream, sunbonnet and sunglasses can protect you from sunburn especially in October. June-September is the rain season in the area.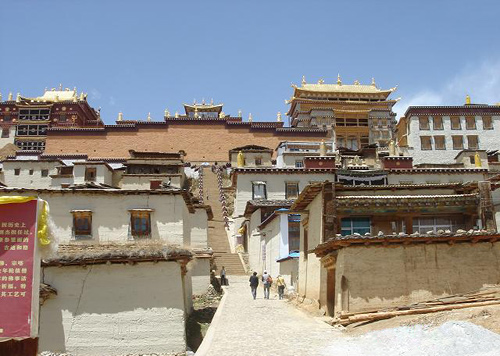 Introduction to Songzanlin Monastery
Songzanlin Monastery, or Ganden Sumtseling Monastery, was a monastery of Tibetan Buddhism started to be constructed in 1679 and completed two years later. The site selection of the monastery is said to be decided by a divination and it was intitled "Ganden Sumtseling" by the fifth Dalai Lama. "Ganden" indicates that the monastery inherits the religious doctrine of the Ganden Monastery, which was founded by Tsongkhapa (1357-1419), founder of Geluk school of Tibetan Buddhism; "Sumtse" is the place where the three heavenly gods of Buddhism stay; and "ling" means monastery. After the completion of the monastery, it became the high authority in the area and a sacred ashram in Yunnan, Tibet and Sichuan areas, worshipped by a mass of believers.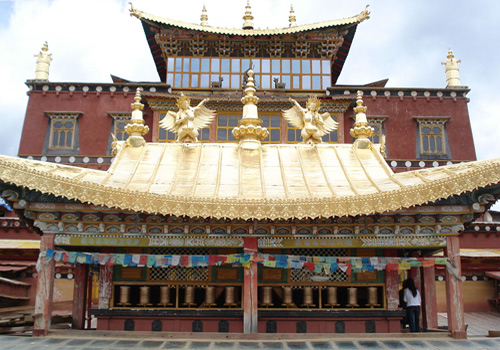 With another name "Guihua Monastery" titled by Emperor Yongzheng (1678-1735) of Qing Dynasty (1644-1911), Ganden Sumtseling Monastery is also referred to as "Little Potala Palace" due to its imitated appearance. As the most large-scale monastery of Tibetan Buddhism in Yunnan, Ganden Sumtseling Monastery is still playing an important role in the whole Tibetan area. Originally covering some 333,333 square meters, the monastery had 3000 lamas at the heyday and the number declines to about 700 this day.
Boasting "museum of Tibetan arts", Ganden Sumtseling Monastery is home to a large number of ancient historic Buddhist treasures such as gilded statues of Sakyamuni, Thangka and Buddhist classics. On 29th day of every eleventh lunar month, local Tibetans always dance with mask to celebrate the Gedong Festival at the monastery.
Quick Questions
Our team is waiting for your questions. Please feel free to ask us any questions you might have about our China package tours, Chinese culture, or the sites available. We will gladly help you with any special needs you might have and all questions, like our trip designing is completely free of charge.