Beauteous Li River in misty rain, Guilin
2012-04-13China travel Guide
Being a land with best landscape under the heaven,
Guilin
is a city enjoying a high reputation with breathtaking sceneries along the
Li River
. Rises in the
Mao'er Mountain
in Xing'an County (northern border of Guilin), passes southward through Guilin and Yangshuo, the Li River is a real fairyland on earth, which is endowed with graceful karstic hills, amazing caves and little streams. With its unique beauty that goes beyond any words, the Li River is one of the most represented landscapes embodied on traditional Chinese paintings and poems. As early as Tang Dynasty (618-907), the famous poet Han Yu (768-824, 韩愈) was fascinated by its beauty and described this fairyland to people: "the river winds like a green silk ribbon, while the hills are like jade hairpins" (江作青罗带, 山如碧玉簪).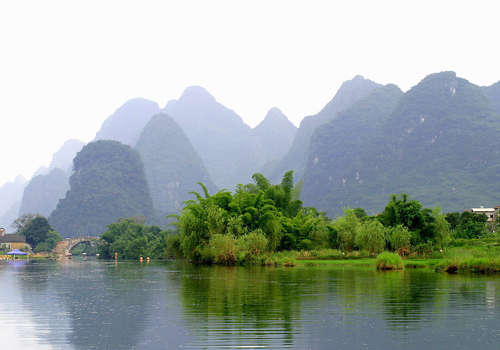 As is well-known, the Li River of Guilin is amazing with its elegant peaks reflecting on the clear green and mirror-like water, while the best time for experiencing a surprising Li River is always from March to May with spring drizzling rain- the celebrated Li River in Misty Rain, the one to enjoy a surreal beauty of this dreamy and fantastic wonderland. Under the hazy drizzle, it is a wide expanse of mist-covered waters, layer upon layer of peaks shrouded in fine gauze, and floating clouds trajecting among bashful peaks. Taking a boat on the river is just wandering in a traditional Chinese splash-ink painting, in which is also a extraordinary admiring of picturesque view on the banks with graceful peaks, rice paddies, bamboo groves, waterfalls, buffalos, ancient villages and the symbol of the river- cormorant fishermen floating on bamboo rafts.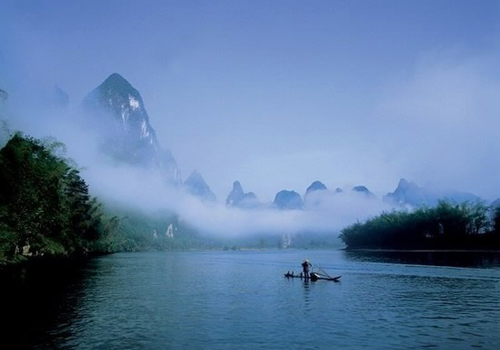 The Li River scenery in the rain is definitely the perfect representation of the Chinese landscape ideal which attracts a great number of painters or photographers in all ages. If you are lucky in this period this year to have a eye feast of the misty Li River, it is happened to meet art students from the Central Academy of Fine Arts in Beijing (the best academy of fine arts in China), who are endeavoring to capture the mystic but changeable landscape of the charming Li River. Still, the Li River in mist is a permanent theme included in the
photo tours
of almost every shutterbug, from which numerous masterpieces have been created.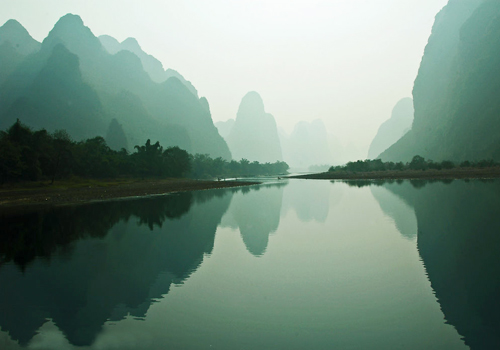 Tips for shooting or appreciation of the Li River in Misty Rain:
1. Best time: in the early morning during the season from February to May.
2. Best sites:
Yangshuo
Bridge, the tops of
Green Lotus Peak (Bilian Peak)
and Yangshuo Television Tower,
Xingping Landscape Area
(especially in Huangbutan and Laozhai Mountain), Xianggong Mountain,
Yao Mountain
.
3. The higher the location, the broader the vision, thus the greater the view of the Li River in misty rain is acquirable.
Comment