Rock climbing in Yangshuo
2012-04-17China travel Guide
Thanks to the peculiar karst landform, Guilin especially Yangshuo is endowed with abundant scenery made up of karst hills in various shapes, while some of them are more than landscapes. In other words, it is no exaggeration to say that you can find a hill suitable for climbing wherever you stand in Yangshuo. Thus, no airport and no railway do not stop climbing lovers from all over the world from rushing to Yangshuo every year.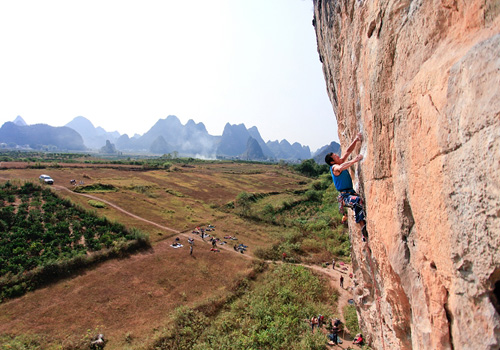 Developing from mountaineering, rock climbing has existed for more than one hundred years in the world and has become an independent and trendy sport for the youth nowadays. Hailed as of Rock Climbers' Paradise of China, Yangshuo almost possesses all the perfect palisades for climbing throughout the country and has been drawing incalculable climbing aces and fans from both home and abroad. Most used climbing sites of Yangshuo scatter along the Yangshuo-Lipu road and can be accessed by taking a minibus that departs to Gaotian (高田) or Lipu (荔浦) at Yangshuo Bus Station.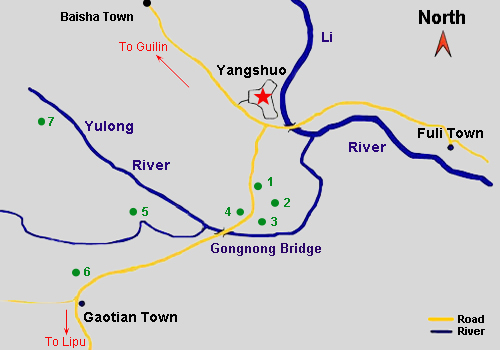 Famous Climbing Sites in Yangshuo
1. Golden Cat Hill Climbing (金猫山攀岩): about 4 km from county seat of Yangshuo.
2. Wine Bottle Hill Climbing (酒瓶山攀岩): on the opposite side of Yangshuo Butterfly Spring (蝴蝶泉), less than 1 km from Golden Cat Hill Climbing.
3. Middle Figure Peak Climbing (中指峰攀岩): a little further than Wine Bottle Hill Climbing.
4. Thumb Peak Climbing (拇指峰攀岩): facing the Middle Figure Peak Climbing across the road.
5. Big Banyan Climbing (大榕树攀岩): on the west side of the Big Banyan Scenic Spot, about 6 km from county seat of Yangshuo.
6. Moon Hill Climbing (月亮山攀岩): The Moon Hill itself is a famous attraction as well as a natural climbing site.
7. Copper Gate Hill Climbing (铜门山攀岩): by the Yulong River, some 20 minutes' walk from the Big Banyan to the upstream of the river.
Yangshuo Climbing Festival
Yangshuo Climbing Festival is held annually since 2008 with the aim of gathering climbing lovers and providing them with a chance to exchange experience and the mission of popularizing and boosting climbing. The fund collected from the festival is used for preserving the climbing sites and developing more. As below are schedules of the festival:
2008: October 31 – November 2;
2009: November 13 – 15;
2010: October 29 – 31;
2011: December 1 – 4;
2012: to be determined.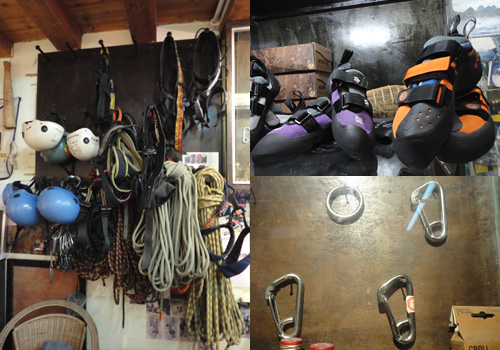 Yangshuo Climbing Tips:
1. Generally speaking, May to the middle of November is the best season to climb in Yangshuo due to the nice sunny weather. During the May Day (May 1-3) holiday and the National Day (October 1-7) holiday, climbing sites in Yangshuo are usually occupied by tourists from all over the world and room rates will be double even triple than usual, so it is better not to make you climbing plan in these two peak periods.
2. Climbing has been commonly considered as a safe outdoor sport, but it is still suggested to do it with assistances and guidance of professional and experienced climbers in consideration of security.
3. There might be rockfalls while climbing, so it is better to wear a climbing helmet in case of accident.
If you are planning to have an exciting experience in Yangshuo, just feel free to contact us to make a climbing tour.
--- By Cindy (Visit Our China)
Comment