May Day 2011: Spent My Holiday with Yangshuo
2011-05-06China travel Guide
Thank God, the rainy days of
Guilin
came to the end in April and girls in mini-skirts declared the coming of summer! Pleasant weather, footloose holidays - that always make people want to do something relaxing, especially in
Yangshuo
, a place where people never need to worry about how to kill time. The weather forecast told us that we would have a rainy holiday; fortunately, it was still cloudy after our lunch on 1
st
May, so we decided to take a chance to ride along the way to the
Moon Hill
to enjoy the nice countryside scenery and pick strawberries.
Just as we imagined, the small town of Yangshuo was much more bustling than usual and the temporary holiday one-way traffic stopped us from moving smoothly, which cost us more half an hour to get out of the busy traffic in the town.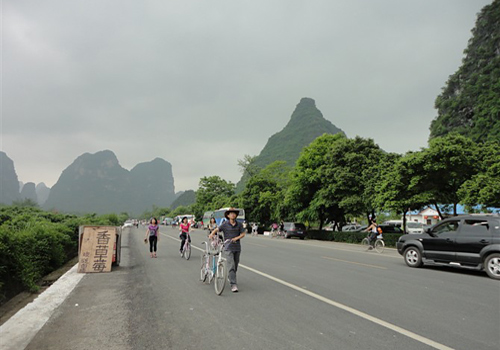 Thanks to the rain, everything in the outskirt brimmed over with vigor and vitality and reminded people of happiness only. Along the way there were some attractions such as Yangshuo Butterfly Spring and outdoor rock climbing club, all of which were busy with accepting their fans. On both sides of the road parked lines of empty tourist buses and private cars, and couples and groups of people speaking different languages rode on single-seat or tandem bikes, with cameras hung on their necks; some girls talked with each other excitingly and screamed for the picturesque natural sights now and then, I remembered that I did so when I biked here for the first time! We rode at a slow speed and enjoyed every amazing sight as much as possible, I am a frequent visitor of Yangshuo, but up to today I still can't find suitable words to describe its unique beauty.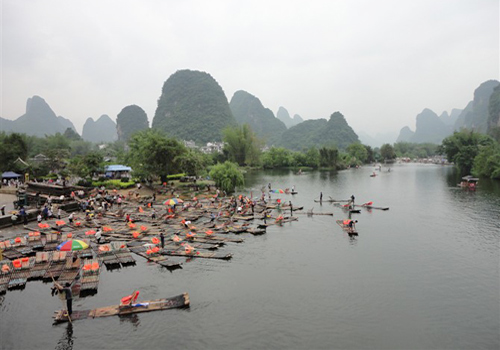 Although the sun hided behind the thick cloud, it seemed that the sun heat wanted to join us as well. Some guys could not bear the heat and stopped en route to eat a cup of icy beancurd jelly or buy a hat - cowboy hat, peak cap, lace hat, and some with no formal names. A 20 minutes' ride brought us to a bridge above the Yulong River, it is named "Bridge of Workers and Peasants (Gong Nong Qiao工农桥)" if my memory doesn't go wrong. As every time before, I could not help crying out one again for the beauty of this place, and my camera began to work hard.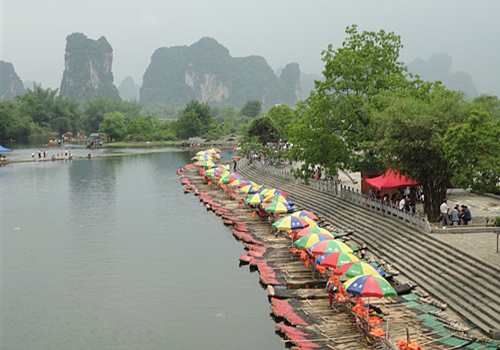 The river looked not so peaceful as usual with many bamboo rafts berthing or drifting on it and the multi-colored sunshades on the rafts looked like huge flowers floating on the river. By the river local tractors were busy with transferring the bamboo rafts to the starting dock. On the banks lay some buildings including hotel, café, stores and local houses, surrounded and shadowed by lush greenery, with huge and towering karst mountains as the guards. At one end of the bridge stand several trees with blossoming pink flowers, which looked like oriental cherry (sakura) in a distance. I didn't forget to collect it in my camera, of course! What a more amazing Chinese painting it would be if it was sunny!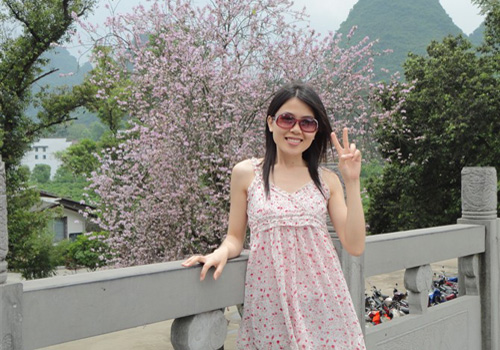 We didn't move forward to the
Big Banyan
until my camera was fed up with these wonders. Unfortunately, this scenic spot happened to be not opened to the public on 1
st
May this year and what we could do was going on. On our way to the Moon Hill, we were still accompanied by pleasant countryside views and I did my best to resist the temptation from the stalls selling all kinds of beautiful hats and souvenirs on the roadside, as there was something more attractive waiting for us – strawberry picking! This was not my first time to Yangshuo, while it was indeed my first try to pick fruit by myself. At both sides of the road were many fruit fields and we chose a field optionally.
The price for the strawberry is 20 Yuan / kilo. The landowner gave us a small plastic basket and we started to get down to picking. Each field was turned up to be lines of ribbings and covered with plastic film, in which strawberries were planted. To my surprise, there were only several tourists in the fields that day and soon we knew why: The harvest season of strawberry is between March and April… Yes, a little pity, but we didn't give it up. Searching carefully from this field to that field, we found that we got almost half a kilo of small strawberries. Surprise!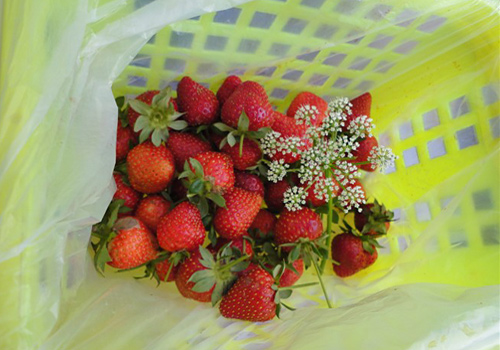 As we planned before starting off, the Moon Hill in Gaotian Town should be the terminal of our riding; however, a dense mass of cloud predicted the coming of a rainstorm. We were forced to ride back and keep a lesson in mind: come earlier for the right harvest time next year!
--- By Cindy (VisitOurChina)
Comment