VisitOurChina's Site Investigation to Tongdao: Home of Dong Minority
2011-04-29China travel Guide
Invited by Tourism Bureau of Tong Dong Minority Autonomous County, Hunan Province, with great honour VisitOurChina had a chance to attend the county's official starting ceremony of Wanfoshan Mountain & Dong Village Tour. During our 2 days in Tongdao (April 26th and 27th, exactly, the tour was arranged on 27th), we have made a site investigation on the scenic spots, which deeply impress on us.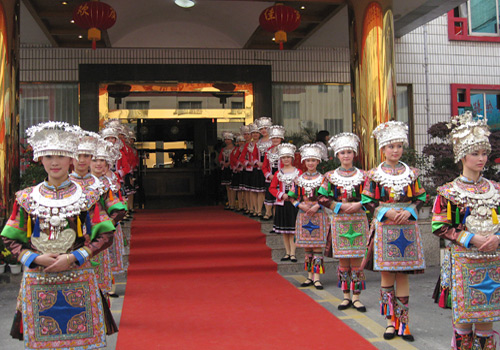 Sitting at the joint area of Guangxi Zhuang Autonomous Region, Guizhou Province and Hunan Province, Tongdao is an autonomous county of Dong Minority, which accounts for 78.3% of the total population (about 230,000) of the county. With many honorable official titles such as Top Tourist Destination for Relaxation, National Green City, Home of Chinese Folk Lusheng (a reed-pipe wind instrument) Art, Tongdao diffuses its charm to us with its fantastic natural beauty and unique Dong minority custom. We spent most of our sightseeing time in the Mt. Wanfoshan Scenic Area and the Dong Villages because of our limited time as well as a short stay in the Longdi Natural Scenic Area, which is a good place for drifting.
Mt. Wanfoshan (Mt. Ten Thousands of Buddhas) Scenic Area
Covering 168 square kilometers, Mt. Wanfoshan is the largest Danxia landform scenic area in China. Interweaving steep peaks, mysterious caves, lush vegetation, deep and serene valleys, nameless wild animals and flowers, beautiful landscapes accompany us all the way. In sunny days, the sun looks like being hung above the red Danxia peaks and makes the peaks more gorgeous; while in rainy days, the whole area is just like a fairyland surrounded by breathtaking curling cloud and mist. Looking from any angle, we could see that the clean water and the magnificent hills add radiance to each other. When Mr. He Ruoquan (ex-vice director of National Tourism Bureau of China) visited here, he praised Mt. Wanfoshan as the equivalent of the Zhangjiajie Scenic Area, which is located in Hunan Province as well. For years, Mt. Wanfoshan has been attracting countless experts, scholars and tourists with mixed beauty of Zhangjiajie's steepness and Guilin's grace. In 2009, Mt. Wanfoshan was selected as National Natural Heritage of China and National Park of China, and was ranked as a 3A national scenic area in 2010.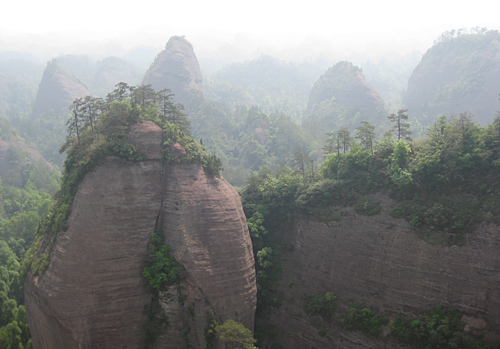 Attractions in Mt. Wanfoshan: General Hill, Turtle Hill, Elephant Hill, Horse Peak, Lion Hill, Conch Peak, Three Cliffs, Immortal Room Cave, Awaiting Husband Stone, Ancient Path, Qinhuangwei Village, Stone Pillar, Human-shaped Stone, Moon Temple, Seven Start Hills, Danxia Fortress, Seven Star Nunnery, etc.
Huangdu (Royal City) Dong Cultural Village of China
A traditional Dong village is always built with wood in Diaojiaolou (hanging wooden houses supported by several pillars) style near rivers and hills, which forms a graceful Chinese painting. 10 kilometers away from county town of Tongdao, Huangdu Dong Cultural Village of China is made up of four Dong villages, namely, Touzhai, Weizhai, Panzhai and Xinzhai. As one of the 55 ethnic minorities of China, the Dong have a unique culture of their own. The Huangdu Dong village has well reserved its culture and still keeps unsophisticated atmosphere to this day. Being an ethnic group passionate about singing and dancing, the village is hailed as "Sea of Song, Home of Dance", no wonder that melodious songs and music usually flood every corner of the village.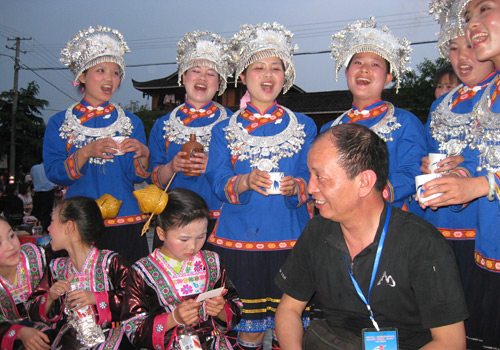 Collective Feast, the Welcoming Wine and oil tea let us feel the hospitality of Dong people; pickled fish and pork, bitter alcohol and sticky rice led us to endless aftertastes; exquisite brocades, colored drawings and architecture showed us their the diligence and wisdom; Puxiu Bridge, Chongyang Bridge, Moon Pavilion, towers, Diaojiaolou created a peaceful picture of rural and natural scenery... Furthermore, based on the legends of the Dong, the large-scale show "Dogadoye, Festive Dong Village" will be on in the village to show more and more visitors the history of the Dong village.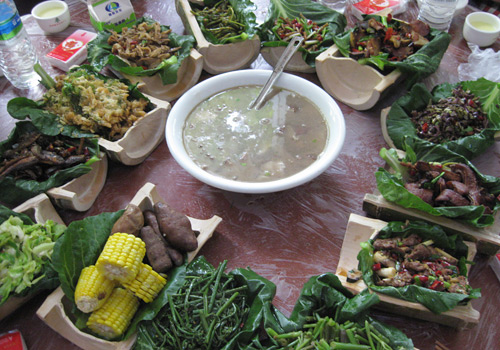 In the evening, we were feasted with simple but hearty local Dong dishes – a big bowl of soup and 13 dishes! Roast pork, fried egg with vegetable, stir-fried vegetables, steamed corn and sweet potatoes… very mouthwatering! And it is special that every dish except the soup was put in a "bamboo bowl" with a vegetable-leaf cushion.
Longdi Self-service Ecological Rafting Area
Longdi Self-service Ecological Rafting Area is 39 kilometers from the county town of Tongdao, 230 kilometers from Huaihua City, 160 kilometers from
Guilin
and 50 kilometers from Nanshan Pasture. As well as the Huangdu Dong Cultural Village, this area is a 3A national scenic area, with clean water, original ecology, picturesque landscape and pleasant climate. The section for rafting winds for about 10 kilometers including over 50 rapids, with some highlights such as Huanglong Valley, General Rock, Heavenly River, Silver Beach and Miziyan Shoal along the river.
Longdi Self-service Eocological Rafting Area is equipped with middle-high end residence (e.g. Longdi Summer Resort, Longdi Mountain Villa, and Happy Farmhouse), conference room, and entertainment (e.g. Changchong Culture, bonfire, camping, night rafting, winter rafting); in addition, some new items such as hunting and rock climbing are planned to be developed.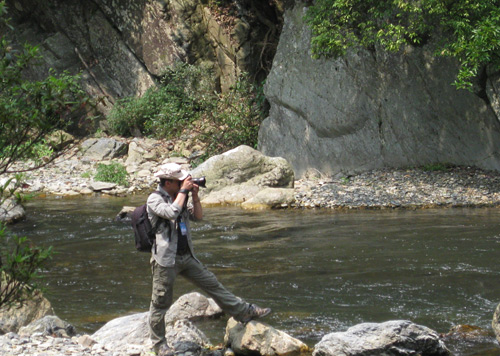 One day's visit passed fast, we wanted to discover and enjoy more about this home of Dong, though. Now we have been back in Guilin, but the peculiar red peaks of Mt. Wanfoshan still come into my mind when I see the totally different peaks in Guilin, and it seems that my tongue still wants to try the local Dong specialties once more.
Comment