Big Banyan

More Photos

Chinese name: 大榕树 (Da Rongshu).
Location: at Chuanyan Village, Gaotian Town, Yangshuo County, Guilin City, Guangxi Zhuang Autonomous Region (aka. Guangxi Province).
Ticket: CNY18.
Opening time: 08:00-17:30.
Recommended time for a visit: half an hour.
How to get there:
- By bike: it needs about 25 minutes' riding from Yangshuo to the Big Banyan. Rental for bikes normally range from CNY10 (for a single-seat bike per day) to CNY20 (for a tandem bike per day). But please note that the prices usually double during peak seasons or holidays such as the May Day holiday (May 1-3) and the National Day holiday (October 1-7). New travelers can follow other bikes or hire a local guide in case of losing their way.
- By mini buses or electromobiles: they depart to Gaotian Township from Yangshuo Bus Station every 10-20 minutes. Tell the driver to stop at the Big Banyan in advance.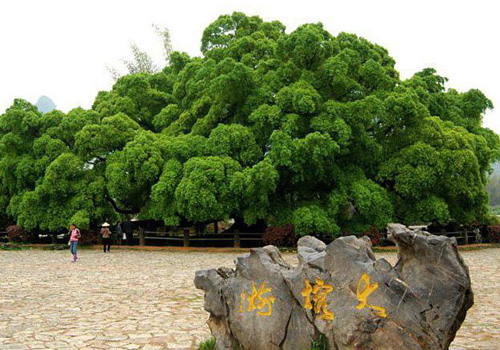 Introduction to the Big Banyan
Planted on the southern bank of the Jinbao River, the Big Banyan located some 7.5 km apart from the county seat of Yangshuo is a huge tree as high as 17 meters, with an trunk over 7 meters in diameter. With twisted roots and gnarled branches, the tree is extremely luxuriant and covers an area of more than 100 square meters, looking like a green umbrella from a distance. It is miraculous that fibrous root grow from the tree trunk and take root into the earth, becoming supporting pillars of the trunks.
It is said that the Big Banyan was planted early in the 5th century. In the Chinese movie "Liu Sanjie" produced in 1960s, it is under this old tree that Liu Sanjie throws the embroidered ball to her beloved A Niu and decides their relationship, which is considered to be a classic love story in China.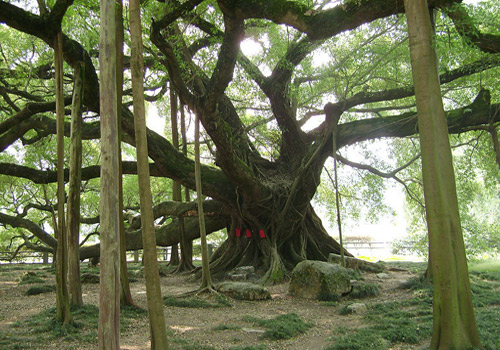 Scenery around the Big Banyan
As a place with rich karst landform peaks, the Big Banyan Scenic Spot wins great fame not only for the tree itself but also for the picturesque rural landscapes and Zhuang minority ethnic customs, which creates a harmonious Chinese painting together with orderly paddy fields, crystal streams, peculiar karst peaks, clusters of Fengwei bamboo (scientific name: Bambusa multiplex), Zhuang dwellings, water mill, etc. Many scenes of the movie "Liu Sanjia" were shot here and the site was also hailed as the most beautiful place in China by Mr. Carl, a doctor of Harvard University and world famous garden expert.
Quick Questions
Our team is waiting for your questions. Please feel free to ask us any questions you might have about our China package tours, Chinese culture, or the sites available. We will gladly help you with any special needs you might have and all questions, like our trip designing is completely free of charge.