Photo Tour Experience in Guilin: a new phenomenon
2010-11-12Life in Guilin
One of my good friends in Guilin is a man from Belgium, an unassuming, softly-spoken man who has one discerning feature: his love of photography and his desire to make 'custom photo tours' one of the principle reasons for travelling in China.
Taking photos while travelling is not a new concept, indeed photography has been an inseparable part of travel since commercial touring began; the new phenomenon is tourists visiting a region with the express purpose of capturing the environment through a lens. Guilin is a perfect example; a easily accessible tourists destination, which has not been over-developed and a wide-range of locations perfectly suited to photography: Li River, Longsheng's Longji Rice Terraces, Yangshuo's vibrant West Street and rural landscape surrounding it, or simple the amazing karsts that are dotted all throughout the city of Guilin and its surrounding counties.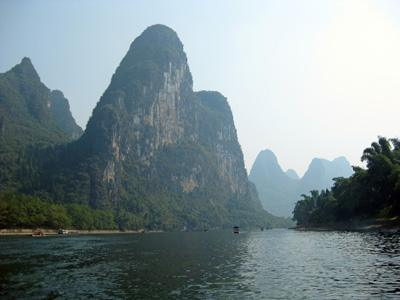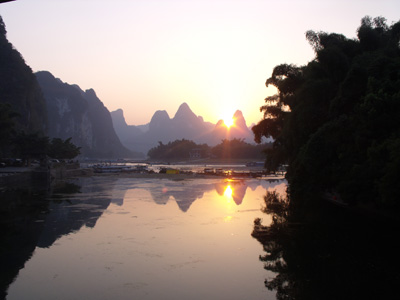 Upon first hearing about 'photo tours' I was slightly sceptical, I was concerned about the tedium of trudging through a rice-paddy with a tripod at dawn however I discovered that far from being a detracting feature, being on a photo tour grabs you by the collar and draws you into locations and situations that you would never have experienced from the inside of a bus. Getting up at 5:30am may not be for everyone, but it offers one a chance to see a landscape in a totally new way. From a personal perspective, I had visited Yangshuo too many times to recall, but it wasn't until I got out from a wooden cabin the middle of a village at 5am, climbed a nearby mountain to capture the first shards of sunlight did I realise how special this part of China really is, it is really the fabric of dreams.
These tour groups don't just walk the weld-trodden tracks of other tourists; they enter into the local community to capture what defines China: its people. Walking into a ram-shackled house near Longsheng to photograph an old many preparing a meal was one of the most rewarding experiences I have ever had; his withered old hands, the lines across his face, his rusting blade, the stump of wood he was using as a chopping board convey the real story of China, a photo tour can take you beyond the 'retail' travel experience and deliver something ultimately much more meaningful.
Typically speaking this are small groups that run over the course of a week, groups usually consist of travellers from different countries with a common passion; photography. When staying in the city accommodation is of a high standard, but when you leave the city groups usually move into smaller, more remote areas without premium accommodation. Guilin is the perfect place to contemplate organising or joining a photo tour, the mix of natural wonder and western amenities mean that travellers don't have to rough it too much, furthermore Guilin has some of the most iconic and photogenic landscape in China, if not Asia. For those travellers coming to China who want to do more than just live memories, but actually create them then a photo tour is right up your alley. There are also other destinations for you China Photo Tours, find it by yourself.
Quick Questions
Our team is waiting for you questions. Please feel free to ask us any questions you might have about our China package tours, Chinese culture, or the sites available. We will gladly help you with any special needs you might have and all questions, like our trip designing is completely free of charge.