Shanghai Museum

More Photos

Chinese name: 上海博物馆 (Shanghai Bowuguan)
Location: south of People's Square, No. 201 People's Avenue, city center of Shanghai.
Opening time: 09:00-17:00 (09:00- 20:00 on Saturdays)
Ticket: entry to museum is free, CNY20 to rent an audio guide machine.
A brief introduction to Shanghai Museum
Shanghai Museum is a famous comprehensive museum of Chinese (ancient) arts and hailed as Four Museums in China together with the ones in Beijing, Nanjing and Xi'an. Its style and exhibitions just demonstrate the ancient wisdom and philosophy of Chinese. The new exhibition building was completed in 1996 which covers about 11000 square meters with an ingenious exterior design- the round dome and square base, symbolizing the idea of a round heaven and a square land in ancient Chinese philosophy, which also creates a distinctive visual effect in museum family that blended the traditional culture with the spirits of the modern time. The whole shape of the museum is designed to be a graceful and majestic giant bronze tripod of ancient style. And the presentations with fine artifacts in the museum are adequate to reappear half of the Chinese history, amazing and shocking.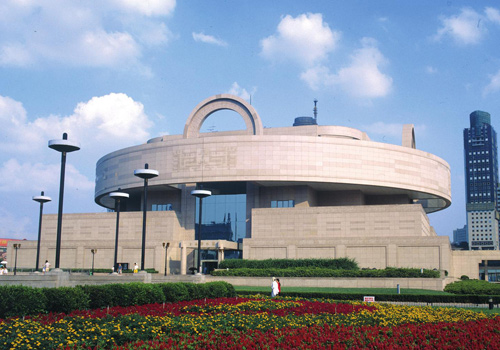 What to see in Shanghai Museum?
Shanghai Museum is operated with 12 standing galleries, 3 exhibition halls for regular themed exhibits, and advanced facilities, such as multi-function lecture hall, sound guiding, etc. It is a museum covers most of the major categories of Chinese art with a collection of 12, 300 pieces in 21 categories of valuable cultural relics, including some donations from private collectors. Shanghai Museum characteristics by ancient bronze wares, ceramics, calligraphies and paintings, other precious cultural relics in the museum include ancient coins, jades, sculptures, seals, furniture of Ming (1368-1644) and Qing (1636-1911) dynasties, and ancient art crafts of minority nationalities, which comprehensively represent the gorgeous course of Chinese handicrafts.
Bronze gallery and sculpture gallery are located at the first floor, galleries for ceramics are in the second floor, galleries of calligraphies, paintings and seals are set up in the third floor, jade, coins, furniture of Ming and Qing dynasties, art works of minorities are displayed in the fourth floor, and the three exhibition halls are distributed in the first, second and fourth floors.
Bronze Wares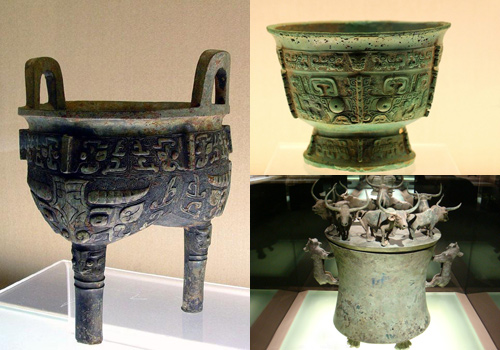 Bronze wares (include the famed Great Pot) in Shanghai Museum are mainly collected from the major collectors of late Qing dynasty. Most of the exhibits are ritual instruments from Shang (BC1600-BC1100) and Zhou (BC1046-BC256) dynasties, which contribute to a better understanding of ancient civilization. More than 400 pieces of exquisite bronze wares simply cover the history of ancient Chinese bronze art.
Ancient Ceramics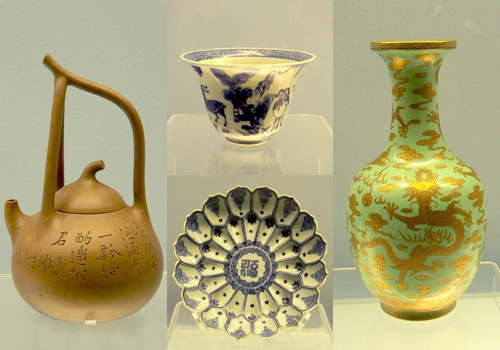 Ancient ceramics in the Museum are rather rich in styles and shapes, which were made from almost every dynasty; those precious pieces contain the rare fine painted and gray pottery of Chu Culture (BC3300-BC2200) from the Neolithic age, primitive celadon from Shang, Zhou dynasties and Warring States (BC475-BC221), mature celadon from the East Han Dynasty (25-220), well known tri-colored glazed pottery from Tang Dynasty (618-907), blue, white and black glazed and painted porcelain from Song (960-1279), Jin (1115-1234) and Liao (947-1125) dynasties, and the brilliant pieces from Jingdezhen of Jiangxi, a center of the industry during Yuan (1271-1368), Ming and Qing dynasties.
Chinese Calligraphies and Paintings
Calligraphies and paintings in Shanghai Museum boast of half of the ancient works in the area of Yangtze River, including masterpieces from different periods and genres, especially from Ming and Qing dynasties. Over 10 thousand works showing in the museum testifies the profound traditions and unique national styles of Chinese calligraphy and painting.
Ancient Sculptures & Jades
Ancient sculptures displayed in the gallery are chiefly the Buddhist ones.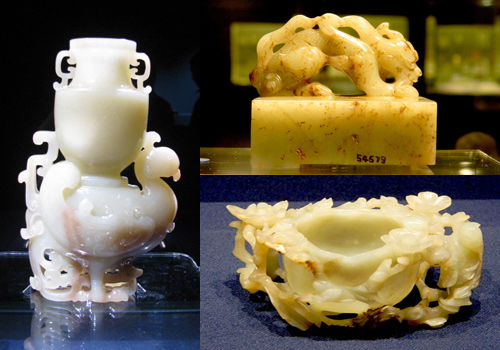 In ancient China, jade was not only a fine decoration but also a symbol of wealth and power, and was further personified to symbolize good virtue. The elegance of jade articles glows through its crystal colors and beautiful patterns.
Furniture of Ming and Qing Dynasties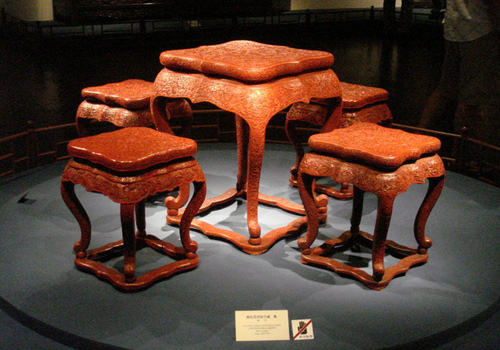 Ming and Qing dynasties have witnessed the heyday of Chinese furniture. Exhibition in the museum is a refined garden-like residence of that time. Even a simple chair can demonstrate the culture and etiquette of ancient Chinese.
Seals & Coins
Seals are of great important in the history from the Western Zhou Dynasty to the end of the Qing Dynasty, which can be learned from the displays.
China is one of the earliest countries to use currency. Nearly 7,000 pieces in the museum depict the development of Chinese currency as well as the growth of economic exchange between China and other countries.
Minority Culture
Chinese culture is magnificent as the melding and collaboration of many nationalities live in the country. During the long history, each minority nationality has created its own colorful culture. From their distinct clothes to textiles, shaped metal wares, sculptures, pottery, lacquer and bamboo wares, the exotic styles of their artworks offer us a general impression of their creativity and their passion toward life.
How to get to Shanghai Museum:
- take buses No.18, 46, 49, 112, 123, 145, 312, 451, 537, 584, 802, 916, 925, 930, 952 and get off at the station of Ren Min Guang Chang (人民广场, People's Square); or take buses No.71, 127, 311, 935, 936 and get off at the station of Yan'an Donglu Xizang Zhonglu (延安东路西藏中路, Yan'an East Road Xizang Central Road);
- take subway No.1, 2 and 8 and get off at the station of Ren Min Guang Chang (People's Square);
- take tunnel Line 3.
Recommend time for a visit: 3 hours
Quick Questions
Our team is waiting for your questions. Please feel free to ask us any questions you might have about our China package tours, Chinese culture, or the sites available. We will gladly help you with any special needs you might have and all questions, like our trip designing is completely free of charge.