Grand Theatre

More Photos

Chinese name: 上海大剧院 (Shanghai Da Juyuan)
Location: No.300 People's Avenue, in the northwest of People's Square, Huangpu District, Shanghai.
Opening time: 09:00-11:00 and 13:00-16:00 to visit the theatre; 12:00-24:00 to dinning hall.
Ticket: CNY40 per person, CNY100 for a family of three people.
How to get to Shanghai Grand Theatre:
- take buses No.17, 20, 23, 37, 46, 48, 49, 72, 108, 109, 112, 123, 505, 506 and get off at the stop of Ren Min Guang Chang (人民广场, People's Square);
- take subway No.1, 2 and 8 and get off at the station of Ren Min Guang Chang (People's Square).

A brief introduction to Grand Theatre of Shanghai
The Grand Theatre of Shanghai is one of the modern symbolic architectures in the city. It is a first-class resplendent art palace designed by a prestigious French architect and completed in 1998. Built in a smooth geometric shape and covered by a crown-like white cambered roof soaring to the sky, the Shanghai Grand Theatre is a combining charm of both eastern and western with its original style equipping with an automatic mechanical stage, which is the largest and most advanced in Asia. Since its opening on August 27th, 1998, the Grand Theatre has successfully staged kinds of large shows and parties as well as operas, musical plays, ballets, symphonies, chamber music concerts, modern dramas and Chinese operas. The great lightings and sounds in the theatre can satisfy any supreme troupes in the world.
Structure of Shanghai Grand Theatre
Occupying a total floor space of 62803 square meters, the elegantly illuminative lobby of the theatre covers approximate 2000 square meters. With a total height of 40 meters, the theatre equipped with 10 storeys, 2 of which underground, 2 are lofts and 6 on the ground. The dominate hue of the lobby is the graceful pure white, the color same as the roof, making the theatre a crystal-like palace shading by lighting and glass block screen wall with strong light sensation. A large chandelier made of six panpipes-shaped lamps is suspended high in the lobby; the floor is built by precious Greece crystal-white marble; and patterns inside designed to be piano digitals, creating a musical world full of rhythms together with the white pillars and footsteps on the two sides.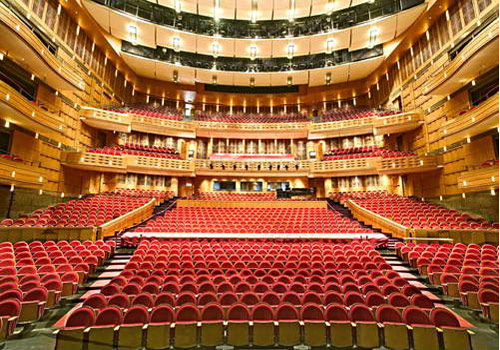 The theatre houses three featured small ones, a main theatre with 1800 seats for ballets, operas and symphonies, a medium theatre with 600 seats for chamber orchestras, and a small auditorium with 200 seats for dramas and fashion shows. The stage is made up of a front stage, a back stage and two side stages equipped with excellent facilities. In addition to these, there are other 12 halls in different sizes, used for rehearsing and doing exercises; furthermore, as a cultural exchange center of Shanghai, the theatre owns a 1600-square-meter banquet hall (on the top of the theatre, the place for a full view of People's Square), VIP lounge, coffee house, visual products center and a art gallery which was finished in 1999 for exhibiting art works.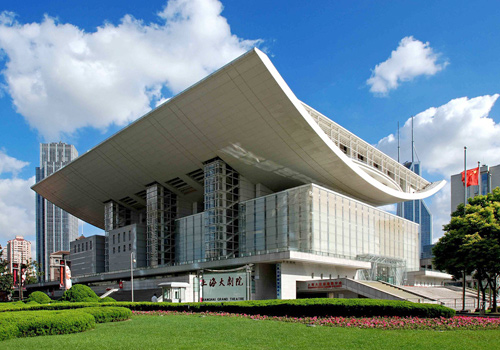 Quick Questions
Our team is waiting for your questions. Please feel free to ask us any questions you might have about our China package tours, Chinese culture, or the sites available. We will gladly help you with any special needs you might have and all questions, like our trip designing is completely free of charge.