Shanghai Madame Tussauds Wax Museum

More Photos

Chinese name: 上海杜莎夫人蜡像馆 (Shanghai Dusha Furen Laxiang Guan)
Location: on the 10th floor of the New World Emporium (新世界商厦),No.2-68 Nanjing West Road, next to the People's Square (人民广场), city center of Shanghai.
Opening time: 10:00-22:00 (stop selling ticket at 21:00)

About Madame Tussaud's Wax Museum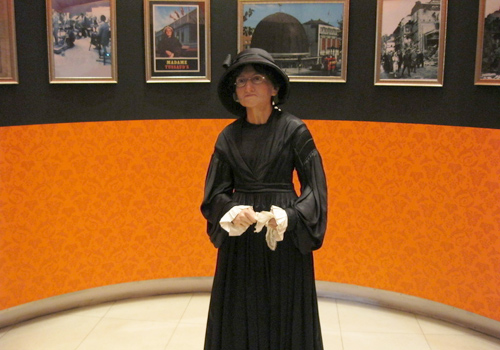 Madame Tussaud (1761-1850) is the founder of Madame Tussaud's Wax Museum. She was a famous waxes-maker in France and in his 74 in 1835, she built a permanent exhibition- the first Madame Tussaud's Wax Museum for her works at Baker Street, London. The waxen statue Voltaire is her first famous piece which was made in 1777.
The Madame Tussaud's Wax Museum is renowned for numerous vivid wax figures for world famous stars and celebrities, proving chances for ordinary people to get close to the notables. It is the wax museum with highest level in the world; and its operating company, Madame Tussauds group now has become the No.1 entertainment organization. They always try their best to make the most advanced museum and to make the richest interacting experience with visitors. Lifelike figures placed at the site those visitors in and out always creating startling and funny effects that young people especially like. Today, the museum has branches in Amsterdam, New York, Hong Kong, Las Vegas and Shanghai (the one opened in 2006).
Introduction to Shanghai Madame Tussaud's Wax Museum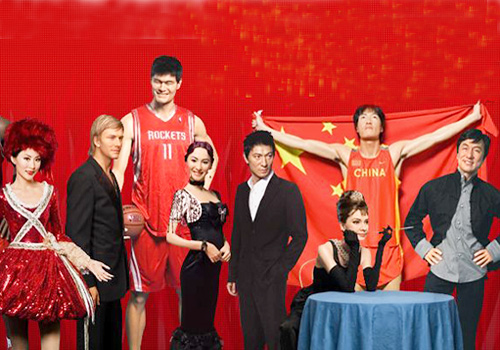 Shanghai Madame Tussaud's Wax Museum is the sixth one in the world; it is the place where common people can closely contact with their favorite celebrities. Different from other five one, the wax museum in Shanghai is featuring its adoption of the most advanced technological elements in the construction; and also the special experience area is a favorable chance to get involved into waxen making for visitors that it is rather exciting and pleasurable to make a specific fingerprint of one's own.
Exhibitions in the Museum
Now, over 80 famous people from various circles from home and abroad such as political world, sports field, and entertainment business have been made into lifelike wax figures in the museum. These figures are well selected according to the particular survey and poll and elaborately made in the studio with an over 200 years' experience in waxing. All of the figures are the notables that Chinese visitors are most anxious to see.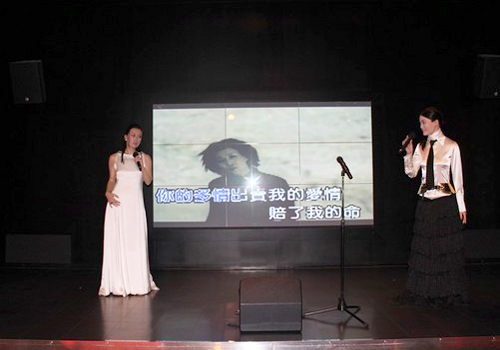 There are totally seven thematic exhibition areas in the museum, namely, Behind the Scene, Shanghai Glamour, Historical Celebrities and Leaders, Cinema, Music, Sports and Speed. Entering the museum is just the feeling join into a colorful party with celebrities. Visitors can photo closely with those genuine enough wax figures that they love, moreover, behind the scene in every area, there are different featured activities offering interaction with those "stars", e.g. to learn the whole process of how wax figures are made comprehensively, to see how melodious music and songs are made with high-tech and have a live performance, to diving with the championship – Guo Jingjing, to play basketball with Yao Ming, to sing with Teresa Deng, to dance with Michael Jackson, to have a match with Bruce Lee and so on.
Ticket price:
- CNY135;
- CNY280 for two adult tickets plus an exquisite Celebrity Album;
- CNY160 for an adult ticket and a ticket for a child under 1.2 meters (exclude Dark Maze);
- CNY260 for two adult tickets and a ticket for a child under 1.2 meters (exclude Dark Maze);
How to get to Shanghai Madame Tussaud's Wax Museum:
- By Buses No.18, 20, 37, 46, 49, 167, 312, 318, 451, 518, 537, 802, 930, 952 and get off at the station of Ren Min Guang Chang (People's Square)
- By subway No.1, 2, 8 and get off at the station of Ren Min Guang Chang (People's Square).
Quick Questions
Our team is waiting for your questions. Please feel free to ask us any questions you might have about our China package tours, Chinese culture, or the sites available. We will gladly help you with any special needs you might have and all questions, like our trip designing is completely free of charge.