Bearer of Tibetan carpet in Qinghai
created: 2013-06-28
China Tibet Online, June 27, 2013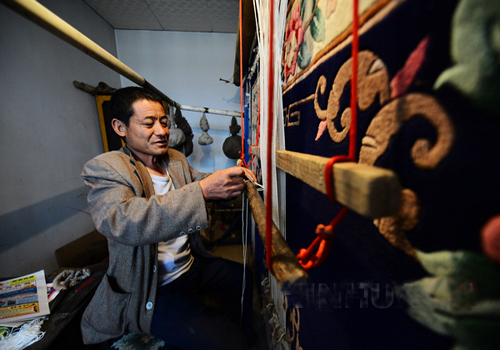 Photo taken on June 20 shows Yang Yongliang working on a piece of Tibetan carpet in front of a wooden weaving machine.[Photo/Xinhua]

Fifty-one year old Yang Yongliang is an inheritor of the Jiaya Tibetan carpet, a state-level intangible cultural heritage, in Jiaya village, Huangzhong county, Northwest China's Qinghai province.

Yang says the total length of carpets he has finished can circle the village.

As an experienced Tibetan carpet maker, Yang began to learn the weaving skills from his father when he was very young. According to him, it takes at least 20 days to finish a piece of exquisite carpet after the whole production process of cutting, polishing, twisting the threads, tying knots and smoothing.

Seizing the opportunity of the establishment of a Tibetan carpet weaving workshop by the Agency for Cultural Affair of the Huangzhong county, Yang expresses the willingness to recruit students and pass on the traditional handicrafts to them.

The Tibetan carpet with a history of more than 2000 years is the treasure gold of Tibetan traditional handicrafts. It shares a reputation as the world's three most reputed blankets together with the Persia rug and the Oriental tapestry.

Recommended China Guide:
1.Tibet Tours
2.Xining Tours