VOC's Travel BLOG
Our Travel Blog is the place to share our real life, travel experiences in China with you. Besides, we will provide information related to Chinese culture and China travel guide. "A bosom friend afar brings a distant land near." Traveling makes us to be closer, let's discover China together!
The Jewel of Zhejiang: Putuo Mountain / Putuo Shan (普陀山)
2010-07-12 | China travel Guide | Comments(0) Views(1400)
One of the most enriching travelling experiences I have ever had was on an island little known to foreign tourists located in Zhejiang Province in eastern China. The island is called Putuo Shan. The island itself is located about an hour by boat from the small sea-side town of Ningbo (宁波)(itself too worth a visit!) and around eight to nine hours from Shanghai for those of you who enjoy longer boat rides!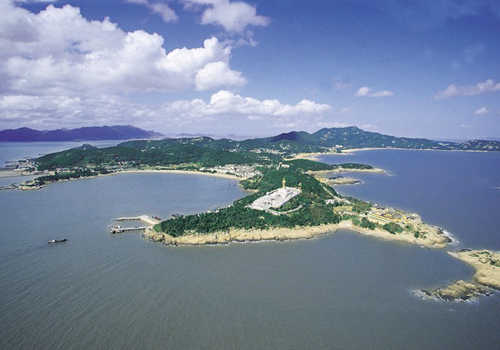 The most distinctive thing about Putuo Shan is: how sharply it contrasts to mainland China! The boat ride is the first point of difference, it is always important to enjoy the journey as much as the destination and during fine weather the one hour catamaran ride from the mainland to the island is defiantly a highlight, surrounded on all sides by deep blue sea and equally blue sky you're struck by a feeling that you have finally escaped the occasionally suffocating slate grey clouds that hang above most Chinese cities. Getting off the boat one really gains the sense that they have left China and arrived in another place, everything seems less rushed, more fluid; no disturbing but freedom and space to enjoy yourself.
Putuo Shan is far from just a small island, it has an incredibly rich history which is there for you to explore as much or as little as you please. The mountain that dominates the topography of the island is one of the four-sacred mountains in Chinese Buddhism and is adorned with a golden thirty-three metre high statue of Zizhu Lin an ancient master of Chinese Buddhism which sits on the peak of the island with omnipresent gaze. As you head up the mountain the thick fragrance of incense becomes more palpable, and the light clank of Buddhist bells ring gently against the empty blue sky, reaching the summit it becomes apparent just how big a thirty-three metre high Buddha is, and how remarkable that this monolith could somehow be erected on the craggy peak of this small island. The Buddhist architecture also strikes you as not being typically Chinese, it seems to have an European al-fresco flair that makes you feel you're somewhere between Santorini and Shanghai, the temples have large open windows to keep the casually whitewashed interior cool and breezy, golden religions ornaments adorn every room, accompanied with the deep aroma of incense. The experience is almost overwhelmingly stimulating.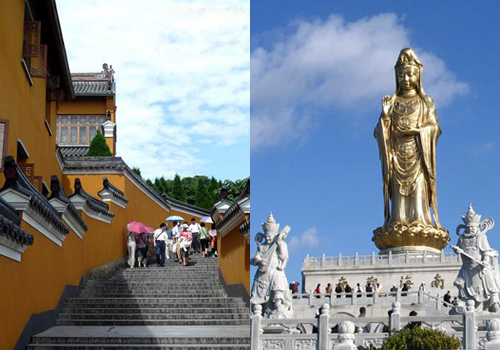 Aside from the peak there is plenty to do on the island, the seafood of course is amazing; fresher than fresh, walking along the crooked, shady alleys of the base of the mountain, you will be tempted by the seafood in the small shops and can't help feasting on fish, crab, lobster and shellfish (usually that delicacy costs more than 100 Yuan). If seafood is not your thing then pack your own lunch.
There are two beaches on the island, one-thousand step beach and one-hundred step beach, swimming is not permitted at one-thousand step beach but for those of you keen to hit the water then head to one-hundred step beach (accessing the beach requires a small charge is applied), there are deck chairs with umbrellas to relax on and for those who can't sit still there are banana boats and quad-bikes for rent, the water is as clean as it is blue and is the perfect way to waste away a slow-paced relaxing afternoon.
Typically tourists start heading back to the mainland at four to five o'clock by boat, truthfully one day is enough time to sufficiently enjoy the island, but accommodation is available if you wish to stay. It is possible to organise transport to and from the wharf in Ningbo back to the city or even as far as Hangzhou. In the spirit of searching for ways to add a new dimension to your China travel experience this gorgeous, relaxing Buddhist paradise certainly should be something on your to-do list.


--- By Brett Hartley-Wilson (VisitOurChina)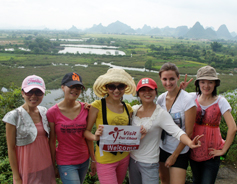 Calendar
Categories