Get My Drift: a White-water Experience in Guilin
2010-07-06Life in Guilin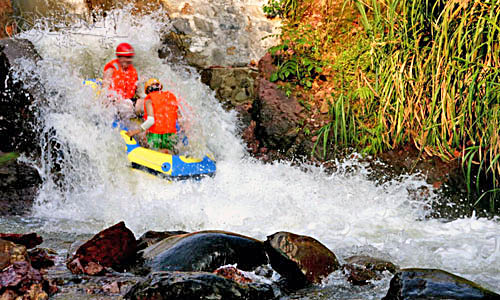 There's undoubtedly A LOT to do around Guilin, one activity I may suggest for those of you who have seen your fair share of mountains and gardens is white-water rafting, or as the Chinese weirdly translate it 'driftage'. There are several white water sites spread throughout Guilin and its 12 satellite cities but the one that is generally regarded as being the most worthwhile is located in the tourist centre of Yangshuo, Long Jing He (龙颈河).

Getting there
There is always the option of heading off to these places through booking through a travel agency and indeed www.visitourchina.com is one such source that can help you arrange transportation, food and tickets, myself, however have always preferred to make my own way there, It's always my aim to get as much out of the journey as the destination itself. For those of you who want to arrange your own transport, here's what you need to know: Long Jing He run three sessions a day: 10:30, 12:30 and 2:30; so pick one of these sessions (they're all equally crowded), it takes about three hours from Guilin to the Long Jin He so depart accordingly. If you're in Guilin you'll need to head to the Train station (Huo Che Zhan) and then get a bus to Yangshuo, don't worry the friendly locals will try their best to get you onto their bus! The picturesque bus ride to Yangshuo takes around 90 minutes. Once you arrive at the bus station at Yangshuo you need to enquire about a bus to Xing Ping (兴坪)this is a truly amazing journey through some Avatar-esq vistas; upon your arrival in Xing Ping you'll be able to find a ticket office that will organize transport to the river as well as your tickets.

Long Jing He / Long Jing River
Tickets cost Y135 per person (US$13) making them great value, for a extra Y20 they will shuttle you all the way back to Yangshuo after you've finished in the water. The winding road up to the river head is steep and twisting, this is where the expectation begins to build. A word of caution however, you're going to get very, very wet, saturated, take an extra pair of clothes and a towel, don't wear contacts, don't wear jeans or sports shoes, an old t-shirt, sandals and lots of sunscreen are recommended. There are lockers for rent that you can use before you hop onto your boat, its Y10 to rent them and a Y20 deposit. The experience itself is amazing! This is no 2 minute flume-ride with tacky monster and a cheap back-story about escaping from a volcano, this is a wild untamed river that with literally throw and toss you about with absolute disdain. From top to bottom it takes around 40 to 50 minutes and includes rapids, whir pools and sheer drops of up to 7 meters! The untamed nature of the river is remarkable! I couldn't believe it was so exciting and hearting pumping for the whole 50 minutes! For those of you who need to switch up your trip around China then I can't recommend this enough!
Comments
Comment