VOC's Travel BLOG
Our Travel Blog is the place to share our real life, travel experiences in China with you. Besides, we will provide information related to Chinese culture and China travel guide. "A bosom friend afar brings a distant land near." Traveling makes us to be closer, let's discover China together!
Visit My Dreamland- Wuzhen Ancient Water Town
2010-06-04 | China travel Guide | Comments(4) Views(1590)
My hometown is a small city of Fujian province which is located in the borderline of Fujian and Zhejiang Province, this geographical advantage enables me to have the opportunity to reach my dreamful place- Wuzhen Water Town very easily. We just spent 4 hours taking a high speed railway to Hangzhou, and then took a bus transfer to Wuzhen which cost about 2 hours.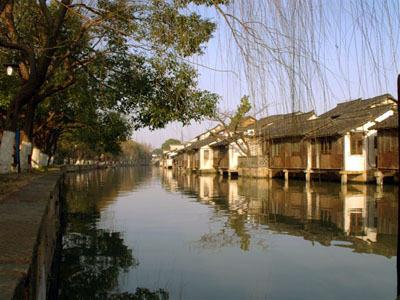 (Note: Chinese people say that unless you visit the Great Wall then you haven't been to China. For any visit south of the Yangtze River; one place not to be missed is the town of Wuzhen. Located in the centre of the six ancient towns south of Yangtze River, 17 kilometers (10.56 miles) north of the city of Tongxiang, Wuzhen displays its two-thousand-year history in its ancient stone bridges floating on mild water, its stone pathways between the mottled walls and its delicate wood carvings. Also, setting it apart from other towns, it gives a unique experience through its profound cultural background. Wuzhen Ancient Water Town Cruise is quiet popular and it is frequently visited with Hangzhou city together).
The water, the alleys, and the bridges of Chinese Wuzhen Ancient Town had appeared in my dream for many times, and the day to encounter it came finally! When we arrived at my dreamland and started my Wuzhen Ancient Water Town Journey, I can't help crying. Wuzhen has four waterway, named by their direction, just as the Dong Zha (the East Sector) and Xi Zha (the West Sector). Both the Dong Zha and Xi Zha are opened to the public, but the other two are still under developing.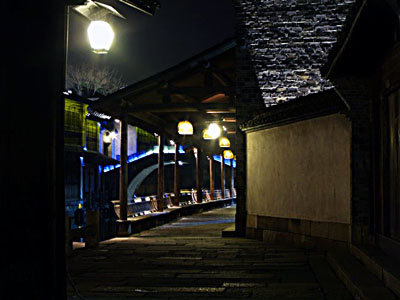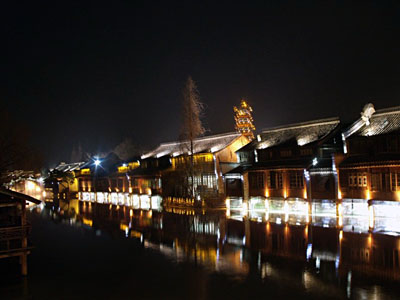 It was getting dark when we reached there so we were told that only the Xi Zha was available for visiting on the night. Xi Zha has been rebuilt and renovated in the original style. With so many ancient architectural features (wooden windows and doors, elegant bridge, etc), this place was like a fairyland. Stood on the bridge, faced the water passing away, and viewed the beautiful sky lighted by the Chinese unique lantern, we just lost ourselves. Xi Zha has few local residents exclusive for the visitors' accommodation. For one night staying at the Xi Zha, you just need to spend about two hundred yuan or so, and then you can enjoy all the modern conveniences in room including internet access and TV. As a matter of fact, Xi Zha seems similar to West Street of Yangshuo, Guilin, but it is more quiet, less crowded and has been better protected. We just walked along the peaceful street, touching the ancient building with peaceful heart. Life becomes simpler here and we even forgot the time.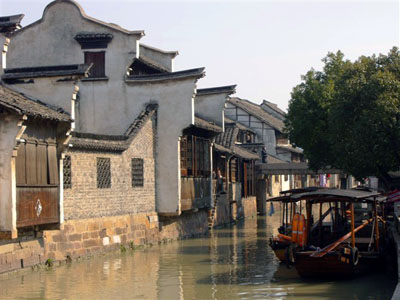 On the next day morning, we hurried to the Dong Zha which is very near to the Xi Zha that just needs 10 minutes' walk. Dong Zha is very different from the Xi Zha as this place is more close to the local residents' daily life. You can see the people washing clothes by the river bank, or the dog and cat playing in the street. And you will be greeted by the local old men or pure children, who make me feel I was not a tourist but a neighbour of them. The real life atmosphere here is better for you to feel and enjoy the culture and custom of Wuzhen Water Town. Moreover, maybe you could feel being one part of the most beautiful ancient water town of China- Wuzhen.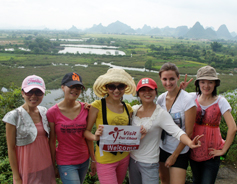 Calendar
Categories