Two days trip with Indian friends
2009-09-08Working at VisitOurChina
Hi, I am Jane, On September 2, 2009; I had a very pleasant trip in Guilin with Indian friends. That was a part of my internship at Visit Our China, as well as my first experience to travel with foreign friends. It is an unforgettable experience in my life.
That afternoon, the driver drove Ms. Xiong—our guide and me to Liangjiang International Airport to pick up the travelers coming from Kunming. Guilin was not the only destination of their tour in China; they would go to Xi'an, Beijing and other places later.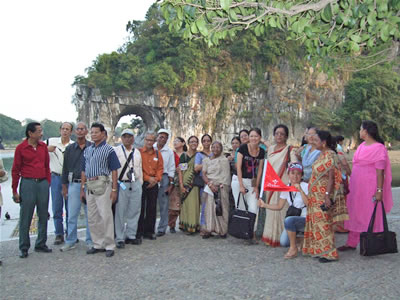 At 4:00pm, we welcomed the Indian Group of 27 people. I saw them far in the distance for their beautiful and colored Saris dress. I also saw great energy in them; they approached us with smile, reflecting the friendly expression, and it made me feel more relaxed. They were easy-going; I knew I would have a good time with them.
After sitting on the big, air-conditioned bus, we drove to our first stop-Elephant trunk Hill, the symbol of Guilin. It is a must see scenic spot for the tourists. There is a beautiful legend of it. At the first sight of it, you must be surprised by the magical creation of nature. How did it make such a hill looking like an elephant drinking water! We took many photos there. An Indian friend talked much with me, she said that I looked like her daughter, but I was ashamed that I misunderstood her because my English is not very excellent and their Indian accent, fortunately we communicated with each other well. I integrated into them gradually. They were really easy-going and "do in Rome as Rome does."
Just around Elephant Hill, two grand pagodas are standing on a lake, the sun pagodas and the moon pagodas. At night, two kinds of lights, white and golden yellow, will be lighted in the pagodas, standing for moon and sun and makes the pagodas more beautiful.
After the visit of the two pagodas, we had dinner at Guilin Osmanthus Hotel, and we were hungry after the long-time moving.
There were an old couple who went slowly behind the group, I was always the last one in the group to accompany them, while Ms. Xiong was the leader and went ahead to lead us. We have to make sure that nobody was left behind and gave them our best services.
After dinner, an Indian lady went through the door and said to me, "Delicious, the food is very delicious", I was also standing at the door at that moment, and an incredible feeling a pleasure and satisfaction came from the bottom of my heart. It was so sweet.
After the dinner time, we drove to Vienna Hotel for accommodation. We were tired and had a very sound sleep.
We got up early the next day, because we would drive to Xingping Town, Yangshuo, for the Li River Cruise.
It took us two hours to arrive there from Guilin. Xingping is the oldest town in Yangshuo. It was my time there. After reached the river bank, Indian friends took photos or recorded video of the beautiful scenery. Even for me, a native was surprised by the fantastic scenery. I could not use any word to describe the beauty of the tour, the green hills; clean water and so forth make you feel comfortable and relaxed. All the burdens got away, we were lost in the natural wonders. Hills went rolling in such a charming posture. Wherever you go, they will not fail to catch you eyes. There can be such a fantastic place in the world! At this moment, I finally knew why people like to come here. Even to take a long journey for escaping the noise in city and get a moment's tranquility is of much value. It was worthy the trip. All the way on the boat, the scenery didn't fail to satisfy us. It's really attractive.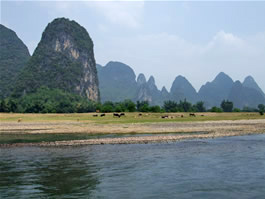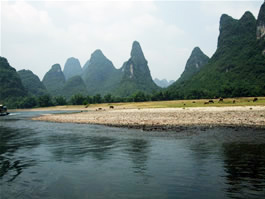 At about 1:30 pm, we drove back to Guilin after the lunch at the New Century Hotel in Yangshuo. On the way back to Guilin, we visited Qimei Coffee—a self-producing and self-sale company. A good aroma of coffee attracted us when we entered in the shop. Different kinds of coffee powder, candy, tea, milk were exhibited to us. We tasted the coffee and candy for free. Ms. Xiong explained the price, the ingredients of the coffee to the Indian friends. I also helped in translating. Here, they had great harvest. Some bought coffee powder, some bought coffee candy, and others bought some tea...
Time went by so quickly that we had to say goodbye. At about 5:40pm, we drove to the airport. Ms. Xiong and I bided farewell to them. We shaked hands; waved hands to each other with similes. We had a short but happy chat. It's a pleasant journey. They asked me, "Will you go with me?", "Go with me to India?","See you next time when I come"...
During the talk, I found again their kindness, friendliness and sweet smile which impressed me deeply. They are just like my kind grandparents. Old as they are, their mind is young. A sad feeling of departure caught me. We left the airport reluctantly.
I am happy for them to have the good chance to travel all around the world in their old days, to experience different interesting places of different culture and custom. I wish them a nice trip in the next stop. They must have got much pleasure from their tour. I am happy for their happiness.
In this trip, I learnt a lot. I know more about how the trip was operated. Tourism has great influence on many sectors. It helps the development of transportation and hotel and the local economy.
That was the first time that I have traveled with foreigners contacting them in such a close distance. I got the chance to practice my English. I now have more courage to talk with foreigners. And it makes clear my weakness and also the effort I have to pay.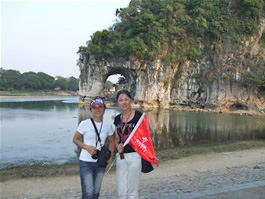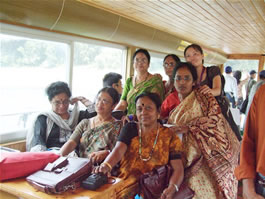 Happy as I am, there is another thought keeping in my mind. I realize that my capability now is far beyond excellent. I can not understand the Indian English easily, the main reason, of course, is that my English is not very excellent. I have a feeling of somewhat crisis. What the three-year English learning gave me. The fruit is certainly great. But when it comes to the real life or in oral, I become a little tongue-tied. I experienced too little in this regard. This reminds me that I still have a long way to go, to continue to practice and practice and learn to adapt to different kinds of English of accent. I admired Ms. Xiong, who masters English well. Wisdom comes from experience. I need to grasp chances to increase experiences to get experience. I believe that someday I can be as excellent as Ms. Xiong.
It is my great honor to have this chance to travel with Indian friends, finishing my internship and getting the wisdom of life and working. I am very gratitude to Visit Our China, to all the members there. Thank you very much!
Comment