VOC's Travel BLOG
Our Travel Blog is the place to share our real life, travel experiences in China with you. Besides, we will provide information related to Chinese culture and China travel guide. "A bosom friend afar brings a distant land near." Traveling makes us to be closer, let's discover China together!
Various Nationalities' Meeting at New Opened Longji Street, Longsheng
2015-02-03 | China travel Guide | Comments(0) Views(1091)
Invited by the government of Longsheng Various Nationalities Autonomous County and the scenic area Dragon's Backbone Rice Terraces, I was lucky to represent VisitOurChina, Guilin Tianyuan International Travel Service Co., Ltd, with other colleagues from other major travel agencies in Guilin, to participate the grand meeting at Longsheng, the opening ceremony of Longji Street, last Wednesday, January 28th, 2015.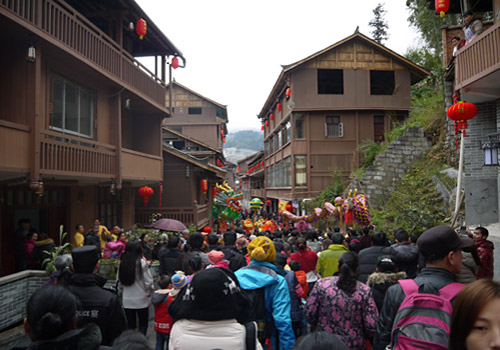 Longsheng County, or rather Longsheng various Nationalities Autonomous County, some 87 km from Guilin, mostly occupies a high plateau surrounded by mountains and is mainly inhabited by Yao, Zhuang and Dong ethnic tribes. However, what make this small town particularly famous were its splendid terraced rice fields and hot springs. As started since Yuan Dynasty (1279-1368) and completed at the beginning of Qing Dynasty (1644-1911), the big and small paddy fields scatter at an altitude from 300 and 1100 meters at a maximum gradient of 50 degrees, creating monument of some 66 square kilometers. The terraces stretch across many ethnic villages, Longji Village, Ping'an Village, Dazhai Village, Xiaozhao Village…and demonstrate distinct beauties in four seasons. To enjoy the beauty of terraces fields, people often choose Jinkeng Rice Terraces of Dazhai and Ping'an Village for the renowned "Seven Stars Accompany the Moon". In addition, people can also see the unique ethnic culture in the scenic area, the wooden stilted buildings, long hairs of Yao people, home-made ethnic costumes & decorations, and their special food…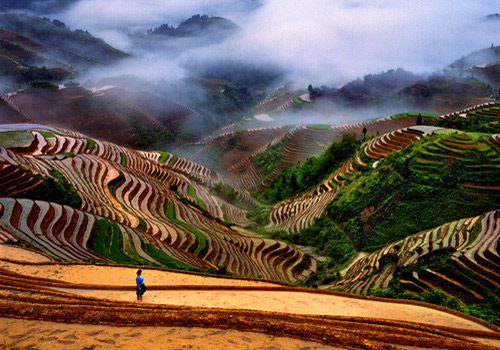 Longji Town is the south gate of Longsheng County, and the location of the terraces fields. To construct a "Special Tourism Town", making the travel in Longsheng more convenient and comfortable, Longsheng government newly planed programs, the new Longji Street is one of them.
Departing at 7:30 a.m. from the square of Lijiang Theatre, we rode about 2 hours and got to the entrance of the Dragon's Backbone Rice Terraces. Longji Street is just located on the opposite of the entrance of the Terraces Fields, only 5 minutes walking distance. When we got off the bus, and walked across a bridge in the town, we just catch the street opening ceremony. As it was a big day in local, various people, Yao, Zhuang, Dong, and Han all dressed up and came to the grand meeting. In the front of the gateway, magnificent performing and celebrations began, drum band, lion dance team, dragon dance team, and the crowded people. When the people who wore cartoon head uncovered the red cloth over the gateway, Longji Street was officially opened, since then travelers have a new place for some pleasure after a trip on the terraces fields.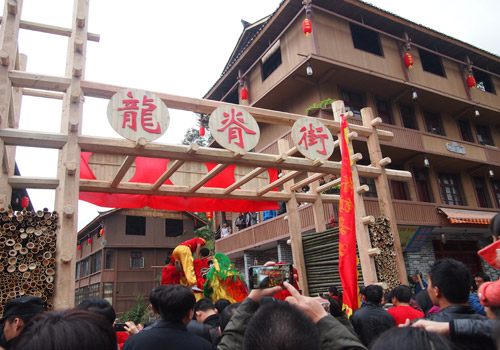 After the uncover ceremony, the parade begun. The crowds went on after the "lions" and "dragons". The new street is neat wooden houses on both sides, paved with stones, and with a drum tower on the end. On the street, we could see unique ethnic buildings, females making their clothes, handicrafts, Yao people making traditional glutinous rice cakes with big stone basin and stick, and kinds of Longsheng specialties, bamboo-tube-cooked rice, Longsheng rice wines, dry red peppers, Momordica grosvenori, and so on.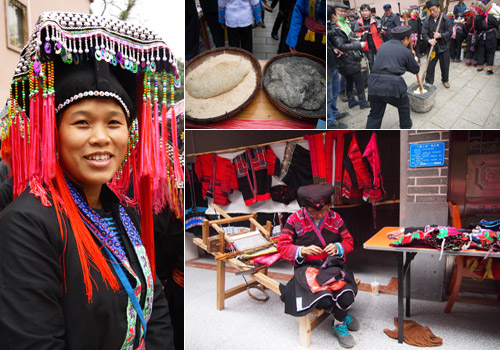 The performing team paraded slowly along the street and finally went on the stage directly facing the drum tower. There were tightly packed by locals, waiting for the celebration party. It is a grand party that all classical programs were performed. Except singing, funny sketch comedy and exciting acrobatics, Yao, Zhuang and Dong people also performed, Zhuang people's Shoulder Pole Dance, Dong people's Ya Luo Ye, Yao people's Skirt Dance, and of course, the famous Red Yao people' Long Hair Song, which was performed in China Central Television (CCTV) not long ago.
It is amazing to see Red Yao females' long hairs. In Huangluo Red Yap Village, you can easily to see long hair girls. According to their tradition, females never cut their hairs after 16 years old, and females make different hairstyles with their hairs according to their social statues, unmarried, married without child, and married with children. According to the statistics in 2000, the village had more than 60 people with long hairs more than 1 meter, the longest measured 2.1 meters, and the whole village was then became famous and inscribed in Guinness Book as the group with the longest hairs in the world.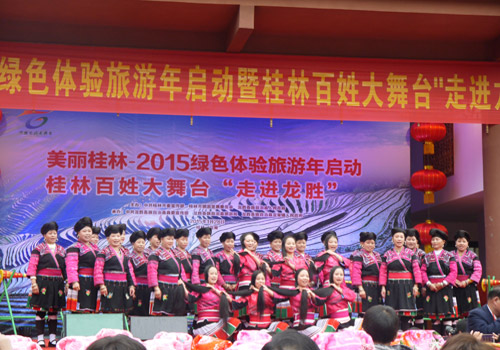 When the party was over, some ethnic people tossed embroidered balls on the drum tower. It was another planed performance, but in tradition, it is a courtship ritual for ethnic people here. The girls toss the balls from a high location, usually on the upstairs of tower or building, and the boy who picks up the ball must marry the girl. Very romantic.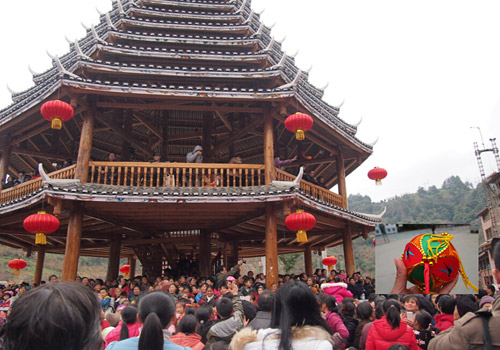 After the celebrations, we are invited to have a traditional Soup Banquet, or Fresh Pork Meat. All dishes and food materials are fresh pork, and most of the materials are just cooked in the soup when we eating, just like hot pot. Quite delicious!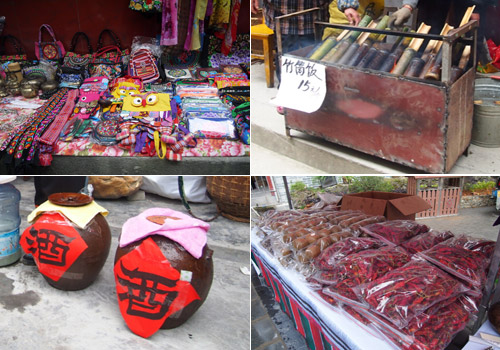 After the banquet, we went back to Longji Street, the crowd had dispersed, we could leisurely stroll and better pick some exquisite ethnic souvenirs, and also slowly walked to get the return bus. We had to see goodbye to Longsheng. Impressive day and impressive Longji Street! Welcome to Longsheng and don't forget to have a visit in Longji Street after sightseeing on the terraced rice, it is worth it.
--- By April (VisitOurChina)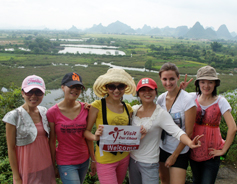 Calendar
Categories