Longsheng Hot Springs National Forest Park

More Photos

Chinese name: 龙胜温泉国家森林公园 (Longsheng Wenquan Guojia Senlin Gongyuan).
Location: at upper stream of Sang River, 29 km form Longsheng County, Guilin City, Guangxi Zhuang Autonomous Region (aka. Guangxi Province).
Opening time: 08:00-23:00.
How to get there: take the shuttle bus to Longsheng at Guilin Qintan Bus Station, CNY30/person, about 90 minutes' drive (78km); upon arriving at Longsheng Bus Station, take the shuttle bus to Longsheng Hot Spring, CNY8/person, about 40 minutes' drive (32km). The buses run from 07:00 to 18:00, departing every 20 minutes.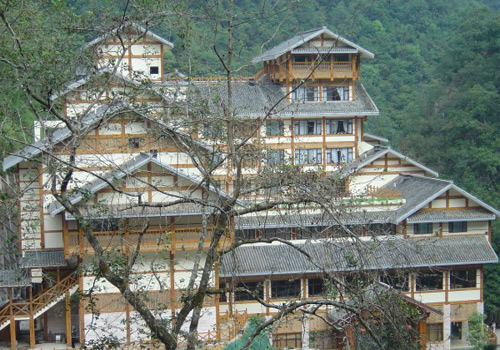 Introduction to Longsheng Hot Springs National Forest Park
The Longsheng Hot Springs National Forest Park featuring its unpolluted hot springs is located on the southern side of the Yuehcheng Mountain, some 129 km from Guilin City. The park occupies a total area of ten square kilometers, with lowest and highest altitudes of 290 meters and 1060 meters. Inside the park there are grotesque rocks, dense forest, rare plants (e.g. gingko trees, cephalotaxus fortunei) and animals (e.g. macaque, musk deer, giant salamanders), crystal streams here and there, which are introduced to visitors because of the hot springs.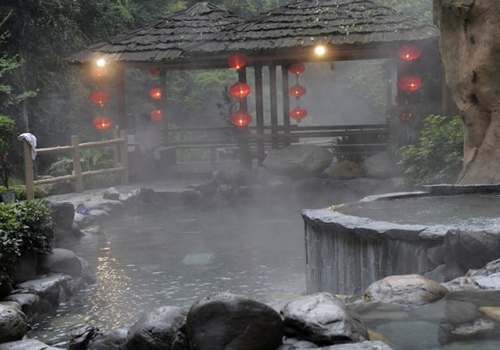 Longsheng Hot Spring Holiday Resort
Longsheng Hot Spring Holiday Resort is a province-level resort embraced by mountains of Cambrian system; the fault zone reaching a length of tens of thousands of kilometers between the Baiya Mountain (白崖岭) and the Tian'ejie (天鹅界) is the main passage of the 16 streams of Longsheng hot springs, which rises up from the rock stratums 1200 beneath the ground with a temperature of 45℃-58℃. According to tests by national experts, Longsheng hot springs contain more than ten trace elements which make the water natural drinking water. Medically, the trace elements are also believed to be good for treating many diseases such as cardiovascular diseases, neuralgia, arthritis, diabetes mellitus, gout, dermatosis. These advanced natural conditions make it an ideal place for tourism, holidays, relaxation and health.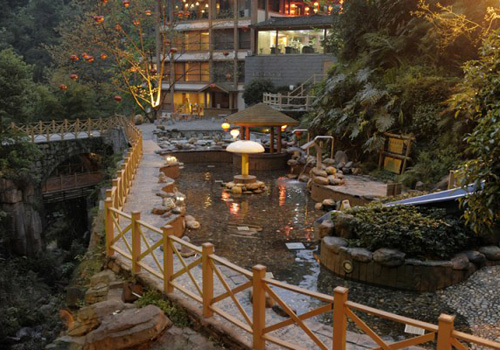 Doctor Fish Hot Spring Pool
As its name indicates, this hot spring pool gets fame for its special doctors, "who" are not human being but a kind of little fish - Garra Rufa. The fish are of 2-4 cm long, usually living in fresh/semi salty water between 18℃-43℃. Due to such peculiar living habit, they are considered to be useful hot spring physiotherapy by lightly "pecking" dead skin cells, bacterium and microorganism when people rest in the hot spring pool, hence there comes a nickname – kissing fish.
Quick Questions
Our team is waiting for your questions. Please feel free to ask us any questions you might have about our China package tours, Chinese culture, or the sites available. We will gladly help you with any special needs you might have and all questions, like our trip designing is completely free of charge.