Ping'an Village and Da Village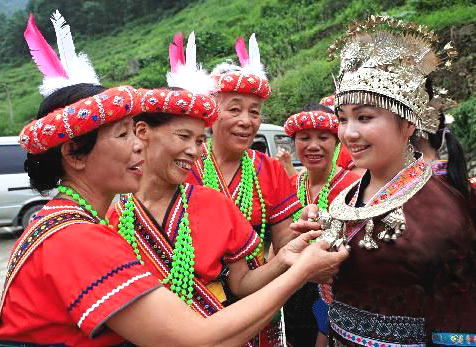 More Photos
The Ping'an Village Scenic Area and Da Village Scenic Area are commonly referred as Dragon's backbone Rice Terraces.
Ping'an Village (Zhuang Ethnic Minority)
The Ping'an Village is located at the very peak of Longsheng County's famous rice terraces, 1200 meters above sea-level and is home to over 100 peasant households who are of Zhuang ethnic minority living on assarting terraced fields. What started as a small, peaceful rice-farming community from hundreds of years ago has now become a national tourist attraction with domestic and international tourists visiting it every day.
The narrow mountain roads that lead to the top of the peak offer visitors the perfect view of the terraced rice fields; it also offers travelers a perspective of just how vast the rice terraces of Ping'an Village are.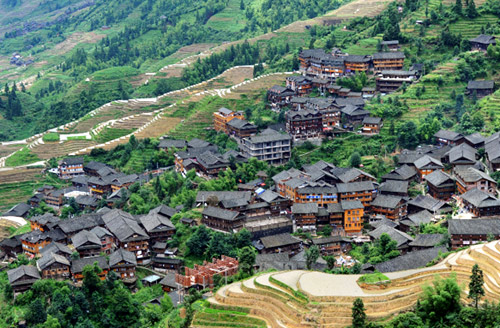 Once getting off the bus, by the road there are always locals selling arts and crafts or trying to help you with your accommodation and restaurant. From where the bus stops, it's not a long walk up the mountain to see and experience the wonderment of Ping'an Village.
There are literally layer upon layer of rice paddies all across the mountain all the way to the peak. There are different local names for different sections of the terraces, one is known as "The Moon Accompanied by Seven Stars" and another "Nine Dragons and Five Tigers", the names are based on what the locals claim are the shapes of the rice paddies as seen from the top of the mountain.
The rice paddies can be appreciated in all weather, although on a misty day they may be less visible a palpable sense of enchantment and wonder fills the air.
The local Zhuang people still maintain their traditional culture and traditional dress, the men in their hand stitched jackets made of cloth and the woman in white with their heads enrobed in scarves.
Da Village (Yao Ethnic Minority)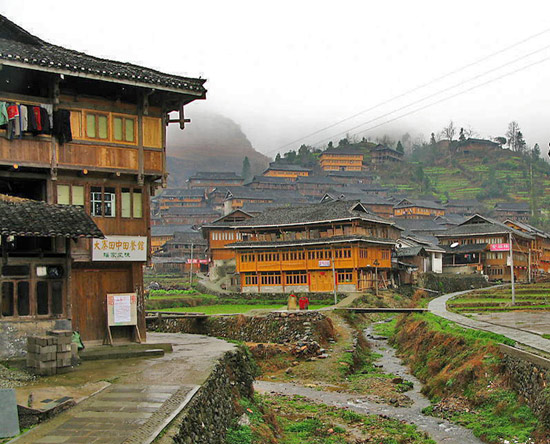 The best time to visit Da Village is at the end of May and the beginning of July, this is the time when the rice terraces are at their most beautiful. All the roads at the top of Da Village are stone roads and the roads towards the bottom are stone roads mixed with mud and clay, so it is better to visit there on sunny days.
From the car-park at Da Village it takes about 3 hours to ascend to the summit, however it is worth it to observe the magnificence of the rice terraces at the top. Upon climbing back down there are lots of arts and crafts stores selling authentic Zhuang decorations and souvenirs.
Quick Questions
Our team is waiting for your questions. Please feel free to ask us any questions you might have about our China package tours, Chinese culture, or the sites available. We will gladly help you with any special needs you might have and all questions, like our trip designing is completely free of charge.