A Bite of China II - Three Meals, fluctuate diversified paces of life
2014-06-11China travel Guide
Chinese eat breakfast since Han Dynasty 2000 years ago. Hereafter, most areas of the country eat three meals a day, a reasonable system for both life and production. Though eat three meals a day is a common diet habit for all mankind, the three meals in China fluctuate diversified paces of life and mold multiple sentiment of life.
Chinese breakfast, flavors are of vital importance. Buttered tea and zanba (roasted qingke barley flour) are the breakfast for Tibetans; simple food provides them with calories. In modern cities, simple and fast are primary requirements. Tianjin people eat pancake rolled with crisp fritter; various noodles are popular in cities along Yangtze River basin, Suzhou's thin noodles, Chongqing's small noodles (the breakfast card of this mountain city), and Wuhan's hot-and-dry noodles. Favoring salty delicacy, Wuhan people also eat Chinese doughnut and Seafood tofu for breakfast.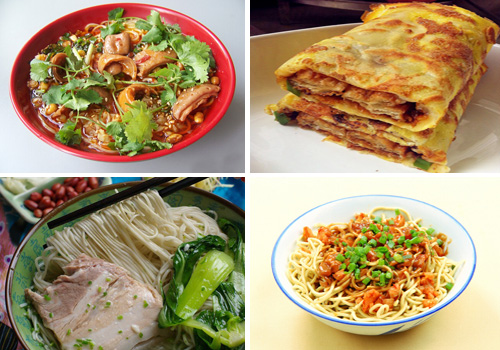 Diversified breakfast in different cities
But breakfast is not always fast. In Guangzhou, people enjoy the breakfast time, they eat morning tea, more than one hour each time. Early in 7 o'clock, many people are waiting in front of the restaurants for opening, while inside the restaurants, dim sum chefs have prepared for more than three hours. Guangdong morning tea are rich and luxurious; tea is a excuse, desserts, dishes and porridges are real protagonists. Morning tea enduring popularity in this city thanks to its thriving modern trades. Guangdong dim sum is divided into the kind of dry and wet; the dry is more exquisite, and the representative dessert is steamed shrimp dumpling.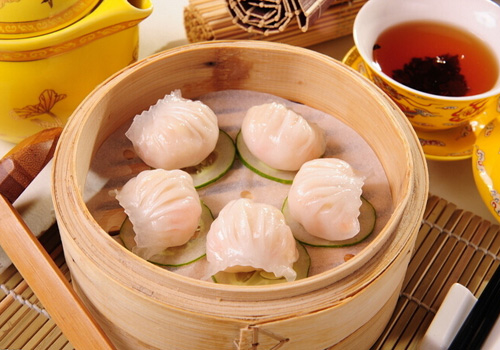 Shrimp dumpling, the signature dim sum in Guangzhou morning tea
Guangzhou, a running up city, the paradise for the seniors,and the battle for the youngers. Elders start a day from a leisure morning tea, while youngers eat their breakfast on buses and condense their lunch time. Dinner is the only chance to enjoy delicacy. Local people eat at home, migrant people cook their favorite hometown dishes. A standard Guangzhou dinner is served with a nutritious soup, a Five-flavored Duck braised with light soy sauce, sugar, wine, vinegar, and water, and steamed bass.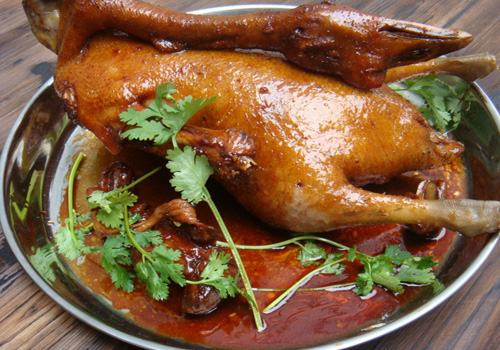 Five-flavored Duck
Anhui Province's Maotanchang Town, the largest origin of students in CEE (College Entrance Examination) exam hall in the province, has a local tradition to eat crown daisy rice cake during Double Third Day (lunar March 3rd). Soak fresh crown daisy, remove the juice, then mince them; mix with rice powder and salty meat to make cakes. This small town built by the water, still sells dried tofu in old street made in the ancient method. White and tender dried tofu is gentle, soft and with springiness. It is a good parter with streaky pork.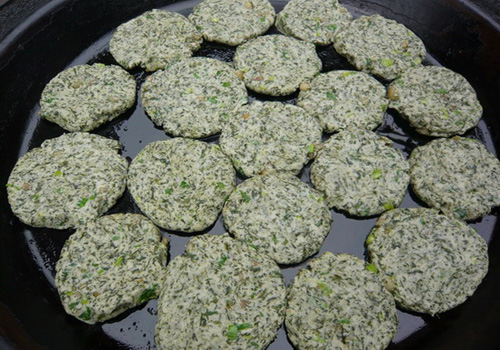 Crown Daisy Rice Cake
Gulin, the remotest county in Sichuan Province with Chishui River flowing through, eat homemade noodles with peas and meat sauce for breakfast. For lunch and dinner, chicken with cayenne pepper, and yellow-head catfish cooked with pickled vegetables and peppers are local specialties. Chicken with cayenne pepper, use the cock more than three years old, puncture the chicken then stew in the soup stewed from over 30 spices with red pepper oil.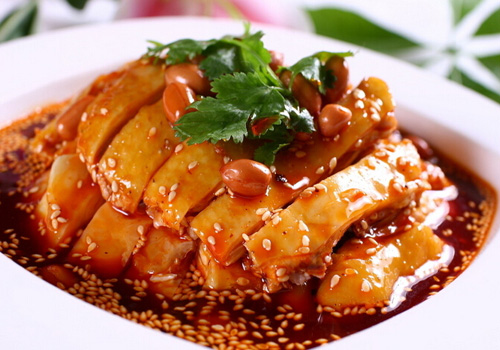 Chicken with Cayenne Pepper
Dali's Erhai Lake, the seventh largest freshwater lake in China with qualified water and abundant aquatic products, nourish Bai ethnic group for generations with fresh and sweet fish. White papaya, known as sour papaya in local, is the flavor code to stew Erhai Lake's crucian. Mt. Cangshan, elegantly standing on the bank of Erhai Lake and above the sea level 3500 meters, grows a special mushroom Jian-Shou-Qing in July during the rainy season. Jian-Shou-Qing, scientific name Boletus luridus, though with slight toxicity, makes people scramble for it due to its unique delicacy. High temperature is the key to detoxify. Then use high fire stir fry to guarantee the mushrooms well-done throughly.
Stewed Fish with Sour Papaya
The desire for palatable food comes from human's instinct, however, everybody has his own choice for food. No matter they are addicted to meat and fish, or eat a vegetarian diet, eat fast food or slow food, there is a reason. Toady, substantial food and unprecedented straits coexist, and we can find the answers for our short life from ancestors' wisdom: though wealthy with mansions and treasures, we only need a 2-meter-long space for sleeping in the night, and three meals in the day.

--- By April (VisitOurChina)

Comment