What makes Chengdu so special
2013-12-13China travel Guide
Last Wednesday, British Prime Minister David Cameron visited
Chengdu
. He visited the
Dufu's Thatched Cottage
and
Jinli Street
, and had Chengdu Hotpot. Chengdu is the only city in Western China that has direct flights to London. It is the capital of Sichuan Province, and is famous for its food, teahouses, beautiful attractions, and a rapidly growing economy. With its development it has become a very modern city, but it still holds onto its traditional roots. Locals take great pride in their culture and traditions.
Sichuan (Szechwan) Cuisine is world famous for its spiciness and incredible variety of flavors, and Chengdu is home to some of the best Sichuan Cuisine. Besides just spicy cuisine, Sichuan offers a lot of varieties of tastes, so everyone can find something they truly enjoy. The most famous dish in Sichuan is hotpot. It consists of a broth, often spicy, heated in a specially designed bowl. The bowls have two sections, one that has a spicy broth and the other has a delicious broth that is not spicy. Diners can cook many types of meat and vegetables in the broth. It is a fun way to eat because each person can choose what they want to eat. There are as many as ten varieties of hotpot in Sichuan.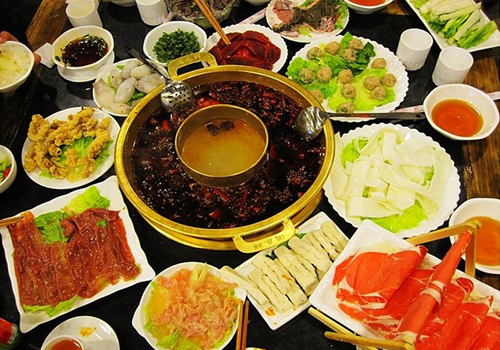 Hotpot
Tea is an indispensable part of Chengdu people's life and no visit to Chengdu is complete without a visit to a teahouse. In a teahouse, visitors can mingle with locals and can personally witness Chengdu's ancient tea culture. Locals like to chat, play cards and mahjong, read, write, do homework, or even sleep. Teahouse patrons can order dozens of varieties of tea, and little tea snacks. There are people who walk around offering to cut fingernails, or clean out patron's ears. Live performances, such as local opera forms, musicians, storytellers, and singers can be found at teahouses as well, making it a wonderful place to spend a few hours, or all day. The teahouses are used for more than just relaxation and drinking. A lot of business is conducted in teahouses.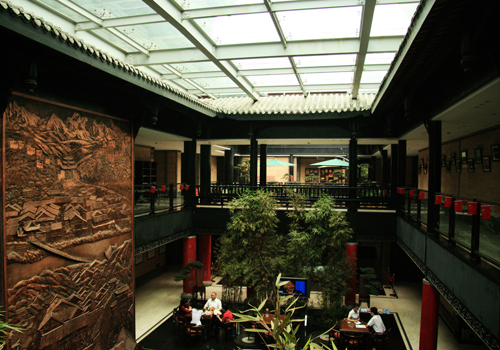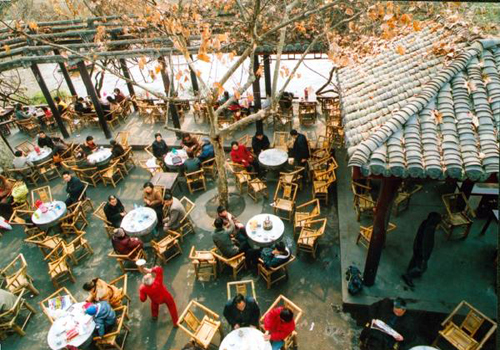 Chengdu Teahouses
Located in the center of China's southwest region, Chengdu is a main transportation hub and is considered the Gateway to Tibet. Most China tours pass through Chengdu on their way to Tibet. From Chengdu it takes only a few hours' drive to get to Mt. Siguniang, which is beautiful and perfect for hiking. One of China's four great Buddhist mountains, Mt. Emei, is just two hour's drive from downtown Chengdu.
Some great places to enjoy while in Chengdu


These are some of Chengdu's most famous sites. Most are historical, but many are known for their natural beauty.
Wuhou Temple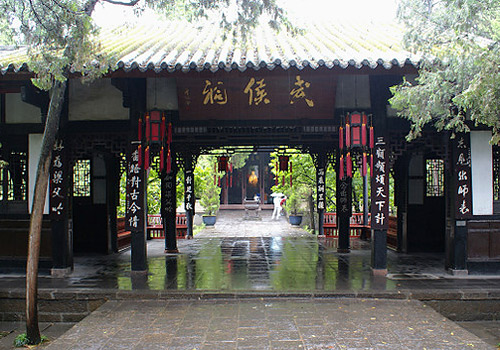 Wuhou Temple was built to honor Zhuge Liang, a Prime Minister of the Shu Kingdom (221-263). Zhuge Liang is famous for his intelligence and noble character. In the Ming Dynasty, the Wuhou Temple was combined with the nearby temple honoring King Liu Bei, also of the Shu Kingdom, making it the only memorial temple in China dedicated to a king and his Prime Minister. The temple also houses a museum dedicated to the Shu Kingdom, which was part of the Three Kingdoms Period.
Connected to the temple is the Wuhou Teahouse. This ancient teahouse is famous throughout China for its atmosphere, and the performances done there. It is a really wonderful place to experience Chengdu's teahouse culture.
Jinli Street
One of the busiest commercial areas during the Shu Kingdom, Jinli Street was rebuilt in the early 2000's using the architectural styles of the Ming (1368-1644) and Qing (1644-1911) Dynasties. It is a wonderful place to stroll and perhaps do a bit of shopping. The street offers traditional Chengdu snacks and cuisine. The shops on the street offer traditional arts and crafts.
Panda Research Base
Located on Futou Mountain, 10 kilometers north of downtown Chengdu, the Chengdu Research Base of Giant Panda Breeding is the largest center focusing on the preservation of the Giant Panda. It is a wonderful place to get close and personal to these beautiful animals. The base is also an important refuge for other endangered Chinese wildlife.
Sichuan Opera
Sichuan Opera, one of China's many opera forms, is famous for its unique aspects, such as juggling, fire-breathing, and face-changing. It has a very long history and is performed in other parts of China, such as; Chongqing, Guizhou, Yunnan, Hubei, and Taiwan. The music which accompanies Sichuan opera consists of a small gong and a two-stringed instrument similar to the Erhu. Due to its unique aspects, it is very popular with visitors.
Wenshu Monastery
Wenshu Monastery, the best preserved Buddhist Monastery in Chengdu, was originally built in the Tang Dynasty (618-907). It is home to the Buddhist Association of Sichuan Province. The temple's architecture and art is incredible and draws many visitors from around the globe
Dufu's Thatched Cottage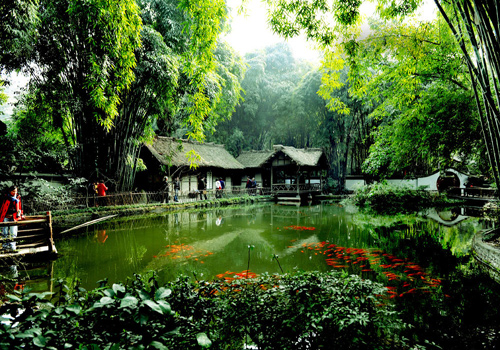 Du Fu is one of China's most famous ancient poets. In 759C.E. he moved to Chengdu and built a thatched hut. While living in the hut, Du Fu hit his creative peak, writing over 200 poems in the hut. His hut disappeared centuries ago, but it has been rebuilt in period style.
Chunxi Shopping Street
Located in the middle of Chengdu, the Chunxi Shopping Street and has a long and rich history. It is over one kilometer long and houses more than 700 shops. The street has shopping malls, supermarkets, street stalls, cafés, restaurants, and much more.
Chengdu City is a truly special place. Its ancient history and unique culture make it unlike any other place in China. It has so much to offer and is very popular with visitors from China and abroad.
For more information about Chengdu, you can check out our detailed
guide to Chengdu
.
Comment