Religious Pilgrimage to Hengshan Mountain in Hunan
2012-09-17China travel Guide
Hengshan Mountain in Hunan, often called Nanyue (Southern Mountain) and Longevity Mountain, is one of the most famous Five Great Mountains of China (
Mt. Taishan
in Shandong Province,
Mt. Huashan
in Shaanxi Province,
Mt. Hengshan
in Shanxi Province, Mt. Hengshan in Hunan Province and
Mt. Songshan
in Henan Province). Among the five mountains, Mount Hengshan in Hunan is said to be the most graceful one with green foliage and blossoms all the year around. Located in Nanyue District of Hengshan County in Hengyang City, the second largest city in Hunan Province, It has 72 rolling peaks, including Zhurong Peak (Wishing Harmony Peak), Zigai Peak, Furong Peak, Shilin Peak and Tianzhu peak. It is a great place to catch sunrise and sunset. Clouds envelop the green mountain, presenting the most charming mountain scenery. But its glamour goes far beyond natural beauty. It is where Taoism sharing a space with Zen Buddhism. With great reverence, I made my journey to Hengshan Mountain last week. There are a plenty of attractions to see for a few days and I was fortunate to see most of them, such as sea of clouds, sunset, sunrise, ancient temples, etc.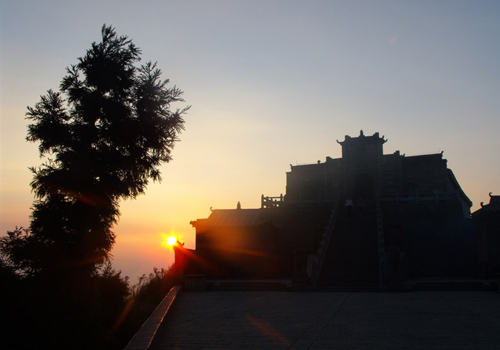 This domestic-famous mountain is little known to most of overseas tourists because it is not serviced by air; but it is truly a paradise for those who are craving for a serene and beautiful mountain. Hengshan Mountain is only about 400 kilometers from
Guilin
, so it took us nine hours to get there. The train left Guilin at 3 am (normally should be 1 am), and when we arrived in Hengshan, it was 11 am next day. Hengshan County has two railway stations: one is for high-speed trains from
Changsha
. Another is located in Xintang Town. We took a shuttle bus (CNY6) at the square of the railway station in Xingtang Town to Nanyue District, where the Hengshan Mountain Scenic Area is located. There are many free public buses in the scenic area. Bus No.2 leads to the main gate of the Nanyue Temple (Nanyue Damiao). Bus No 1 takes visitors to Tourist Center, which is a three-storey building. Ticket office is on the second floor. People can take a cable car or hike on the paved-road to mountain top. We decided to hike up the mountain, to find accommodation and sceneries. (As far as I know, it normally takes four hours for ascending the mountain and another four hours for descending, and the time excludes resting time and visiting temples and monasteries. Hotels can be found on both the midway and summit of Zhurong Peak)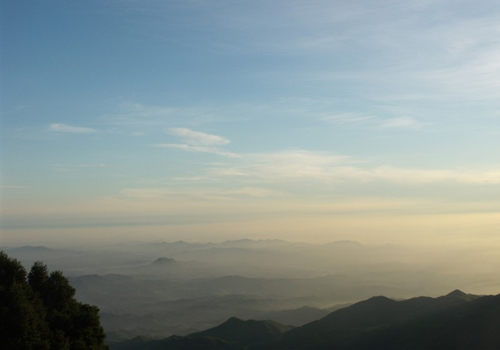 The mountaineering was really hard for me. Fortunately the scenery did not disappoint me. The impressive tourist attraction I first encountered was the Martyr's Shrine. Nestled among pine trees and cypresses, it is a grand mausoleum in an imitation of
Dr. Sun Yat-sen's Mausoleum
in
Nanjing
. It was built in 1938 in honor of soldiers who died in the Anti-Japanese War. A granite-paved path and 276 stone steps connect the memorial gateway, the Qiqi Cenotaph, memorial hall, saluting monument and the ancestral hall. In 1997, the Martyr's Shrine was included into the list of National Key Protection Units. A warm hint is that it is unnecessary to bring water on the hiking trail because there were people selling drinking water and food. When we were on the midway of the mountain, I was so tired that we decided to take the cable car there, which cost CNY40 (singular fare, and CNY70 for round trip) and took 10 minutes to the top. It was very cold on the mountain top. After checking-in and putting down luggage in a hotel (CNY150, excluding breakfast), we immediately set out to Zhurong Peak to catch sunset.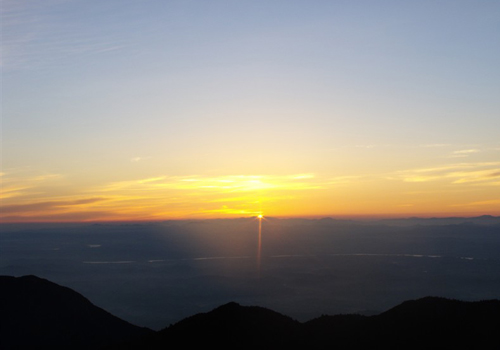 Zhurong Peak is the highest peak of Hengshan Mountain. On its top there is a one thousand years old temple. There are thousands of worshippers daily. It is a must-visit place in Hengshan Mountain. Standing on the peak, a vast sea of clouds came into eyes, which was fairly charming and amazing. When we got there, the mountain range was screened by the rays of setting sun, looking gorges. The temperature was very low at night with fresh air and bright stars. At 5 am, I was woken up by alarm clock. I grabbed up my camera and coat and rapidly headed for the viewing platform, which had been crowded with tourists who were waiting for the first rays of sunlight piercing the dawn's darkness. I held my breath to see the upcoming sunrise. The sun came out at a tremendous speed. Within just a few seconds, a red fireball sprung up above mountains. The crowd broke out in applause at the moment. The sensation of being on Hengshan Mountain as the sun appears above green mountains is an extremely divine experience for me!

After seeing sunrise, we bought some joss sticks and candles (totally cost CNY78) and prepared for worshipping in temple. The temple is strict about the process of offering sacrifice. A bunch of incense must be made up of 8 and 8 red packets are needed for you to write down names of your family members, then you kneel down and pray, and then put the incense and red packets. The ancient temple at the Zhurong Peak is said to be dragon's head. The ritual is completed after conducting a kowtow at the dragon's body (Southern Gate) and dragon's tale (Nanyue Temple). When we trekked back downhill on halfway, we walked wrong into s small path and intrude into an area of dwelling houses, where we were able to have a heart meal given by a farm house, which cost us CNY34 (a Spicy Tofu, a Fried Wild Vegetable and a portion of rice), quite economical.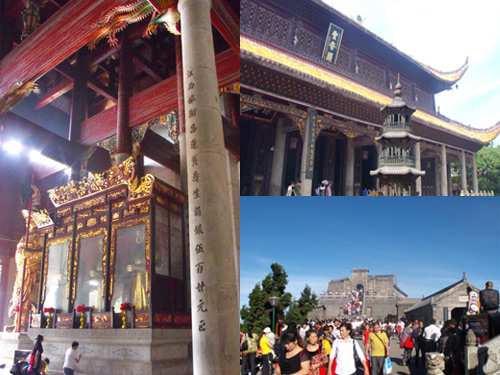 Our last destination was the Nanyue Temple which is the largest ancient architectural compound in southeast China. Covering an area of 9800 square meters, the temple is an imitation of the
Beijing
's
Forbidden City
. Facing the south, the whole complex is enclosed by red wall with soaring turrets. Inside the temple, there are 8 Taoist temples on its east wing and 8 Buddhist temples on its west wing, showing the equality of Taoism and Buddhism in Hengshan Mountain. First built in Tang Dynasty (618-907), Nanyue Temple is a treasure of historical significance and artistic value with large scale, exquisite structure and careful layout.
The pilgrimage to Hengshan Mountain ended up in two days. The cost was low. More importantly, it gave me unforgettable memories.
Comment