Five Sacred Mountains of Buddhism of China
2012-03-20China travel Guide
Being one of the three major religions in the world, Buddhism was founded between the 6th and the 4th century B.C. by Siddhartha Gautama (who is more widely known for his Buddhist name – Shakyamuni), a prince of Kapilavastu (a region of the ancient Shakya kingdom) of ancient India. It was introduced into China via the Silk Road approximately at the 1st century according to Chinese historical records and was spread throughout the country soon. Until today, Buddhism still influences many Chinese's thoughts and values more or less in their daily life and the Five Sacred Mountains of Buddhism commonly recognized in the ancient time are still widely believed as the ashrams of Buddhism.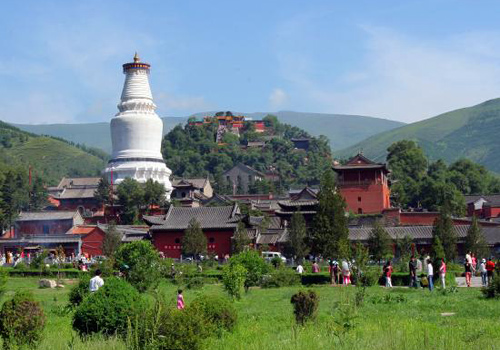 1. Wutai Mountain, Shanxi Province, North China
Known as: Ashram of Manjushri (Bodhisattva of transcendent wisdom)
Located northeast of Wutai County of Shanxi, Mt. Wutai is listed on the top of the Five Sacred Mountains of China. Mt. Wutai comprises a series of mountain range, with five peaks embracing the whole scenic area of Wutai Mountain, which covers about 2837 square km. With a highest altitude of 3058 meters, the mountain is the only one where "Green Buddhism" (Han Buddhism) and "Yellow Buddhism" (Tibetan Budhism) coexist. It is said that there were 128 temples in Wutai Mountain and many of them used to be visited by emperors of many dynasties in ancient China. Among 47 ones still exsisting today, Xiantong Temple, Tayuan Temple, the "Bodhisattva Summit", the "Dailuo Summit", Nanshan Temple, Guangji Temple, Wanfo Pavilion are the famous one. On June 26 of 2009, the mountain was added officially to the World Heritage List at the 33rd World Heritage Convention held in Sevilla, Spain.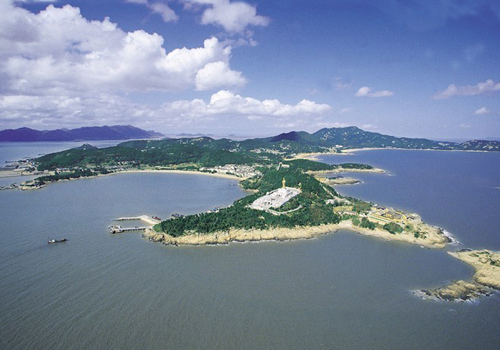 2. Putuo Mountain, Zhejiang Province, East China
Known as: Ashram of Avalokitesvara (Bodhisattva of mercy)
Being a part of the Zhoushan Islands in Zhejiang, Putuo Mountain is in fact a long and narrow island with an area of only 12.5 square km. About nautical mile apart from the mouth of Hangzhou Bay, it is some 300 meters above the sea-level, with the Foding Hill being the highest point. As the ashram of Avalokitesvara, a Bodhisattva highly respected by the common for always helping people out of distress, Mt. Putuo is the only sacred mountains reposing at sea, hence the fame – "a world of Buddhism on the sea". The early activities of Buddhism in Putuo Mountain can be traced back to the Qin Dynasty (221B.C. – 206B.C.) and the developing of the Maritime Silk Road during the Tang Dynasty (618 – 907) boosted the forming of the mountain's status of "ashram of Avalokitesvara", which was not only became the center Han Buddhism in China but also was spread to Japan, Korea and Southeast Asia. Until late Qing Dynasty (1644-1911), there were more than 200 temples and thousands of monks in the mountain. No matter how large the temples are in scale, statues of Avalokitesvara are enshrined and worshiped there. Furthermore, Putuo Mountain will be more bustling on the 19th days of the second, sixth and ninth months in Chinese lunar calendar, which are the dates of birth, joining Buddhism and becoming immortal of Avalokitesvara respectively. Puji, Fayu and Huiji are the largest temples among the over 20 existing temple in Putuo Mountain.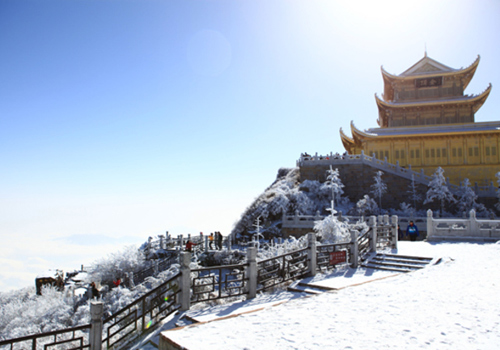 3. Emei Mountain, Sichuan Province, West China
Known as: Ashram of Samantabhadra (Bodhisattva of Buddhist practice and meditation).
Sharing a same name with the city it locates, Emeishan or Emei Mountain is not only a famous scenic area but also a holy land of Buddhism. The area has an area of 154 square km, with the highest point – Wanfo Summit – at a height of 3099 meters above the sea-level. This summit had been closed to tourists in consideration of ecological conservation since 2007, which makes the Golden Summit (3077 meters above the sea-level), where the Huacang Temple locates, the highest point of tourism in Emei Mountain. Of the temples in Emei Mountain, Golden Summit, Baoguo Temple, Qingyin Pavilion, Monkey Zone, White Cloud Gorge, Nine Elders Cave, Xianfeng Temple, Wannian Temple and Fuhu Temple are the famous attractions. Also boasting beautiful landscapes and rich natural resources, Mt. Emei is home to more than 3000 species of plants including several rare ones in the world. On the other hand, that the clusters of monkeys ask visitors for food along the mountain paths in the mountain has seen as an interesting feature of the mountain. On December 6 of 1996, Emei Mountain was put on the World Heritage Site list together with the Leshan Giant Buddha by the UNSCO.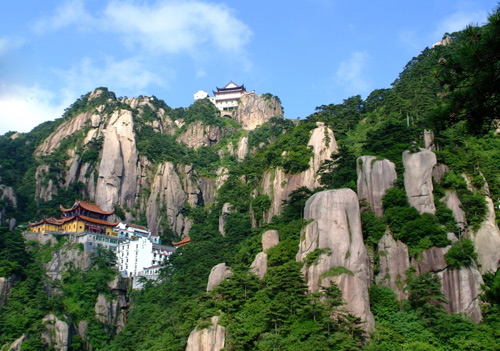 4. Jiuhua Mountain, Anhui Province, East China
Known as: Ashram of Ksitigarbha (Bodhisattva of hell beings)
Located 20 km southwest of the county seat of Qingyang, Anhui Province, Jiuhua Mountain is branch range of Yeelow Mountain as well as a national scenic area. The scenic area of Mt. Jiyhua occupies 120 square km, with the Shiwang Peak (1342 meters above the sea-level). Similar to other sacred mountains of Buddhism in China, Jiuhua Mountain is a natural and cultural scenic spot dotted by both beautiful natural landscapes and ancient relics. Famous for the exuberant joss sticks and candles, the mountain had over 300 temples at its heyday and 93 of them, with over ten thousand statues of Buddhas, over 2000 historic relics and 700 monks, are opened to tourist at present.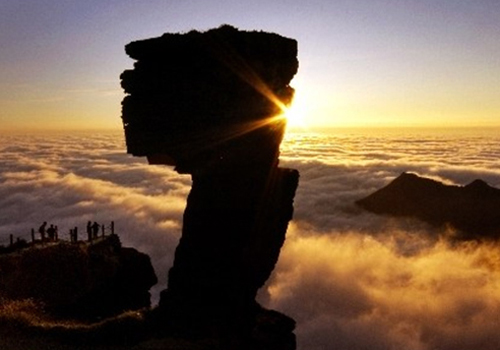 5. Fanjing Mountain, Guizhou Province, Southwest China
Known as: Ashram of Maitreya
As a matter of fact, the fifth sacred mountain of Buddhism in China is still in debate and Mt. Fanjing is accepted by many people by virtue of being ashram of Maitreya, a fat Buddha always with smiles. Maitreya is considered to be the incarnation or successor of Shakyamuni. It makes the mountain distinguish from the other four mountains mentioned above – an ashram of a "Buddha" but not a "Bodhisattva".
Adjoining Chongqing in the north and neighboring the Fenghuang and Zhangjiajie scenic areas, the history of Fanjing Mountain associated with Buddhism can date back to some 1000 years ago, when it was Northern Song Dynasty. Being the main peak of the Wuling mountain range, Mt. Fanjing is rich in wild lives (such as Guizhou Golden Monkeys and Davidia involucrata trees) and still has its primitive entironment preserve well. Marshroom Rock is the main rock as well as a famous attraction of it. In 1978, Mt. Fanjing was confirmed to be a state-level natural preservation; in 1982, it was listed as a first-level global ecological preservation area; in 1986, it was added to be one member of MAB (Man and the Biosphere) by the UNESCO; in 2008 and 2009, the mountain was awarded to be one of the Ten Summer Mountain Resorts of China successively.

---By Cindy (Visit Our China)
Quick Questions
Our team is waiting for you questions. Please feel free to ask us any questions you might have about our China package tours, Chinese culture, or the sites available. We will gladly help you with any special needs you might have and all questions, like our trip designing is completely free of charge.