VOC's Travel BLOG
Our Travel Blog is the place to share our real life, travel experiences in China with you. Besides, we will provide information related to Chinese culture and China travel guide. "A bosom friend afar brings a distant land near." Traveling makes us to be closer, let's discover China together!
Let's reap them again next year!
2011-12-14 | Working at VisitOurChina | Comments(2) Views(1073)
November in
Guilin
was surprisingly lovely this year. I guess it realized that it's annual harvest time of our taros and sweet potatoes in Lipu, which is about 105 km away from downtown Guilin. The interesting experience of harvesting and the delicious taros and sweet potatoes of last year still engrave on everybody's mind, so all of us were full of enthusiasm when hearing it's the harvest time again! Thanks to the convenient road network, 1.5 hours' drive is enough to take us from Guilin to the farmland near the
Silver Cave
in Lipu County (about 40 km from
Yangshuo
).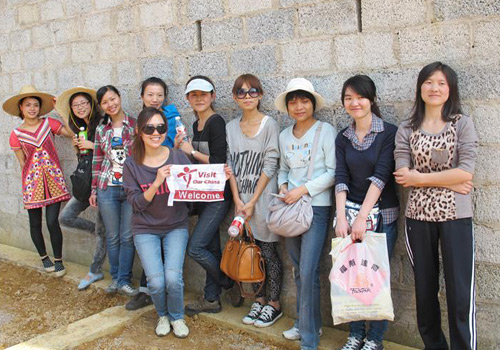 Our farmlands hide well from the noisy outside world and a stranger cannot find them easily unless he walks through the village and an orchard. There is an old Chinese old saying going that "Never forget the one who digs the well when you are drinking", so we'd like express our sincerest gratefulness to the local farmers who take care of the farmlands which are rented by our company.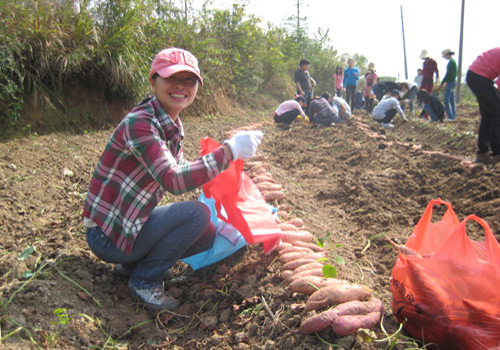 Armed with gloves, shovels and bags, we started the work in the sweet potato field with imitating the farmers' professional digging skill: First of all, excavating the soil around the root of a sweet potato vine with care and patience and soon several sweet potatoes exposed in the air. When you come to this step, you'd better act like a dedicated archaeologist who is trying to get some ancient historic object out of earth if you don't want the sweet potatoes to get wounded. Don't say it is just a piece of cake, you cannot image how criss-cross these root fruits are underground! The unearthed ones were placed aside for drying. We got a big harvest after one hour's hard work and moved on to the taro field at the other end of the village.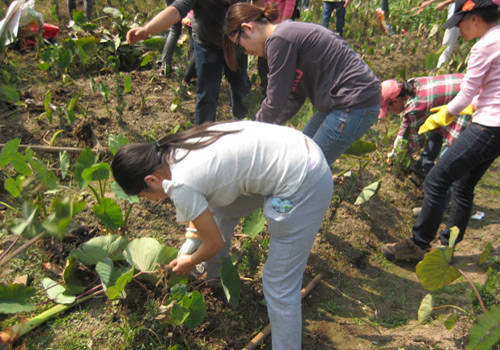 Apparently, the landscape near the taro field was more pleasant (I think this is the reason making I work harder than before:) ). Unlike sweet potato vines, taro allows other crops to share nutrients with them in a same field. However, keep it in mind that don't touch the tubers of this generous crop without a partition, otherwise your skin probably suffers from pruritus. This soil of the taro field was looser, so I thought it's no problem to pull out taros without any assistance. But soon, I snapped the stem of a taro and learnt a lesson at the price of throwing myself onto the ground…lol…
As planned, we who spent almost a morning excavating sweet potatoes and taros were rewarded with our fruits of labor at a wooden-structured restaurant near the Silver Cave: braised chicken with taro pieces, steamed taro pieces, sugar taro… All were wiped out in no time! Well, I have to admit that doing manual work is really a perfect stomachic.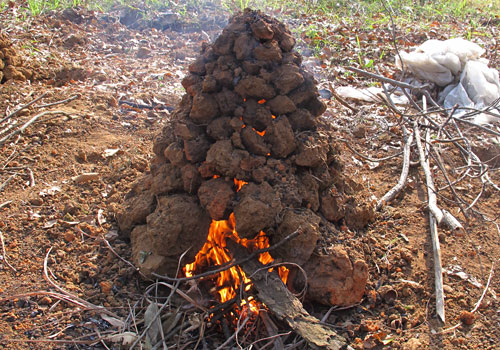 Somebody might be puzzled a question: Where are sweet potatoes? Haha, if you have ever read the post about our similar outing of last year on our Travel Blog, you might at least have a vague impression of some kind of "kiln", which we call "Hong Shu Yao (红薯窑, small hand-made kilns for baking sweet potatoes)". Our dimsum time with sweet potatoes (and surprisingly Chinese chestnut in fact) was arranged in an open ground among a Chinese chestnut forest behind the restaurant.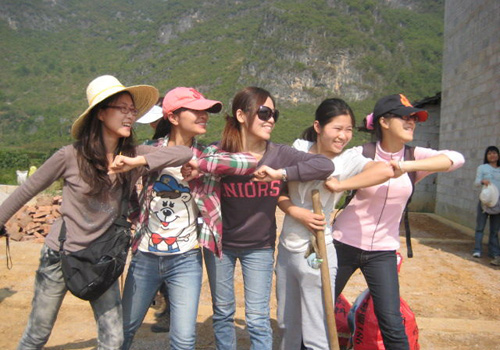 This time we were more experienced in constructing a kiln, so we dug a pit and built a pagoda-like cover with pieces of clay on the pit quickly, with a hole for burning firewood of course! When the clay got red-hot, the sweet potatoes and Chinese chestnuts were put into the kiln and the "pagota" was pushed down, baking the dimsums with heat... All the afternoon was full of fun and fragrance of food. At 16:30, we drove back to Guilin, with several bags of sweet potatoes and taros.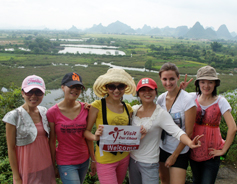 Calendar
Categories