An jolly day – my farmhouse stay in Dajing Township
2011-12-20Life in Guilin
"A big family pork feast for the New Year" has been being the traditional customs in China since the ancient time. In the past decade, it seemed that life of more and more Chinese was invaded by mordern restaurants, but in recent years it is becoming the order of the day that companies and businessmen gather their stuff and partners to have an authentic pork meal at some suburb of their cities at the end of the year, creating a chance of non-working communication or of discussion about further development and cooperation in the coming year.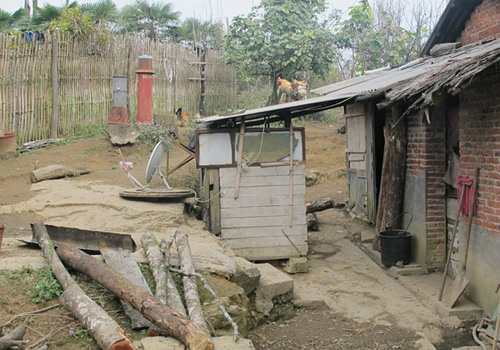 (Photo: chicken are playing at the backyard of Lao Qin's house)
Last week, we more than 10 people of our company spent such an "pork meal" with some extra experiences in Dajing Township of Lingchuan County, Guilin City. Our vehicles left for Dajing at 08:30 in the morning and we arrived at our destination which is exactly called "九块田" (Jiu Kuai Tian, literally nine farmlands in English) in Chinese after one and half an hours' drive. Sitting at the junction of the three counties of Guangyang, LingChuan and Xing'an, some 65 km away from Guilin, Jiu Kuai Tian is at an altitude of 1000 meters, which makes it apparently colder than that it is in Guilin.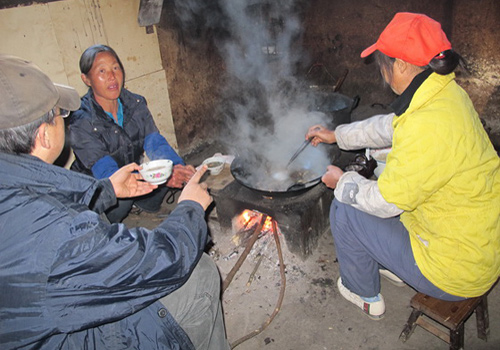 (Photo: Lao Qin's family is still using the traditional kitchen range)
The coming of we pork mealers made the undisturbed mountain area alive. Lao Qin, the host of the family that we tried the local "pork meal", was a man who showed strong local dialect whenever he spoke, and we had to paid attention to every pronunciation of his when talking to him. Apart from running a retail shop providing vehicle repair service, Lao Qin also makes good use of the backyard for raising pigs and chicken. That is not to say he is rich in local, but the big smile on his face clearly shows that this man is satisfied with his current life. Our country meal was arranged at 12:00 and we were free before that, so someone suggested climbing the mountains nearby to excavate orchid.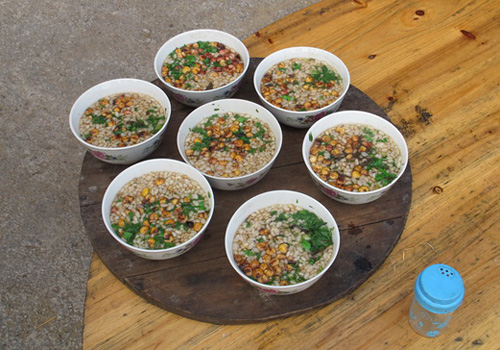 (Photo: Youcha is a kind of gruel cooked with pounded tea leaves, old ginger, garlic, green onion)
Everyone but I was not a totally new hand in this job. Leaving the precipitous mountain path aside, I really had some difficulty in telling orchid from weeds. Lao Huang, the expert of orchid among us, told me that orchid usually grows in the southeastern side which can be shined by sunlight and that never find an orchid in a crowded bamboo grove. According to Lao Huang's rich experience, I got several ones soon and was praised for my "talent" by my fellows. This was not the first time of Lao Han to seek an orchid, but it did be his first time to find one. Everyone of us congratulated him on the final success!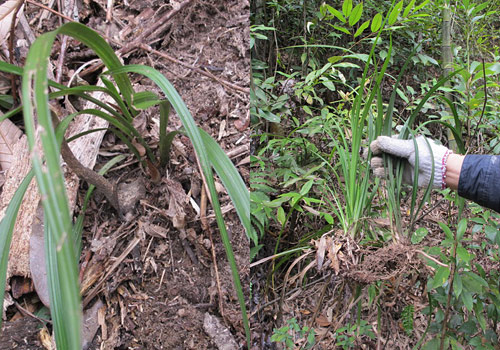 (Photo: wild orchids growing on the mountains near Lao Qin's house)
If the name of the feast reminds you of a meal made up of all kinds of cooked pork dishes only, then you are misled. Normally, those who plan such a meal at countryside will pay deposit to the host of a famer several months even one year in advance (often introduced by relatives or friends). The deposit is not used for buying a pig from the host directly but for buying a piggy and paying for its forage - everyday leftovers of the family, eatable weeds and potherb. By this way, the piggy usually grows up to over 100 kg one year later and the pork is totally pollution-free from growth hormone.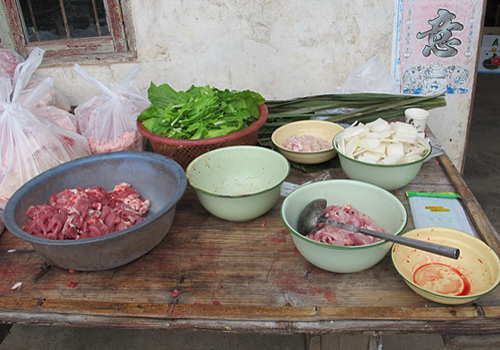 (Photo: our cooking materials - pollution-free pork, vagetable, turnip pieces)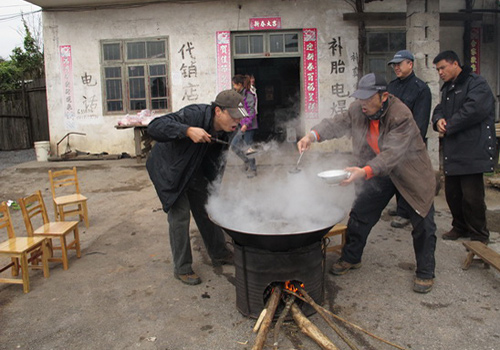 (Photo: the guys can not resist the temptation of the simple but delicous soup)
On the big day, buyers pay for the pig by weight (cheaper than that at market) and the farmer will also be in charge of cooking. It is up to buyers how to cook: normally fried and roast, but hotpot most of the time! Furthermore, buyers can take a walk around the farmhouse to discover the nice landscapes nearby, play mahjong (麻将, a Chinese game played by 4 people with 144 plastic tiles) or Zipai (字牌, a kind of Chinese numeral paper cards popular played by 3 people in Guilin) on the open ground, have a taste of Youcha (油茶, a gruel of sweetened popular in Guilin), sweet potatoes or Chinese chestnuts. Also, they can bring some of the delicious food home to share with your family!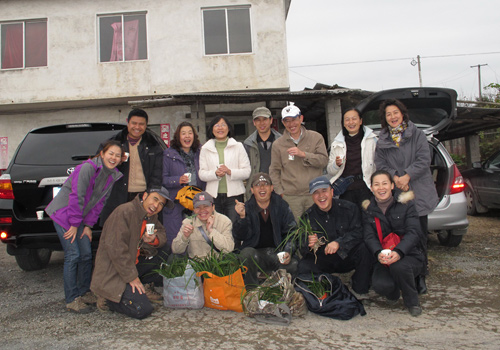 (Photo: what we had at Lao Qin's family is not only a "pork meal"but also great fun)
--- By Lu Yaoyun (Visit Our China)
Quick Questions
Our team is waiting for you questions. Please feel free to ask us any questions you might have about our China package tours, Chinese culture, or the sites available. We will gladly help you with any special needs you might have and all questions, like our trip designing is completely free of charge.