VOC's Travel BLOG
Our Travel Blog is the place to share our real life, travel experiences in China with you. Besides, we will provide information related to Chinese culture and China travel guide. "A bosom friend afar brings a distant land near." Traveling makes us to be closer, let's discover China together!
Delicious China Dishes – Do It Yourself!
2011-12-02 | China Food | Comments(2) Views(1021)
In China, a widely known saying goes that "Food is the first necessity of the people". It is true and it is not difficult for foreigners who have ever been to China to find the variety of Chinese food, especially dishes. For new comers, Chinese dishes which are usually seasoned with all kinds of condiments are probably far away from being easy to cook. But if you pay a little patience, you will find that is not an arduous challenge at all. So how about making your first step of becoming a chef of Chinese dishes with us?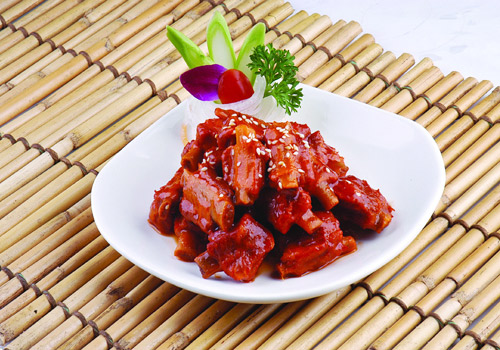 1. SWEET AND SOUR RIBS
Ingredients: diced ribs, cooking wine, eggs, farina, flour, edible oil, salt, white sugar, vinegar, warm water, tomato sauce.
How to cook:
a. Souse the ribs with salt and cooking wine for 10 minutes.
b. Whisk the eggs without eggshell and mix it with the ribs.
c. Add some farina and flour and homogenize them with the ribs.
d. Wrap the ribs with dry flour.
e. Make "sour and sweet sauce" by mixing up white sugar, vinegar, warm water.
f. Heat the oil and fry the ribs when the oil is between warm and boil.
g. Scoop the ribs up when they get golden yellow.
h. Fry the sour and sweet sauce with the oil, and then pour the tomato sauce into the pan and keep stirring.
i. Then it is time to fry the mixed sauce with the fried ribs. Don't' stop before the ribs are totally wrapped with the sauce.
j. Scoop it up on a plate (You can scatter some fried sesames on the ribs if you like).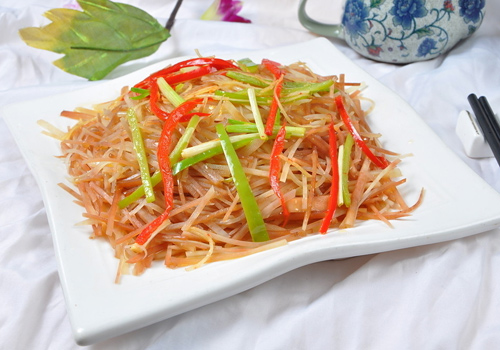 2. SOUR AND SALT POTATO PIECES
Ingredients: potatoes, green peppers, red peppers, vinegar, salt, oil.
How to cook:
a. Shred the potatoes, and steep them in light salt brine for a couple of minutes and then remove.
b. Shred both green and red peppers.
c. Heat the pan for seconds, pour in some oil, add in shredded potatoes and then stir constantly.
d. Add in the peppers and stir on and on.
e. Add in prepared salt and vinegar; stir for a little while until potatoes are coated with sauces, and then dish off.
f. A savory dish is done.
Tips:
1. Steeped potatoes in light salt brine can keep its refreshing flavor and avoid discoloration after stirring.
2. Steep potatoes in light salt brine can avoid potatoes to be sticky when stirring. 3. During the whole process, keep stirring constantly to avoid to be sticky.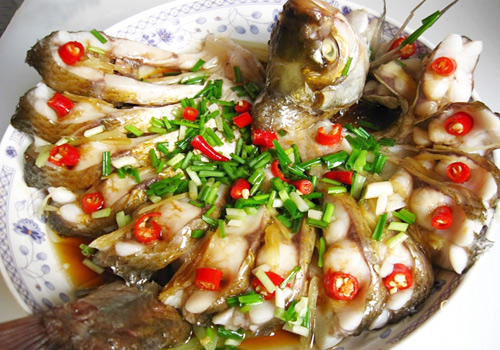 3. STEAMED SPREADING FISH
Ingredients: a fish, soy sauce, shredded ginger, cooking wine, salt, eatable oil.
How to cook:
a. Cut the fish transversely into pieces (not cut-off, see in the picture) and place the pieces into the shape of the spreading tail of a peacock on a plate.
b. Scatter some salt, soy sauce and oil on the fish, put some cooking wine and shredded ginger on it (to get rid of the unpleasant smell of fish).
c. Heat some water in the pot.
d. When the water is boiling (or almost boils), put the plate with the fish in the pot with a support and cover the pot with a pot cover.
e. Heat the fish for about 10 minutes (depending on the size of the fish) until it is cooked.
Tip: You can add some chopped green onion and pimiento if you like.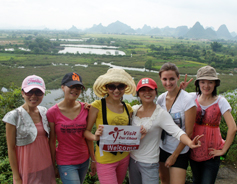 Calendar
Categories