VOC's Travel BLOG
Our Travel Blog is the place to share our real life, travel experiences in China with you. Besides, we will provide information related to Chinese culture and China travel guide. "A bosom friend afar brings a distant land near." Traveling makes us to be closer, let's discover China together!
Trip to Tai'an: Hike to the Top of Taishan Mountain
2011-03-07 | China travel Guide | Comments(2) Views(3273)
Taishan
(泰山), the name of this mountain sounds like a prayer for many Chinese people. Indeed, the Taishan Mountain is one of the "Five Sacred Mountains of Taoism" of China listed in the UNESCO World Heritage Site, and the mountain that I had the chance to hike during my first one-month trip in China.
Honestly enough, at first I didn't know how important was the significance of the place I was on the point to visit with our tour guide. While studying for a week in
Qingdao
(青岛) of Shandong Province, we had the chance to go out of this big seaside city to look for some natural mountains and lush sceneries. Our bus headed to the center of the Shandong Province, north of the city of
Tai'an
(泰安) located in the south of
Jinan
(济南), provincial capital of the Shandong Province. The bus ride took several hours, but I was so excited at the idea of discovering another part of China. In order to make the hike go easy, everyone of us was dressed in hiking suit and backpacked with some bottles of water. But how big was my surprise when we arrived at the Mountain's foot: in front of me, a more than 1,500 meters-high mountain was already crowded at 9 a.m., imposing itself in a brilliant blue sky and lush vegetation! What a sight! Mount Taishan was teasing me and I was already starting to regret the idea of a "cool little hike" on a "sweet little mountain".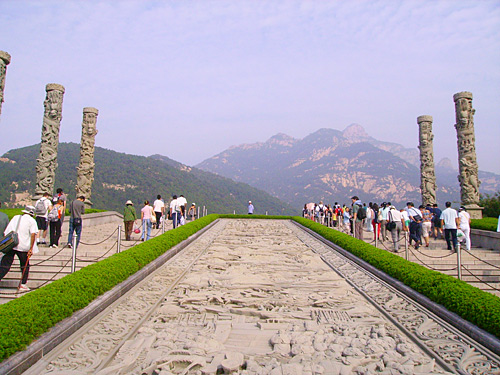 Our group of thirty students started to reflect before starting the hike. Indeed,
Mount Taishan
has two different climbing styles: by cable car or on foot. After a few minutes of reflections, we were divided in two groups that I'd like to call: the "wisdom hikers group", and the "crazy" one. You may wonder in which one I was? Well, the "crazy hikers" one, of course! After getting some cheers from our "wisdom" friends, we headed to the very foot of the Taishan Mountain. There, the scene displaying in front of me was just awe-inspiring: immense square surrounded by high stone carved pestles, amazing colorful Taoist temples with the Taishan Mountain rising up into the skyline. I couldn't believe what I saw, the beauty of the place being so huge to me. I was in a place worshiped for at least 3,000 years in eastern China, and actually on the point to do a more than 5 hours hike, climbing an endless number of steps and losing liters of water to reach finally the Monastery waiting for me at the top, and at that time of my journey, still looking like a little dot at the end of the biggest staircase I've still ever seen in my life! Yes, compared to our friends, we were the "crazy" group!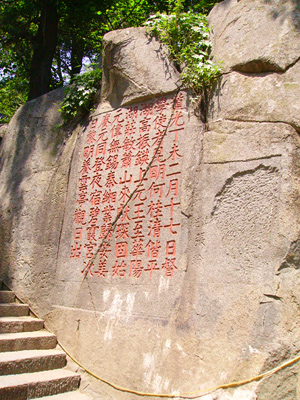 We started the hike under a hot weather common in July in this part of China. The sun was with us but soon we understood that this made our hike much more difficult. Indeed, the bottles of water I had taken with me quickly served as the only way to get cooler but hopefully our way was scattered by numerous little shops serving fruits and snacks as well as fresh water bottles. There were so many people doing the hiking with us, and surprisingly no foreigners that day as I remember, maybe because they were already waiting for us at the top! So we spent the whole hike meeting warm-hearted Chinese hike mates, "doing the Mount Taishan" like us. What astonished me most was the way some people were dressed for such a hike. Some Chinese girls and women especially wore high heels, pretty blue jeans and make up: a scene kind of funny for us at first. The foot of the Mountain was made with large steps but as more as the hiking lasted, they started to get thinner and irregular what made the climbing harder actually. Except from that, the hike was of an outstanding beauty, I couldn't help stopping my way to look behind me and take pictures of the scenery. The view was just awesome with all the people climbing the stairs at a same pace. The mountain was at the same time showing us many unsuspected stone inscriptions, inscribed by ancient emperors or Chinese celebrities in a red font color. What an exceptional hike in here! That was at that moment that I started to understand why the Mount Taishan was so famous all over China: you have to deserve to Monastery at the top.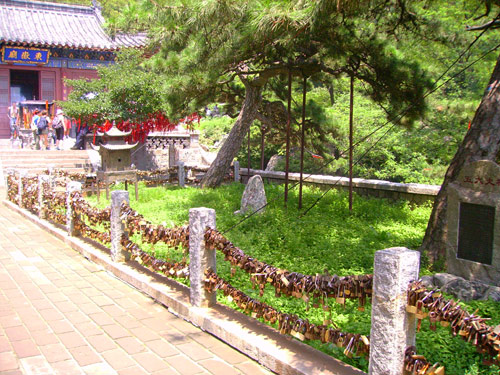 During the hike I also met some monks and workers carrying large stones from the bottom to the top of the mountain for some use in the Monastery: incredible! What a hard work they did, even under this hot weather! When nearly arrived at the top, I could see some green jackets drying upon the borders of the staircase: there are used for tourists willing to look at the mountain's sunrise, one of the most marvelous of China.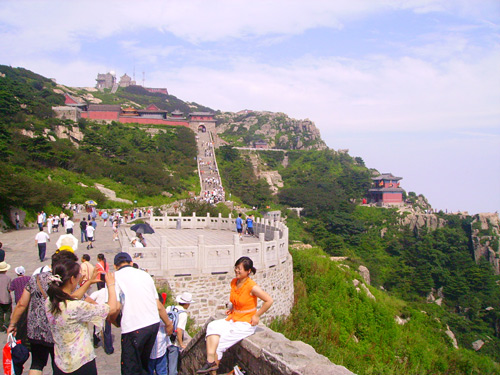 Finally, after more than 5 hours' hiking I reached the top of the mountain! Yes, I did it! What a feeling of victory I had! My legs had endured long hours of exercise, I had maybe lost liters of water and kilos at the same time, but I was so happy! Really happy! I had climbed one of the "Five Sacred Mountains" of China, and this happened to be one of the most exciting things I ever did while traveling in China. On top of the Mount Taishan, an astonishing and awe-inspiring view was waiting for me. The Taoist Monastery was a good reward too, full of historical relics and believes. The place was crowded with lots of Chinese pilgrims and food shops mingling in a joyful mood. After an hour or more at the top, we then had to return to meet actually, our crazy friends who didn't dare to do the whole hike and missed some sceneries but waiting for us with thunderous applause. The way back was all the more beautiful!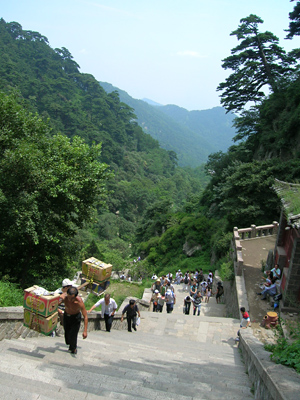 Taishan Mountain hiking was for me a gorgeous experience that I'll never forget. The experience is definitely worth it and the mountain, even teasing you at first, always rewards those who are courageous enough to face it. Lovers of hiking, mountains or simply China, don't ever miss the chance to hike on this China unique scenic spot, you'll never regret it!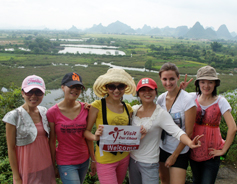 Calendar
Categories