Trip to Qingdao: one of China's most charming seaside city of special interest!
2011-03-02China travel Guide
Hello I am Sophie from France! Being a student in English studies in my mother-country, I always loved to learn languages, travel and meet new people. Starting to learn Chinese during my first years at university, I got the opportunity to participate in a trip to China with my Chinese teacher and other classmates in July 2007. This was the beginning of a marvelous story with China that I'm still living today as an intern in Visit Our China during my present Master degree. Organized by my university, this one-month trip mixing visits and short Chinese culture and language lessons in two Chinese universities, happened to be my first discovery of China, and what a discovery! Clearly, I kind of fell in love with the country! That is why I would like to share my experience with you throughout this travel blog.
My trip stretching over one month, this is the first in a series of articles which is going to deal with my trip in the city of Qingdao where I have been staying for one week or so, between studies and visits.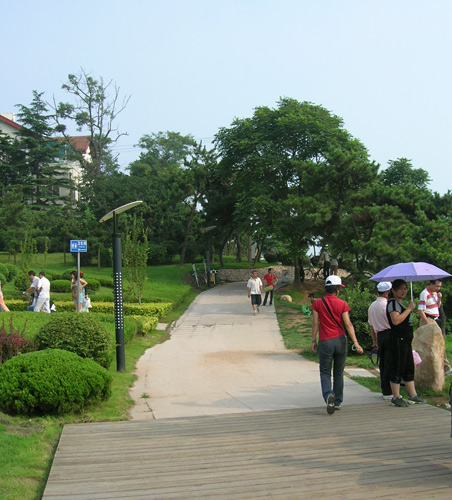 Qingdao
(青岛) is a delightful city lying in the southeastern part of the Shandong Province (山东省). This city wasn't the first one I have been in China (the first one being Zhoushan (舟山), small city in the Zhejiang Province (浙江省)), but I decided to start to present it to you because it was for me the place where I stayed for a longer time compared to others, and where I really experienced and started to learn about China.
I arrived in Qingdao by air, directly from
Shanghai
. It was the first time I experienced a domestic flight in China, so like anyone experiencing a new thing for the first time, I was kind of excited and worried at the same time, because my Chinese was poor at that time, so I didn't understand that much about what was happening to me. Hopefully, my teacher was doing the tourist guide as China is her mother country, so everything went great. The flight to Qingdao went smoothly, actually like in my country. I know this may seem a bit stupid but to travel for the first time in China was something looking like living an adventure for everything I was on the point to do. Qingdao airport is huge and really well deserved. Our pickup bus was waiting for us to go to Qingdao Ocean University, where I was going to live and spend one week of lessons.
Sea and Architectures of Qingdao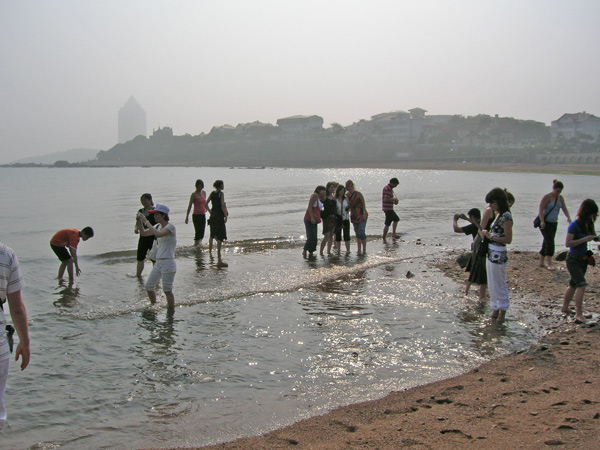 On our way, I just couldn't stay unmoved by the sight which was offered to me: the sea! Indeed, Qingdao is renowned for being a seaside city enjoying beautiful white sand beaches. During my stay there I could have a try of one of the six beaches here called "Shilaoren": the water was blue and cool, facing the coast where depicts the city's skyline. When I arrived there, the weather was sunny so it gave much more style to this postcard-like sight. But the most astonishing thing was that I discovered the European architectural style, typical of this Chinese town. This just impressed me! Wait, I was on a trip in China, or I am already back in Europe? Yes, Qingdao has been a German colony up until 1949, so the buildings and streets style look like a western city. This was so strange for me, I didn't know the history of this Chinese city before coming, so just imagine my surprise.
While spending my rich week learning about
Chinese calligraphy
,
Chinese music
, language, Tai Chi (Taiji quan)... I had the opportunity to go in the city center to discover by myself this German architectural style that surprised me at first sight. The city is really beautiful, mixing European and Chinese styles at the same time. There are a lot of shops where I could attempt for the first time to buy little goods. Everyone was so kind to me, telling me "hello!" in the streets, asking my friends and I for taking pictures with them (this surprised me a lot at first!)... It was the first time I learnt how much Chinese people are friendly. This touched me a lot!
Visit to Tsingtao(Qingdao) Brewery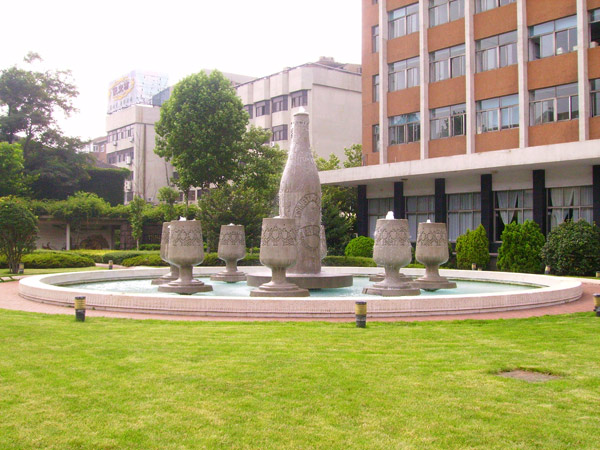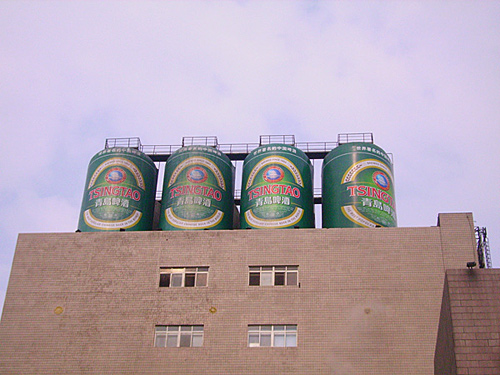 On one of our free afternoons, we went to visit the famous Tsingtao Brewery. This place is amazing, I had a great experience! The Tsingtao Brewery is a must seen visit to do while spending some time in
Qingdao
as it is the place where the worldly known Tsingtao Beer is produced since 1903, I highly recommend it to you! This beer is one of China's most famous beers and is really tasty even for people who don't like that much alcohol or beer, believe me. On our arrival to the brewery, the entrance was kind of funny to see: big Tsingtao Beer bottles springs, a huge German looking-like man holding a barrel of beer, tawn... the place looks really nice and impressive. Our visit was of the same type! Indeed, during the visit our English speaking guide showed us the different stages of production of the tasty beverage. Big funnel-like copper machines, wheat-saccharifying area, long bottling machine where millions of green glass bottles were moving in a continuous rhythm... the visit was really interesting. We went then to the museum or exhibition hall of the brand. Pictures, big barrels, different kinds of utensils used in ancient times for the production... Every single thing during the visit was a journey to Qingdao's history. But the best part of the visit was the Beer Tasting Area, where a waiter is here to offer you a glass of Tsingtao Beer with some crackers and peanuts! What a nice surprise and attention! You'll have understood, if you have the chance to go to Qingdao, just go there.
Chinese Tea Ritual Experience
Another great experience I had in Qingdao was to watch a tea ritual in a typical teahouse downtown. The moment was really magic, I could have a taste of different kinds of
Chinese teas
, I had a really great moment there learning much more about the
Chinese culture
, and could even buy my own Chinese tea set that I still use today at home! Since that time I still remember this moment.
Seafood of Qingdao
Last but not least was the taste of the amazing seafood of Qingdao. The city flourishes with a lot of different dishes based on fishes and other shellfishes. I could have a try of some octopus, crab and prawns. This trip I made with my group gave me the opportunity to learn how to make Chinese dumplings, a funny and thoughtful experience that I'll never forget, the moment being so intense. Qingdao's delightful food was for me a great experience that I can now recommend to travelers!
After one week spent in
Qingdao
, I had to continue my trip to other places of China. I left this charming seaside city by train this time, for another last but not least adventure:
Beijing
(article will follow soon)! Even if I stayed for a long moment in Qingdao, I unfortunately didn't do that much touristy visits because the tour I participated in was much more based on the lessons in Qingdao Ocean University. But still, even as thin as it is, I keep a very good memory of my stay, mainly because of the cool and fresh air of this city especially during the month of July in China. So if I have the chance to go there once again I'll totally go for sure. China has so much to offer to us!
Comments
Comment