My Trip to Yunnan Province: Kunming - the base to launch our Yunnan adventure
2010-10-13China travel Guide
Kunming is a lovely and temperate city, and by south-west Chinese standards it is very developed. It reminded me a lot of Xi'an; a mid to high-level Chinese city with unique characteristics. Kunming is pleasant place to stay, attracting many people as Xishuangbanna and Lijiang. In short Kunming is the most convenient place to fly to and acclimatise to the thinner air of Yunnan.
While my families were in Kunming we visited two tourist destinations of note: the first being the nationally renowned Stone Forest which is actually spectacular in its own right; a labyrinth on bizarre stone that was only discovered by Han Chinese in the early 20th century, the stone are all smooth and cool to touch and seemingly every stone has its own story and legend. We spent over 90 minutes trekking around the often treacherous terrain; the stone forest is a photographer's heaven!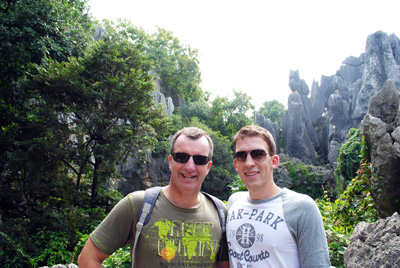 The other main tourists attraction is the Dianchi Lake (Chinese滇池; pinyin: Diān Chí), the biggest lake in Yunnan Dian Lake or Kunming Lake is a large inter-land lake located on the Yunnan-Guizhou Plateau close to Kunming, Yunnan, China. Its nickname is "Sparkling Pearl Embedded in a Highland," and it was the model for the Kunming Lake in the Summer Palace in Beijing.It is a freshwater fault lake at 1,886.5 m (6,189 ft) above sea level. The lake covers 298 km2 (115 sq mi). It is 39 km (24 mi) long from north to south, and the average depth is 4.4 m (14 ft). It is the eighth largest lake in China and the largest in Yunnan Province. Catching the cable-care up allowed delightful views of city and the lake below, it is certainly worth walking down as opposed catching the chairlift again, meandering down the mountain one encounters temples are ancient Buddhist statues each with their own history.
Kunming, a nice city, but not much more, a day is almost enough before you venture on to more thrilling parts of Yunnan.
--- By Brett Hartley-Wilson (VisitOurChina)
Comments
Comment