Xitang Ancient Town of Zhejiang

More Photos

Chinese name: 西塘古镇 (Xi Tang Gu Zhen)
Location: Jiashan County, Jiaxing City, Zhejiang Province.
Opening time: Xitang Ancient Town is open to tourists all day long but most scenic spots opens from 08:00 to 17:00.
Ticket:
There are two ways for you to buy ticket. One is to buy a joint ticket for admission and11 scenic spots which is CNY100. Another is to buy a ticket for the specific scenic spot you want to visit which is between CNY5 and CNY15. The only trouble is that you will have to buy an admission ticket at CNY50 before you buy ticket of any scenic spots in Xitang Ancient Town on Saturday, Sunday and holidays.
How to get there:
---From Jiaxing: take bus K152 at Jiaxing North Bus Station (嘉兴汽车北站) to Xitang Ancinet Town; take bus No.4, 5, or 22 at square of Jiaxing Railway Station(铁路嘉兴站) to Jiaxing North Bus Station; take Bus K93 at Jiaxing South High-speed Rail Station (高铁嘉兴南站) to Jiaxing North Bus Station.
---From Jiashan County: take bus K215 or K216 at Jiashan Passenger Bus Station (嘉善客运中心) to Xitang (06:00-17:50, 40 minutes); take bus K210 at Public Bus Station (5 minutes' walk to Jiaxing railway station) to the town ( 06:00-17:30, 30 minutes); take bus K702 from Jiashan South High-speed Rail Station (高铁嘉善南站) of to Jiaxing Passenger Bus Station.
---From Shanghai: take a tour bus (at 09:15) at Shanghai Tourist Distribution Center (in Shanghai Bawanren Stadium).
---From Hangzhou: take a high-speed bus at Jiubao Bus Station (CNY39, two hours' drive).
Best time to visit: April

Brief introduction to Xitang Ancient Town
Xitang Ancient Town is located on the northeast edge of Fujian Province next to Jiangsu Province and Shanghai. It is within 100km from Shanghai, Suzhou, and Hangzhou. Crisscrossed by rivers, the town presents what a typical water town is like in southeast China. In the town stone-paved lanes run between age-old dwelling houses of white walls and black tiles. Riverside corridors are connected into a totally one-thousand-meter long corridor that is covered with roofs that protect walkers from rain and sunshine. Long and serene alleys and roofed corridors create a charming and picturesque scenery that can not be found in other water towns.
But Xitang Ancient Town' glamour goes far beyond natural beauty. It has long history, rich culture and gives birth to a number of talents, such as Yangmao, a Yuan Dynasty (1271-1368) master of arts and crafts, Gu Xidong, a famous playwright, etc. With a history of more than 1000 years, Xitang has entered the list of UNESCO's World Heritage Tentative Site. The trip to Xitang is also a cultural journey.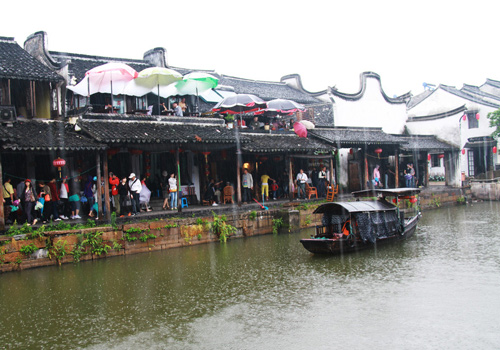 Xitang is also famous for its numerous bridges, alleys and roofed corridors. With simple folk custom, melodious paddling sounds, and unique cultural trait, Xitang draws tourists and photographers from all over the world. It is one of six famous water towns (Zhouzhuang, Tongli, Luzhi, Xitang, Wuzhen, and Nanxun) in Lower Yangtze River Region.


History of Xitang Ancient Town


Xitang is one of the birthplaces of ancient Wu-Yue Culture (a culture developed in Tai Lake region and Zhejiang Province). In Spring and Autumn Period (770BC-476BC), Xitang was the border of Wu State and Yue State. It developed into a town approximately during Tang (618-907) and Song (960-1279) dynasties. During Yuan (1271-1368) and Ming (1368-1644) dynasties, it became a prosperous and populous market town thanks to its fertile soil, temperate climate, and plentiful produce, and convenient water transportation. Ceramic industry, rice market, food industry were thriving at that time. Today, many ancient mansions remain in the town, demonstrating the past of Xitang. The town in early days depended so much on water transportation that it was seldom influenced by the outside world and the legacies of forefathers are maintained. There is no better way to describe it than the sentence ''water of Spring and Autumn Period, town of Tang and Song dynasties, architecture of Ming and Qing dynasties, People of modern times''.
What to see in Xitang Ancient Town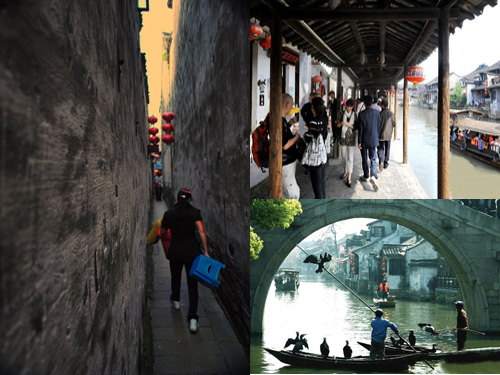 -- Roofed Corridors (廊棚)


The most eye-catching scenery of Xitang Ancient Town is a one-thousand-meter long old-fashioned roofed corridor along the rivers of Xitang. Benches are put on the riverside so that walkers can take a rest. The roof is a brick and wooden structure with black tiles on the top. On the corridor there are many stalls manned by hawkers. The roofed corridor may evoke nostalgia of most travelers.


---West Garden (西园)
The West Garden was originally the villa of Zhu family of Ming Dynasty and was changed hand to Sun family. The garden is pretty charming with trees, folwers, rockwork, pavilion, ponds and other ornaments. The west garden is scenic and relaxing. There is a tea house called ''Ting Tao Pavilion'' on the rockwork on the east side of the garden. Famous Chinese poet Liu Yazi (1887-1958) once came here and took photos. Small bridges, sightseeing corridor, waterside pavilions, artificial waterfalls lend the garden a touch of elegance.
---Shipi Alley (石皮弄)


The Shipi Alley is the longest and narrowest alley in Xitang ancient town. Walking on it and listening to your own ringing footfall, you may step back in time. The Shipi Alley is paved with 168 stones between Wang family and Sun family's mansions. It is 68 meters long with the narrowest part being only 0.8 meter. Xitang ancient town is packed with 122 alleys, among which Shipi Alley is the most distinctive one.


---Yongning Bridge (永宁桥)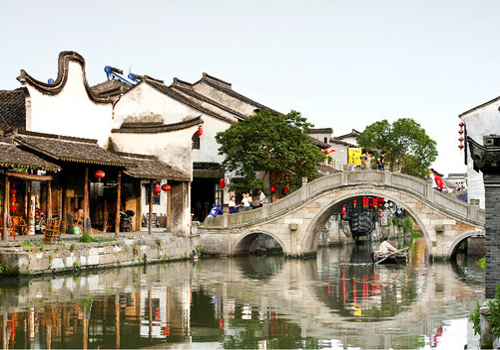 The bridge itself is not too unusual, but it is the best point to find a view for photographing. The long Chaonandai roofed corridor looks like a sleeping dragon on the north bank of the river, and walker and bikers run under the roof; on the southern bank are age-old dwelling houses. Standing on the Yongning Bridge, you will see the most outstanding scenery of Xitang ancient town. Therefore, it is most favored by both photographers and artists.


---Shao Xiang Gang (烧香港)


Shao Xiang Gang is the name of a river. The streets on its banks are called ''Shaoxiang Gang Street''. This port used to be the most bustling area in the town. It was (and is) famed as the most-visited place for burning incense. It is both a street and a riverside port. The river is small, though, its glorious past can not be hidden. There are some temples on the northern bank. Dwelling houses on the Shaoxiang Gang Street remain the old appearance of Ming and Qing Dynasties.


---Intoxicating Garden (醉园)


The garden was built in Ming Dynasty and its buildings and courtyards are well preserved. The garden was divided into three parts. Green ponds and bamboos make the garden intoxicating. The most impressive thing should be a small brick bridge that allows a single person pass. It is both practical and ornamental. Wang family had a great passion for calligraphic and arts. The Book Hall showcases some paintings of Wang family.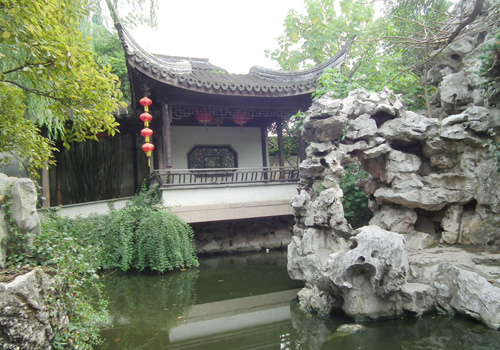 ---Chinese Wine Culture Museum (中国酒文化博物馆)


Xitang Ancient Town was a wine town in history. Drinking wine and humming poetry had always been two pursuits of scholars and literati. Many famous Chinese poets once came to Xitang and drink good wine. The Chinese Wine Culture Museum opens a window for tourist to have a better knowledge to Chinese wine culture with hundreds of exhibits. It is the epitome of Chinese traditional culture.
---Button Museum (纽扣博物馆)


Xitang is hailed as the hometown of button. The Button Museum is located on West Street with six exhibition halls, respectively showcasing ancient buttons, modern buttons, contemporary buttons, shell buttons processing, usage of button, and Chinese knots.


---Ginkgo trees in Lu's graveyard (陆坟银杏)

There are two ginkgo trees on the end of Youdian Road in the town. There were planted in Ming Dynasty, 600 years ago. The two trees are flourishing with big trunk and luxuriant leaves. The graveyard is the resting place of Lu Bang, an upright official of Ming dynasty. However, it is hard to find his tomb now. Only the two old gingko trees stand there and tell the story.

---Folk eave tiles exhibition hall (民间瓦当陈列馆)

Eave tile is a kind of simple architectural materials. Because it is difficult to preserve and has a long history, it has particular historic significance. The folk eave tiles exhibition hall showcases about 300 types of architectural materials, such as traditional eave tiles, tile carving, pottery figurine, dripping lace and so forth.

---Root Carving Museum (根雕馆)

Xitang Ancient Town is the great place for recreation. It never fails to inspire artists. The famous root-carving artist Zhang Zheng, who was born in Hangzhou, once lived in Xitang. His Over 500 masterpieces are included into the list of Guinness. In the museum visitors can enjoy various kinds of root-carving works.
---Bridges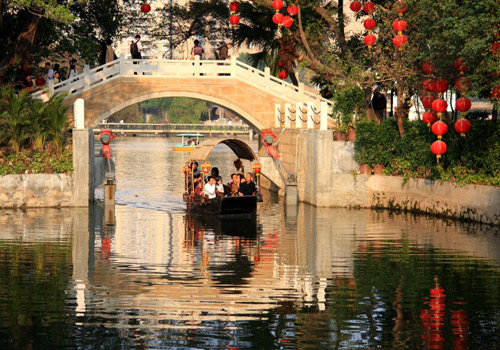 As a water town, Xitang was dotted with a number of bridges each with its own feature. Apart from the Yongning Bridge mentioned above, there are some other famous bridges such as Wo Long Bridge (卧龙桥), Song Zi Lai Feng Bridge (送子来凤桥), Huanxiu Bridge (环秀桥), Anjing Bridge (安境桥), Wufu Bridge (五福桥), etc.


---Mansions


Ancestors of Xitang left behind of a number of distinctive mansions to their descendants. Probably the best are West Garden, Zhongfu House (种福堂), Ni's House (倪宅), Xue's house (薛宅), Zun Wen Hall (尊闻堂), etc.
Quick Questions
Our team is waiting for your questions. Please feel free to ask us any questions you might have about our China package tours, Chinese culture, or the sites available. We will gladly help you with any special needs you might have and all questions, like our trip designing is completely free of charge.