Shanghai Jinmao Tower

More Photos
Chinese name: 上海金茂大厦
Location: No.88 Shiji Avenue, Pudong New Area, Shanghai
Time of completion: 1999
Height: 420.5meters
Floors: 3 floors underground and 88 floors overground
Status: one of the top ten landmark buildings in Shanghai

Introduction to Shanghai Jinmao Tower
Located in the center of Lujiazui Finance and Trade Zone, facing Pudong New Area in the east and Huangpu River in the west, Shanghai Jinmao Tower covers an area of nearly 24,000 square meters, with 88 floors in the main building and a total height of 420.5 meters. The 1-2 floors of the building is the foyer lobby; the 3-50 floors are large column-free office areas with a net height of 2.7 meters; the 51-52 floors are electromechanical equipment; the 53-87 floors are hotels; while the 88th floor is sightseeing hall with a building area of 1,520 square meters. Construction of Shanghai Jinmao Tower commenced on May 10, 1994, and it was under full operation on August 28, 1999. On July 28, 2016, Jinmao Tower launched the Sky-walk Experience activity outside the 88th floor sightseeing hall. There are sightseeing high-speed elevators in the building, with a speed of 9.1 meters per second, taking only 45 seconds from bottom to the top.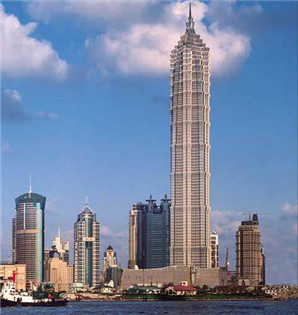 Shanghai Jinmao Tower was mainly designed by SOM Architectural Design Office in Chicago with the cooperation of Shanghai Xian Dai Architectural Design (Group) Co., Ltd. These designers combine world architectural trends with traditional Chinese architectural styles. The vertical deviation of the whole building is only 2cm, allowing it to withstand a 12-magnitude wind or a 7-magnitude earthquake.

Exterior walls of the building are made up of large glasses that reflect varying shades of colors. The glass is divided into two layers, with a low-temperature conductor in the middle, so the temperature outside will not affect the inside. The lobby of Shanghai Jinmao Tower adopts an arched door frame, and the walls are made of Mediterranean perforated marbles, which can play a sound insulation effect. Eight bronze frescoes in the front hall embody the traditional Chinese calligraphy art. They reflect the history of China's civilization over the past five thousand years through the evolution of Chinese characters, from oracle bone inscriptions and Chinese bronze inscriptions, to seal character, official script, regular script, and cursive script.

Honors Received
June 1998, won the Illinois World Building Structure Award;
October 1999, won the Shanghai Top Ten Classic Architecture Gold Award for the 50th anniversary of the founding of New China;
In 2013, certified by LEED-EB;
January 2020, selected as one of the top ten landmark buildings in Shanghai in 2019.
Quick Questions
Our team is waiting for your questions. Please feel free to ask us any questions you might have about our China package tours, Chinese culture, or the sites available. We will gladly help you with any special needs you might have and all questions, like our trip designing is completely free of charge.