Shanghai Disney Resort

More Photos
Chinese name: 上海迪士尼度假区(Shanghai Dishini Dujiaqu)
Location: No.180 Tanghuang Road, Chuansha New Town, Pudong District, Shanghai
Opening time: 08:00-20:00
How to get there:
- Subway: Take Line 11 and get off the train at Terminal Station Disney Resort.
- Car or Coach: Drive into the resort through West Entry (Resort Elevated Highway), East Entry (Yangguang Avenue) and South Entry (Starry Avenue). Follow the traffic directory signage to an appropriate parking lot. The Disney Car & Coach Park is 5-10 minutes' walk to Disneyland. It is located beside West Entry to Disney Resort and available for a flat fee upon entry.
- Bus:
Line 1: Shanghai Railway Station
Take the Express bus in Shanghai Long-Distance Bus Terminal at No.1666 Zhongxing Road;
Line 2: Shanghai South Railway Station
Take the Express bus in Shanghai South Long-Distance Bus Terminal at No. 666 Shilong Road;
Line 3: Hongqiao
Transportation Hub
Take the Express bus in Shanghai Hongqiao Long-Distance Bus Terminal at No.298 Shenhong Road;
Line 4: Shanghai Pudong International Airport
Take the Express bus at Shanghai Pudong International Airport (Airport T1 Arrival).
- Taxi: The huge metropolis of Shanghai offers an assortment of taxi lines that can transport you to transit hub. From there, you can then enjoy a quick stroll to Shanghai Disneyland, Disneytown and Wishing Star Park, or hop aboard a short Disney Resort Shuttle ride to the Resort hotels.
Best time for visit: all year round
Recommended time for a visit: If you only want to enjoy sightseeing of Shanghai Disneyland, not the fans for the games facilities, then one full day is enough to explore inside of the park. Every evening, there are firework show and lights show in the park. However, if you travel with kids, then two days with one overnight in Shanghai Disney Resort is suitable, as for hotel accommodation there are two options in the park for your reference: Shanghai Disneyland Hotel & Toy Story Hotel.

Introduction to Shanghai Disney Resort
Shanghai Disney Resort is a themed resort in Pudong, Shanghai, China. It is the first Disney park resort in mainland China and the second in China, after the Hong Kong Disneyland Resort. The resort features Shanghai Disneyland Park, an entertainment district, two themed hotels, recreational facilities, a lake and associated parking and transportation hubs.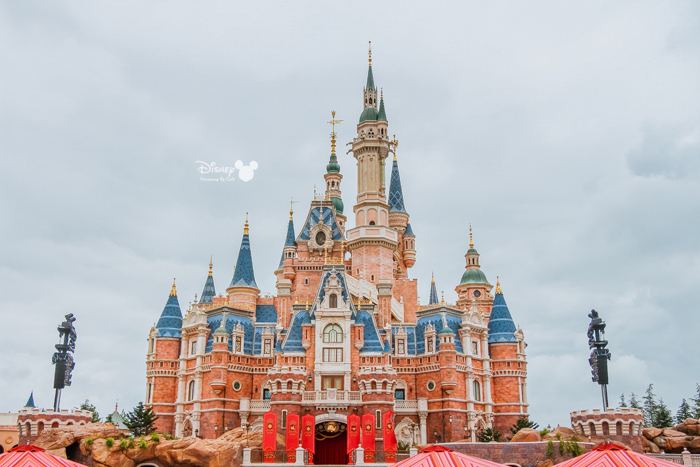 Shanghai Disneyland, a fun
experience filled with creativity, adventure and thrills for Guests of all ages.
The Enchanted Storybook Castle
is the largest Disney castle on the planet. There are 6 unique and unforgettable
lands in the park: Mickey Avenue,
Gardens of Imagination, Fantasyland, Adventure Isle, Treasure Cove and
Tomorrowland.

Lands
Mickey Avenue
Mickey Avenue, the entrance of the park, is the park's equivalent to Main Street, U.S.A.. The area is inspired by the personalities of classic Disney cartoon characters such as Mickey Mouse, Minnie Mouse, Donald Duck, and Chip 'n' Dale, as well as Disney films including, Ratatouille, The Three Caballeros, and Lady and the Tramp. Avenue M Arcade, the largest gift shop in the park, is modeled after the Carthay Circle Theater. The Storytellers statue, which depicts a young Walt Disney and Mickey Mouse, is located at the end of Mickey Avenue and in front of the Gardens of Imagination.

Gardens of Imagination
The "hub" of the park, this land features seven 4.5-hectare Chinese gardens with each of the twelve animals of the Chinese zodiac represented by Disney characters. Attractions include Dumbo the Flying Elephant, Fantasia Carousel, and Marvel Super Heroes at Marvel Universe, a meet-and-greet pavilion featuring Marvel characters. Entertainment includes castle stage shows, as well as, the nightly Ignite the Dream, A Nighttime Spectacular of Magic and Light. Mickey's Storybook Express, a parade with a musical soundtrack and colorful performers on the longest parade route in a Disney park.

Fantasyland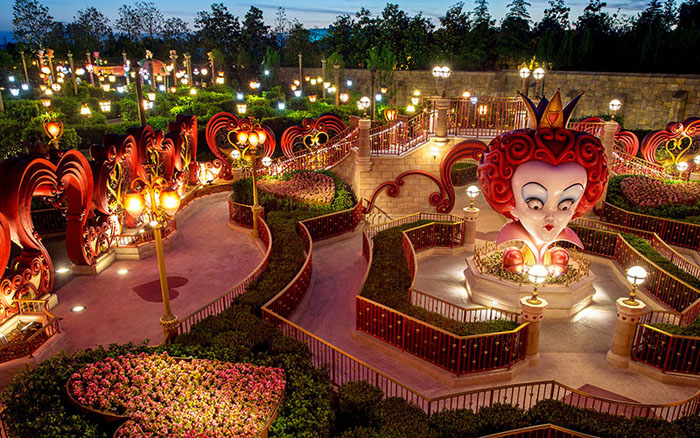 Fantasyland is the park's largest land themed to classic Disney animated films. The land features the 197 ft (60 m) Enchanted Storybook Castle, themed to Disney princesses. Attractions include Seven Dwarfs Mine Train, Peter Pan's Flight, The Many Adventures of Winnie the Pooh, and For the First Time in Forever: A Frozen Sing-Along Celebration. The area features unique attractions such as the Alice in Wonderland Maze—a walk-through hedge maze inspired by the 1951 and 2010 versions film adaptations—and the Hunny Pot Spin, a spinning Teacups-style ride themed to The Many Adventures of Winnie the Pooh.

Adventure Isle
Adventure Isle is the park's counterpart to Adventureland. Focused around a mysterious lost world full of hidden treasures, the land features Roaring Rapids, a river rapids ride through the land's towering Roaring Mountain and Soaring Over the Horizon, a hang gliding flight experience across the world. Additionally, the land features Tarzan: Call of the Jungle, a live acrobatic stage show, and Camp Discovery.

Treasure Cove
Treasure Cove is themed to an 18th-century Spanish harbor town located on a Caribbean island that has been captured by Captain Jack Sparrow from Pirates of the Caribbean. The land's marquee attraction is Pirates of the Caribbean – Battle for the Sunken Treasure, a water-based dark ride based on the Pirates of the Caribbean films. The land also is home to Eye of the Storm: Captain Jack's Stunt Spectacular, a stunt show inspired by the films and Siren's Revenge, a shipwreck-themed 3-story interactive play area set aboard a wrecked French galleon. The land also has Explorer Canoes, a canoe ride in Treasure Cove.

Tomorrowland
Tomorrowland is the park's futuristic-themed land. Unlike other Tomorrowlands, this version does not feature a traditional Space Mountain, and instead is home to TRON Lightcycle Power Run, an indoor Tron-themed roller coaster. Similarly, instead of a classic spinning rockets attraction, Shanghai's park includes a spinning Jet Packs ride. Other attractions include Star Wars Launch Bay, Stitch Encounter, and Buzz Lightyear Planet Rescue, a differentiated version of previous Buzz Lightyear dark rides.

Hotels
Shanghai Disneyland Hotel
On the shores of a shimmering lake, the Shanghai Disneyland Hotel is a destination all its own. Featuring a breathtaking 3-story lobby, sumptuous dining, a magnificent indoor pool, play areas and more, every detail is designed to make your stay unforgettable.

Toy Story Hotel
Toy Story Hotel is a hotel built for fun—from whimsically styled rooms to architecture that will take you "to infinity and beyond." When you step inside the Toy Story Hotel, you enter a world of imagination inspired by the Disney·Pixar film series, where playthings come alive and there's adventure around every corner. Best of all, as a Disney Guest, you can always expect first-class service, the ultimate in comfort and distinctive magical touches.

Disneytown
Located right next door to Shanghai Disneyland, Disneytown Explore a shopping, dining and entertainment district. It calls one and all to its charming pedestrian streets, where amazing experiences lie in wait—including the first-ever Mandarin stage presentation of THE LION KING at Walt Disney Grand Theatre.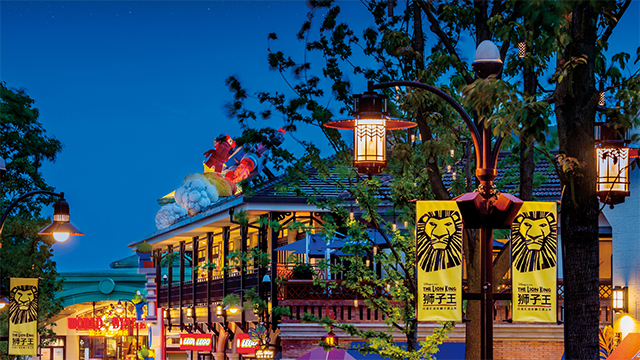 Wishing Star Park
There you can enjoy a tranquil escape to the banks
of a glimmering body of water where rest, relaxation and activities for the
entire family await your arrival.
Quick Questions
Our team is waiting for your questions. Please feel free to ask us any questions you might have about our China package tours, Chinese culture, or the sites available. We will gladly help you with any special needs you might have and all questions, like our trip designing is completely free of charge.