Question & Answer
Warmly welcome to China with us! We are very glad to provide you with some practical information for you to get some general ideas of China before you come to visit China. The following are some basic information for your China trip, we hope it would be useful and you will enjoy your stay in China. If the information what you need is not covered below, please feel free to contact us: contact@visitourchina.com, phone at +86-773-5833156, or fax at +86-773-5817771
China enjoys a continental and seasonal climate, with southern areas are in the tropical or subtropical zone but parts of its territories in the temperate zone while northern areas are in the Frigid Zone. Covering wide latitude, climates in different regions of the country vary from each other. For example, summer can be found in the Hainan Island in the south all year round, while it usually snows heavily in winter in the northernmost Heilongjiang Province. Tourists can refer to the general China weather information as below:
Spring (Mar - May)
Temperature: 10°C - 22°C
Suggested Dressing: Western suits, jackets, sports coats, woolen jackets, long sleeve shirts and travel shoes.
Summer (Jun - Aug)
Temperature: 22°C and above
Suggested Dressing: T-shirts, short sleeve shirts, skirts, sandals, caps, rain wear.
Autumn (Sep - Nov)
Temperature: 10°C - 22°C
Suggested Dressing: Western suits, jackets, sports coats, light woolen sweaters, rain wear and travel shoes.
Winter (Dec - Feb)
Temperature: 10°C or lower
Suggested Dressing: overcoat, cotton clothes and lined coats. In very cold areas a cap, gloves and cotton-padded shoes are required.
Commonly, China Southern Airlines, Air China, China Eastern Airlines, Hainan Airlines, Hainan Airlines, Shenzhen Airlines, Xiamen Airlines, and Shanghai Airlines are considered as the seven main airlines in China, all of which provides passengers with excellent services. And some others such as China Southwest Airlines, Sichuan Airlines and Dragon Air are all famous airlines in China. We choose the most suitable one for our customers according to the airfare, the tour itinerary and even their preference.
Each passenger is restricted to one carry-on baggage and one check-in baggage. As below are detailed regulations:
a. Carry-on luggage: Each first-class passenger is entitled to have two pieces of carry-on luggage, business-class passenger one piece and economy-class passenger one piece. The size may not exceed 20x40x55cm.
b. Check-in luggage: Any passenger holding a first class is entitled to bear the luggage of 40 kg free of charge, business class, 30 kg and economy class, 20 kg.
c. Groups traveling together can combine their luggage allowance when they check in together. No free luggage allowance is entitled to infants.
Generally, Beijing, Xian, Guilin and Shanghai are the most popular destinations among foreign tourists, while, some routes include Yangtze River cruises, Silk Road, Tibet and the old town of Lijiang and the Shangri-la are also amazing. You can also have a look at our page of "China Tours" on our website for more China travel routes.
April, May, early June, September, October and early November are the best time to visit China, which are also traditionally considered as Peak Seasons in China travel industry; but if you travel in other time of the year, you can enjoy not only lower prices, but also a leisure pace during your trip.
You can contact your tour guide for any emergency. We will forward the contact ways of each guide during your journey ahead of time. Or you can also call the tour operator who takes care of your tour instead. We will deplete my strength to settle your problem. Before your tour start, we will ask our local agency to let us know the tour guides' name and mobile phone number, then we will deliver it to you, also you will have your travel advisor's mobile phone number, it is available at 24 hours.
Beijing: Peking Opera Show, Kungfu Practice Show, Teahouse performance
Chengdu: Sichuan Opera and Turning Face
Dunhuang: The Summer of Dunhuang
Shanghai: Acrobatics Show and Huangpu River Cruise
Xi'an: Tang Dynasty Show
Guilin: Cormorant Fishing Show, Impression - Liu Sanjie, Dreamlike Li River, Two rivers and four lakes
Guangzhou: Night Cruise on Pearl River
Hangzhou: Eternal Legend of Song Park, Impression of West Lake
Suzhou: Garden Show
Huangshan: Huangshan Night
Pingyao: A Handle of Chinese Dates
Zhengzhou: Zen Music Shaolin Grand Ceremony (Not available from November to March)
Kunming: Dynamic Yunnan Show
Lijiang: Impression Lijiang Show
The electrical current in mainland China and Hong Kong is 220 volts / 50 cycles and the type of outlets vary throughout the country, including two-phase and three-phase sockets. Usually, some hotels will offer adapters, but it is highly recommended to take an adapter by yourself in case of unexpected situation.
Your packing list depends on the time and destinations you visit in China. In spring and autumn, you need to bring a couple of shirts, sweaters, and a jacket that can be worn in layers to accommodate China's range of climates. A pair of comfortable walking shoes is very important, as you are going to have a lot of walking in sightseeing. If you are going to do a lot of climbing, shoes with high sides and a hard sole will be the best choice. In winter, you should bring down coats. Summer is very hot, sometimes reaching 40 C (104 F). Hats, sunglasses, sunscreen and lip balm are needed to protect you from sun and windburns.
Yes, that hundreds of thousands of foreigner come to visit China every year can tell something. The travel testimonials of our customers from all over the world on our website tell people what they have enjoyed during their China trips and what the real China is like in their eyes. To see is to believe, welcome to China!
Yes, Chinese girls also wear shorts, skirts and tops in summer and even in winter, so please worry about it. But it is suggested not to be dressed over-exposed to avoid inconveniences or disturbing.
If you plan to visit some special places such as temples, it is impolite and offensive against Buddhas and you may be not allowed to enter temples, so please pay attention to your dress beforehand.
Generally speaking, it is not a big problem for tourists to arrange their itinerary in Hong Kong, as English is more widely used there than in mainland China and it is quite easy to take a taxi from place to place.
Famous attractions in Hong Kong: Victoria Peak, Aberdeen, Repulse Bay, Hong Kong Ocean Park, Hong Kong Disneyland, Jade Market, Tai-O Village, Wong Tai Sin Taoist Temple, Kim Tin Walled Village, Man Mo Temple, Lam Tsuen Wishing Tree, Kowloon Walled City Park, Dr. Sun Yat-sen Musuem, etc.
About Our Company
China Travel Resources
What Our Customers Say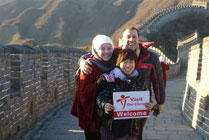 I hope this letter finds you well. We finally arrived home from our trip last Thursday the 17th. As promised I am writing to you about our experience in China and we thank you very much for your organizing. On the whole we had a wonderful time and were very well looked after...
Read more testimonials...