Question & Answer
Warmly welcome to China with us! We are very glad to provide you with some practical information for you to get some general ideas of China before you come to visit China. The following are some basic information for your China trip, we hope it would be useful and you will enjoy your stay in China. If the information what you need is not covered below, please feel free to contact us: contact@visitourchina.com, phone at +86-773-5833156, or fax at +86-773-5817771
Generally, US dollar is not widely accepted while major international credit cards are commonly used in some hotels, restaurants and department stores in big cities of China, e.g. VISA, MasterCard, American Express and Diners Club. Chinese currency can be easily withdrawn from the ATMs of Bank of China by credit cards, but a 4% commission is generally charged.
Foreign currency can be easily exchanged for Chinese currency at banks in China. Some hotels also provide their guests with the service of currency exchanging.
ATMs are easily available in China especially in tourist cities, but it is usually not very easy to find one in remote area, so it is suggested to take along enough cash if you travel away from cities.
Nowadays, the fifth series of RMB is the dominated currency used in mainland China, of which the fronts of 100 Yuan, 50 Yuan, 20 Yuan, 10 Yuan, 5 Yuan and 1 Yuan are printed with a same head portrait of Chairman Mao Zedong. On the back of these notes, different famous scenery in China air printed: the Great Hall of People on 100 Yuan, the Potala Palace on 50 Yuan, the Li River on 20 Yuan, the Three Gorges of Yangtze River on 10 Yuan, the Tai Mountain on 5 Yuan, and the West Lake on 1 Yuan.
Foreigners can exchange the cash of their country for RMB at Bank of China and can also exchange foreign money through traveller's checks and currency conversion at some banks and hotels in China. In addition, credit cards can be used in China as well.
About Our Company
China Travel Resources
What Our Customers Say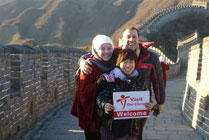 I hope this letter finds you well. We finally arrived home from our trip last Thursday the 17th. As promised I am writing to you about our experience in China and we thank you very much for your organizing. On the whole we had a wonderful time and were very well looked after...
Read more testimonials...