Question & Answer
Warmly welcome to China with us! We are very glad to provide you with some practical information for you to get some general ideas of China before you come to visit China. The following are some basic information for your China trip, we hope it would be useful and you will enjoy your stay in China. If the information what you need is not covered below, please feel free to contact us: contact@visitourchina.com, phone at +86-773-5833156, or fax at +86-773-5817771
Normally, your travel adviser will check it with you before your departure to China. Your tour guide will wait for you at the exit of the airport / bus station / railway station you arrive at, with a pick-up board with your name. Therefore, please don't worry about that.
In China, English-speaking tour guides serve in almost every tourist city and guides who speak other languages are also are available, including French, Italian, German, Russian, Spanish, Portuguese, Japanese, Korean, Vietnam, Thai, Lao, Cambodian, etc. The tour guides are strictly selected and have received professional trainings, competent, conscientious, whole-hearted, considerate and accommodating.
Generally, you can tip your tour guides, drivers and hotel porters if you feel satisfied with their worked and service, but it is not a common practice to tip restaurant waiters/waitresses or taxi drivers.
We will arrange tour guides as per your request if tour guides who can speak your language are available.
Commonly, we arrange local tour guides in every city during every China tour for two main reasons:
a. Local tour guides are usually much more familiar with their own cities than tour guides from other cities, and you can learn more local tourist information and culture from them. Moreover, they know how to deal with problems in their cities.
b. To save you tour cost. For example, if you want your guide in Guilin fly to Shanghai with you, you will have to pay for all of the guide's cost such as flight ticket, accommodation, meal and tip.
It depends on what disease you get. If that happens, we will do all we can do to help you with your treatment and settle the problem of refunding as per the terms and conditions of our company. What should be noticed is that, the cost of your hotels, flights, Yangtze cruise and some other items are anticipated payment, which means these costs will not be refunded.
Yes, your tour guide can help you with shopping during your China tour, but it may be a problem if the stuffs you buy need repair or go wrong after you return to your country. So it is suggested to confirm whether the brand you buy can be guaranteed to be repaired in your country.
Yes, we arrange a local tour guide to pick you up at the airport and escort you to your hotels when you arrive in every city in China, and the guide will also transfer you to the airport for your departure flight. But if you have ever been to China and prefer to arrange the transfers on your own, please inform us beforehand.
About Our Company
China Travel Resources
What Our Customers Say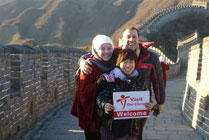 I hope this letter finds you well. We finally arrived home from our trip last Thursday the 17th. As promised I am writing to you about our experience in China and we thank you very much for your organizing. On the whole we had a wonderful time and were very well looked after...
Read more testimonials...