Question & Answer
Warmly welcome to China with us! We are very glad to provide you with some practical information for you to get some general ideas of China before you come to visit China. The following are some basic information for your China trip, we hope it would be useful and you will enjoy your stay in China. If the information what you need is not covered below, please feel free to contact us: contact@visitourchina.com, phone at +86-773-5833156, or fax at +86-773-5817771
We arrange or suggest hotels for our customers as per their request or budget, generally 3 star hotels for Tourist Class, 4 star hotels for Deluxe Class and 5 star hotels for First Class. All of the hotels will be selected and comfortable with good comments.

If the hotels in some remote areas are not at the same level of hotels in cities, we will let our customers know beforehand.
Normally, a 3 star hotel is equipped with air-conditioner rooms with clean beds, 24 hours hot water shower, carpet or wooden floor, desks, chairs, drawers and closets, telephones in every room with international direct dial (IDD), color TV sets, mini-bar and refrigerator, in-house movies, music, writing materials, western and Chinese dinning rooms with English-speaking attendants, coffee shop, banquet hall or function room, buffet breakfast and bar service foreign exchange, safe deposit boxes, store, camera film developing, fax and telex service, luggage storage, 24-hour laundry and dry-cleaning, wake-up calls, shoe polishing, and taxis, accept major credit cards and medical services.

In remote areas or small villages there may not be starred hotels, but guests houses or family Inn will always be equipped with clean bed, air-conditioned room, private bathroom with hot water shower. Limited English may be available at the reception desk but it is unlikely that any other employees can speak English.
The equipments of a 4 star hotel is upgraded based on the 3 star hotels, with luxurious and spacious sound-proof rooms, hair dryers, low-noise toilets, guests and service elevators, background music, health club, swimming pool, sauna, business center, greenhouse, 24-hour doorman, babysitting services, 24-hour room service. Laundry should be returned by next day and guest reception and assistant manager should be available in the lobby 24 hours a day. Two kinds of Chinese food should be served in the restaurant of a 4 star hotel and a 24-hur coffee shop and a breakfast and dinner buffet. Besides, bar service should be available until 01:00 am, A clinic should be on-site. A business center with photocopying, typing and translation services should be available. (However there are some exceptions in Shanghai and Hong Kong since they have limited space they can not provide swimming pools). English should be available at the reception desk and other employees may speak limited English.
Five-Star hotels are usually palatial with huge lobbies, their standards not quite matching the best of Paris or New Year, but very close. Service should be better than the four-star hotels described above. There are many hotels of five-star international standard, just as good as hotels in Washington or Ottawa except for the standard of English. Some hotels have their own fleets of Mercedes limousines of Toyota vans that make regular runs to the airport or city center. At least two hotels have Rolls Royce. Many have executive floors with concierges, free continental breakfasts, and fast check-in. Many have magnificent ball rooms and lobbies and cater to foreign business people on expense accounts. They have the best western food and probably the best Chinese food in town, and the most luxurious breakfast buffets. Some leave chocolates on your pillow, or a rubber ducky on your bathtub, nice litter touches that bring a smile.
Tap water in China is not drinkable directly and Chinese usually drink boiled tap water. Most hotels in China offer water heaters and thermoses, or you can choose bottled drinking water.
Yes. All star-rated hotels as well as small hotels have non-smoking rooms or floors. If you need non-smoking rooms, it is suggested to inform your travel agent in advance so that such rooms can be guaranteed for you.
Yes, Internet access is available in rooms of most hotels in China. Some hotels are even equipped with business center where guests can surf the Internet, but extra fee may be charged.
In general, the check-in time is 2 PM and the check-out time in 12 PM in hotels in China, but different hotels may have some difference in regulations, so it is suggested to confirm it before you book a hotel in China. Extra fees will be charged for late check-out or early check-in accordingly.
Yes. Commonly, a deposit is required when customers check in. The amount of deposit is diverse according to price rates and regulations of different hotels and the deposit will be returned to customers when they check out.
Yes, it is commonly ok if there are rooms available and extra handling fee would be charged for the upgrading. If it is in tourist peak season, changing a room will be more difficult.
Commonly, there are twin rooms, triple rooms, double rooms, and connecting rooms (for families with children) in most rated hotels in China. In consideration of our customers' budget, we usually arrange twin rooms or triple rooms for single people. But it is also ok if you would like to share your room with nobody, and that means you have to pay full rate for your own room.
About Our Company
China Travel Resources
What Our Customers Say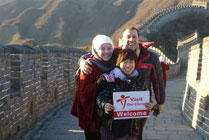 I hope this letter finds you well. We finally arrived home from our trip last Thursday the 17th. As promised I am writing to you about our experience in China and we thank you very much for your organizing. On the whole we had a wonderful time and were very well looked after...
Read more testimonials...