Chinese Currency
The official currency of China is the Renminbi (RMB). Its symbol is "¥"and its code is CNY. The Yuan is the basic unit of the Renminbi. Ten Jiao make one Yuan, and ten Fen make one Jiao. The paper banknotes for the Renminbi come in several different denominations. They are: 1Fen, 2Fen, 5Fen, 1Jiao, 5Jiao, 1Yuan, 5Yuan, 10Yuan, 20Yuan, 50Yuan, and 100Yuan. Renminbi are used throughout China's mainland, with Hong Kong, Macao, and Taiwan having its own currencies. Currency under 1Jiao is very rarely used in China today and is generally only used when exchanging Currency.
In China, the following currencies from 16 countries and regions can be converted into Chinese RMB:
British Pound Sterling (GBP), Hong Kong dollar (HKD), US dollar (USD), Swiss franc (SFr), Singapore dollar (S$), Swedish krona (Skr), Danish krone (Dkr), Norwegian krone (Nkr), Japanese yen (Y), Canadian dollar(Can$), Australian dollar (A$), Euro (EUR), Macau Pataca (MOP), Philippine Peso (PHP), Thai Baht (THB) and Korea Won (KRW).
For the most favorable rates, change money at banks. You won't do as well at exchange booths in airports or rail and bus stations, in hotels, in restaurants, or in stores, although you may find their hours more convenient.
To date, only the following foreign credit cards are acceptable in China: Master, Visa, American Express, JCB, Diners. Credit cards can be used only in larger stores and hotels. Cash is preferable in most parts of China.
Note:
You cannot obtain Chinese currency outside of China, and you cannot exchange it back into foreign currency outside of China.
Renminbi Design
The obverse of all the Yuan paper bank notes in China feature an image of Mao Zedong, and the reverse feature different famous sites in China. Each note is a different size, with the 1mao being the smallest, with each larger denominations slightly larger.
1Yuan Note
The 1 Yuan notes are primarily green in color. The reverse of the note has an image of the three stone lanterns located in the center of Hangzhou's West Lake.
5Yuan Note
The 5 Yuan note is purple in color and on the back is an image of Taishan Mountain, located in Shandong Province.
10Yuan Note
The 10 Yuan note is blue in color, with an image of The Three Gorges and the Yangtze River on the back.
20Yuan Note
The 20 Yuan bank note is brown in color with an image of Guilin's Li River on its back.
50Yuan Note
The 50 Yuan Note is green in color, with an image of Tibet's Potala Palace on the reverse.
100Yuan Note
The 100 Yuan Note is red. On the reverse is an image of the Great Hall of the People, located in Beijing.

1Jiao, 2Jiao, 5Jiao Notes The 1 Jiao, 2 Jiao, and 5 Jiao bank notes have not changed in design since the 1980's. On the front of each one is a man and a woman, each from different Ethnic Minority Groups on the front.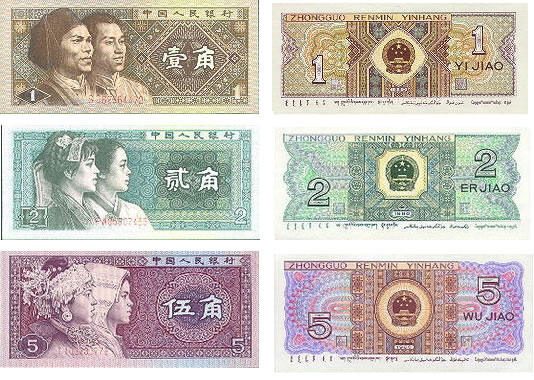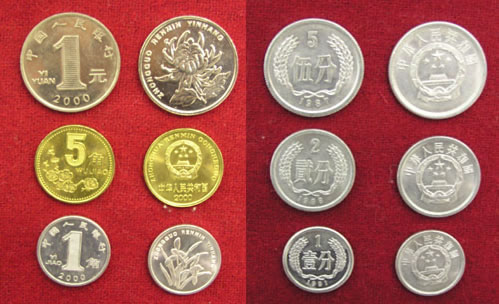 Quick Questions
Our team is waiting for your questions. Please feel free to ask us any questions you might have about our China package tours, Chinese culture, or the sites available. We will gladly help you with any special needs you might have and all questions, like our trip designing is completely free of charge.
Tel: (86)773-5833156 Toll free in USA&Canada: #1-888-254-3159
Fax: (86)773-5817771
You can e-mail us at: contact@visitourchina.com
Our mailing address:
Guilin Tianyuan International Travel Service Co., Ltd
Room 5-10, Guilin International Conference and Exhibition Shopping Park Business Building, 26 Lijiang Road,
s Guilin, Guangxi541004, China